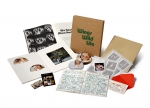 WILD LIFE (LTD.SUPER DEL.ED./3CD&1D
Drager: C+A (Aantal 4)
Levertijd: Op werkdagen voor 16:00 besteld, morgen in huis
Herkomst: NL
Releasedatum: 7-12-2018
Item-nr: 3903419
EAN: 0602567474012
Disc 1
Disc 3
Disc 5
Mumbo (2018 Remaster)
Bip Bop (2018 Remaster)
Love Is Strange (2018 Remaster)
Wild Life (2018 Remaster)
Some People Never Know (2018 Remaster)
I Am Your Singer (2018 Remaster)
Bip Bop Link (2018 Remaster)
Tomorrow (2018 Remaster)
Dear Friend (2018 Remaster)
Mumbo Link (2018 Remaster)
Mumbo (Rough Mix)
Bip Bop (Rough Mix)
Love Is Strange (Rough Mix)
Wild Life (Rough Mix)
Some People Never Know (Rough Mix)
I Am Your Singer (Rough Mix)
Tomorrow (Rough Mix)
Dear Friend (Rough Mix)
Good Rockin' Tonight (Home Recording)
Bip Bop (Home Recording)
Hey Diddle (Home Recording)
She Got It Good (Home Recording)
I Am Your Singer (Home Recording)
Outtake I
Dear Friend (Home Recording I)
Dear Friend (Home Recording Ii)
Outtake Ii
Indeed I Do
When The Wind Is Blowing
The Great Cock And Seagull Race (Mono/rough Mix)
Outtake Iii
Give Ireland Back To The Irish
Give Ireland Back To The Irish (Alternate Version)
Love Is Strange (Single Edit)
African Yeah Yeah
Disc 2
Disc 4
Scotland, 1971: Bip Bop/hey Diddle/she Got It Good/i Am Your Singer/good Rockin' Tonight
The Ball
Ica Rehearsals:the Mess/give Ireland Back To The Irish/my Love
Give Ireland Back To The Irish (Rehearsal/february 1, 1972)
Menu/wild Life
Menu/hey Diddle
Menu/give Ireland Back To The Irish
RECENSIE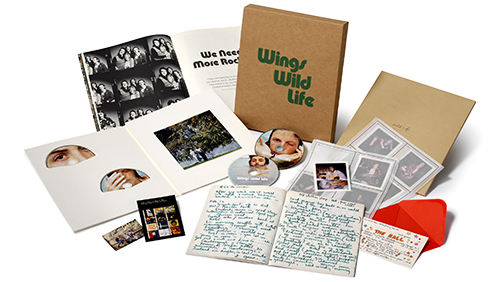 3CD+DVD
The eleventh release in the Paul McCartney Archive Collection, personally supervised by Paul McCartney
Numbered limited deluxe edition features:
- The original album, remastered at Abbey Road Studios, London
- 25 bonus audio tracks across 2 discs, featuring rough mixes of the album, original single edits, B-sides, home recordings and previously unreleased tracks
- DVD featuring acoustic home videos, rehearsals and behind-the-scenes footage
- Downloadable 24bit 96kHz unlimited high-resolution audio versions of the remastered album and bonus audio tracks
- 128-page book containing many previously unpublished images by Linda McCartney, expanded album and single artwork from the archives and the story behind the album – including track-by-track information and new interviews with Paul McCartney and key album personnel, written by David Fricke
- Folio containing a 48-page scrapbook of tour diaries, lyrics and set lists, unpublished Polaroids, lyrics, notes and memorabilia from the MPL archives
Leek er een beetje klad te komen in de fraaie Archive Collection van Sir Paul, hier worden we weer blij gemaakt met twee nieuwe delen. Wild Life is het eerste album van Wings, de band die McCartney opricht na Ram. De bewust direct en rauw opgenomen nummers kan niet bij iedereen rekenen op bijval en lang werd je verguisd als je er voor uit kwam dat je Wild Life een goede plaat vond. Deze fraai uitgevoerde 3CD/DVD-combinatie bevat naast het geremasterde album een tweede schijf met rough mixes en een derde waarop verschillende home-recordings, singles en outtakes te vinden zijn. Zo is hier bijvoorbeeld de Give Ireland Back To The Irish-single terug te vinden. Op de dvd vinden we rehearsals, home video's en meer van dat soort spul: vermakelijk! Voorzien van prachtige materiaal er omheen: boek, foto's en een facsimile-schriftje, moeten we ook stellen dat er met name op de tweede schijf best wat extra materiaal had gemogen. Red Rose Speedway is in elk geval qua discs ruimer bemeten. Voor de gelegenheid bevat de box drie cd's, twee dvd's en een blu-ray. De eerste schijf bevat een remaster van het originele album, terwijl de tweede de gerestaureerde beoogde dubbelaar bevat (deze is ook op vinyl uitgebracht). De derde bevat de singles uit die tijd waaronder Live And Let Die, vroege en ruwe versies van verschillende tracks. De dvd's bevatten een aantal video's, maar ook de James Paul McCartney TV Special en de Bruce McMouse Show, een lang opgeborgen deels getekende film. De blu-ray bevat een 5.1 mix en een high resolution stereo mix. Ook hier is alles gehuld in een fraaie box met naast een fraai boek diverse prullaria. Al met al twee zeer fraaie uitgaves waar echter ook een aardig prijskaartje aan hangt, dat is dan wel weer jammer.
| | |
| --- | --- |
| Recensent | : Hermen Dijkstra |
| Datum | : 20-10-2018 |
| verschenen in Platomania | : 353 |
| Waardering | : 8.0 |
CD/DVD gratis verzending vanaf € 25,-
Vinyl gratis verzending vanaf € 50,-
Geen verzendkosten: