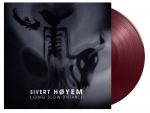 LONG SLOW DISTANCE -CLRD-
Drager: LP (Aantal 2)
Levertijd: Op werkdagen voor 16:00 besteld, morgen in huis
Herkomst: NL
Releasedatum: 22-02-2019
Item-nr: 3935058
EAN: 8719262007529
Disc 1
Under Administration
Long Slow Distance
Give It A Whirl
Warm Inside
Animal Child
Trouble
Red On Maroon
Disc 2
Blown Away
Emotions
Father's Day
Innovations
Please
Truth Be Told
What Have I Done?
RECENSIE
• 180 GRAM AUDIOPHILE VINYL
• GATEFOLD SLEEVE
• PRINTED INNERSLEEVES
• LIMITED EDITION OF 1.000 INDIVIDUALLY NUMBERED COPIES ON PURPLE & SOLID RED MIXED VINYL
Long Slow Distance marks a new musical direction in the career of Sivert Høyem. The sound of his former band Madrugada is present all over the album. The Americana music has been replaced by the alternative rock melodies. It's a dark colored album with the recognizable voice of Høyem and some of his most impressive pieces.

Sivert Høyem had his breakthrough as a singer with the rock band Madrugada in 1999. Madrugada won several Norwegian Grammy Awards and toured Norway and Europe until the band dissolved in 2008. Høyem has released seven albums and several singles/EPs as a solo artist.

Long Slow Distance is available as a limited edition of 1.000 individually numbered copies on purple & solid red mixed vinyl.

| | |
| --- | --- |
| Recensent | : Redactie |
| Datum | : 18-01-2019 |
| Waardering | : 7.5 |
CD/DVD gratis verzending vanaf € 25,-
Vinyl gratis verzending vanaf € 50,-
Geen verzendkosten: