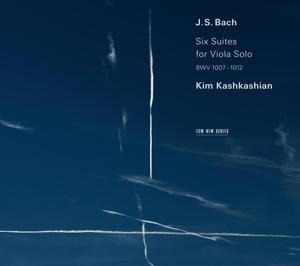 SIX SUITES FOR VIOLA SOLO
Drager: CD (Aantal 2)
Levertijd: Op werkdagen voor 16:00 besteld, morgen in huis
Herkomst: NL
Releasedatum: 12-10-2018
Item-nr: 3866861
EAN: 0028948171767
RECENSIE
Nee, niet Kim Kardashian maar Kim Kashkashian. Deze Amerikaanse altvioliste is geboren uit Armeense ouders en wordt - vreemd genoeg - vaak met haar verward. Kashkashian heeft al een aardige productie van meer dan 30 cd's op haar conto met uiteenlopend repertoire van Brahms, Britten Carter en Kurtag en samenwerking met onder andere Keith Jarrett, Gidon Kremer en Yo-Yo Ma. Mansurian en Eötvös schreven muziek voor haar. Nu voegt ze daar de Cello-suites van JS Bach aan toe in een transcriptie voor altviool. Dit is niet nieuw; anderen gingen haar al voor (onder andere Fuchs, Imai). Haar uitvoering is licht en zangerig en zoals ze zelf zegt in de begeleidende tekst: een ware en trouwe vriend die geduldig ons een spiegel voorhoudt en tegelijkertijd in alle situaties troost geeft.

Bach, J S: Cello Suites Nos. 1-6, BWV1007-1012

Kim Kashkashian (viola)

The poetry and radiance of Bach's Cello Suites (BWV 1007-1012) are transfigured in these remarkable interpretations by Kim Kashkashian on viola, offering "a different kind of sombreness, a different kind of dazzlement" as annotator Paul Griffiths observes.
One of the most compelling performers of classical and new music, Kashkashian has been hailed by The San Francisco Chronicle as "an artist who combines a probing, restless musical intellect with enormous beauty of tone." An ECM artist since 1985, she approaches Bach's music with the same commitment as revealed in her other solo recordings, the legendary Hindemith Sonatas album and the widely acclaimed (and Grammy-winning) account of Kurtág and Ligeti.
Amongst the viola player's many other important recordings on ECM is another Bach disc - of 3 Sonatas for Viola da Gamba und Cembalo (BWV 1027-1029) - with Keith Jarrett playing the harpsichord.
| | |
| --- | --- |
| Recensent | : Peter Simmers |
| Datum | : 10-05-2018 |
| verschenen in Platomania | : 352 |
| Waardering | : 9.0 |
CD/DVD gratis verzending vanaf € 25,-
Vinyl gratis verzending vanaf € 50,-
Geen verzendkosten: