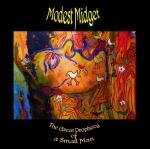 GREAT PROPHECY OF A SMALL MAN
Drager: CD (Aantal 1)
Levertijd: 3 a 5 werkdagen
Herkomst: NL
Releasedatum: 23-02-2010
Item-nr: 2580476
EAN:
RECENSIE
luister naar Modest Midget op
Soundcloud
1. Follow The Noise
2. Contemporary Ache
3. Troubles in Heaven
4. Coffee From Yesterday
5. Back From My Trip
6. Home Seek
7. Here I Go
8. Baby
9. Jorge Knows How Difficult a Musician's Life Can Be, But The Again, Who Doesn't?
10. Buy Me!
11. Evolution
12. I Came, I Saw, I Left
13. The Last Straw
Credits: Lionel Ziblat - guitars, bass guitars, keyboards, percussion, vocals. Emiel de Jong - saxophones, clarinet and vocals. Bas Wiegers - violin & vocal. Vera vd Bie - violin & viola. Ilse Eijsink - clarinets. Oene van Geel - viola.
Modest Midget: Contemporary Ache from Lionel Ziblat on Vimeo.
| | |
| --- | --- |
| Recensent | : Redactie |
| Datum | : 4-05-2012 |
| Waardering | : 7.0 |
CD/DVD gratis verzending vanaf € 25,-
Vinyl gratis verzending vanaf € 50,-
Geen verzendkosten: