Dit artikel is vervallen en niet meer leverbaar.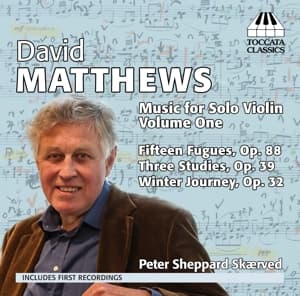 MATTHEWS
MUSIC FOR SOLO VIOLIN 1
Drager: CD (Aantal 1) Levertijd: Niet meer leverbaar
Herkomst: NL Releasedatum: 18-10-2013 Item-nr: 3136942 EAN: 5060113441522
RECENSIE

David Matthews: Music for Solo Violin, Volume One

Three Studies, Op. 39
Fifteen Fugues, Op. 88
Winter Journey, Op. 32
Peter Sheppard Skærved (violin)

David Matthews' Fifteen Fugues for solo violin, composed over four years between 1998 and 2002, constitute what is probably the largest set of violin fugues by a living composer.

They also form an extended essay in musical portraiture, with each fugue 'depicting' its dedicatee.

Like the Three Studies (1985) and Winter Journey (1982–83), a tone-poem for solo violin inspired by Schubert's Winterreise, they pose extraordinary technical challenges to the performer.

They are played here by the violinist for whom most of this music was written, Peter Sheppard Skærved.

This release continues Toccata Classics' coverage of David Matthews' music, with two volumes of his string quartets already released to outstanding reviews.
| | |
| --- | --- |
| Recensent | : Redactie |
| Datum | : 18-11-2013 |
| verschenen in Platomania | : 303 |
| Waardering | : 7.5 |
CD/DVD gratis verzending vanaf € 25,-
Vinyl gratis verzending vanaf € 50,-
Geen verzendkosten: