35 Studio albums, 6 live albums, 2-CD "Side Tracks," en een hardcover boek !
Om het complete oeuvre van Bob Dylan recht te doen, zou een special als die in dit nummer over The Beatles te vinden is nodig zijn. Vanaf zijn eerste plaat uit 1962 tot Tempest van vorig jaar, het is te veel om kort te bespreken. De verschillen tussen de 47 cd's in deze opmerkelijk laag geprijsde doos zijn daarbij ook te groot. Van de folkzanger die elektrisch gaat via drie geniale platen halverwege de jaren zeventig naar born again Christian, van wanhopig de weg kwijt in de jaren tachtig met hopeloos gedateerde producties (Empire Burlesque, het rommelige Knocked Out Loaded) naar een reeks ijzersterke platen vanaf Time Out Of Mind, inmiddels ook al weer vijftien jaar oud.
Alle 35 studioplaten zijn hier te vinden, aangevuld met zes live-platen. Veertien albums zijn voor het eerst geremastered, waarvan sommige als Dylan (1973) al enige tijd niet meer leverbaar waren. Alle schijven komen in keurige replica's van de oorspronkelijke hoes en als bonus bevat de box een dubbelaar met 'side tracks'. Hierop b-kantjes, een enkel filmnummer en eigenlijk vooral nummers die eerder op Biograph te vinden waren.
Hoewel deze dubbelaar op het eerste gezicht voor de fan die alle albums al in de kast heeft staan het boeiendst zou moeten zijn, valt juist deze nogal tegen. Er is geen enkele poging gedaan alle b-kantjes te verzamelen, de vele nummers die Dylan voor allerhande tributes opnam ontbreken, net zoals het gros van de soundtrackbijdragen. Een dergelijk streven naar volledigheid zou het aantal schijven in deze doos tot ruim over de zestig jagen, en natuurlijk staat er niet voor niets 'volume one', maar het is een gemiste kans dat hier vooral de rarities te vinden zijn die het minst aanspraak op die omschrijving kunnen maken.
Maar ook met deze kritische kanttekening biedt deze box natuurlijk ongelooflijk veel waar voor zijn geld: drie euro per schijf voor het complete reguliere werk van een van de allergrootste singer-songwriters van de vorige en deze eeuw. In een tweede box naar verluidt de eerste tien delen van The Bootleg Series, ook weer aangevuld met 'side tracks'.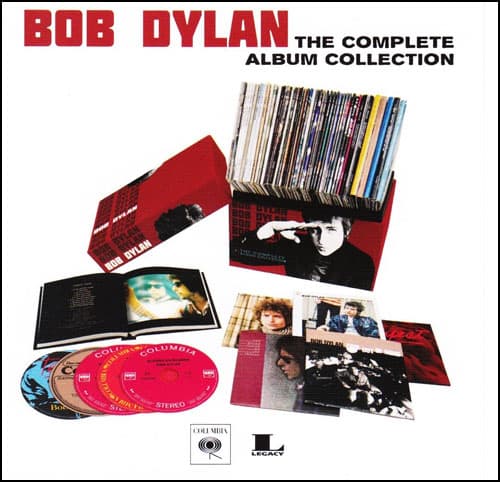 STUDIO ALBUMS
Bob Dylan (1962) The Freewheelin' Bob Dylan (1963) The Times They Are a-Changin' (1964) Another Side of Bob Dylan (1964) Bringing It All Back Home (1965) Highway 61 Revisited (1965) Blonde on Blonde (1966) John Wesley Harding (1967) Nashville Skyline (1969) *Self Portrait (1970) - newly remaste- red for this collection New Morning (1970) *Pat Garrett & Billy the Kid (1973) - newly remastered for this collection *Dylan (1973) - newly remastered for this collection Planet Waves (1974) Blood on the Tracks (1975) The Basement Tapes (1975) Desire (1976) *Street Legal (1978) - newly remastered for this collection Slow Train Coming (1979) *Saved (1980) - newly remastered for this collection Shot of Love (1981) Infidels (1983) *Empire Burlesque (1985)
- newly remastered for this collection *Knocked Out Loaded (1986) - newly remastered for this collection *Down in the Groove (1988) - newly remaste- red for this collection Oh Mercy (1989) *Under the Red Sky (1990) - newly remastered for this collection *Good as I Been to You (1992) - newly remas- tered for this collection *World Gone Wrong (1993) - newly remastered for this collection Time Out of Mind (1997) Love and Theft (2001) Modern Times (2006) Together Through Life (2009) Christmas in the Heart (2009) Tempest (2012)
LIVE ALBUMS
Before the Flood (1972) *Hard Rain (1976) - newly remastered for this collection *Bob Dylan at Budokan (1979) - newly remas- tered for this collection *Real Live (1984) - newly remastered for this collection
Dylan & the Dead (1989) MTV Unplugged (1995)
"SIDE TRACKS"
Baby, I'm in the Mood for You / Mixed-Up Confusion/ Tomorrow Is a Long Time (live)/ Lay Down Your Weary Tune/ Percy's Song/ I'll Keep It with Mine/ Can You Please Crawl Out Your Window?/ Positively 4th Street/ Jet Pilot/ I Wanna Be Your Lover I/ Don't Believe You (She Acts Like We Never Have Met) (live)/ Visions of Johanna (live)/ Quinn the Eskimo/ Watching the River Flow/When I Paint My Masterpiece /Down in the Flood/ I Shall Be Released/ You Ain't Goin' Nowhere/ George Jackson (acoustic version)/ Forever Young/ You're a Big Girl Now/ Up to Me/ Abandoned Love/ Isis (live)/ Romance in Durango (live)/ Ca- ribbean Wind/ Heart of Mine (live)/ Series of Dreams/ Dignity/ Things Have Changed