Dit artikel is vervallen en niet meer leverbaar.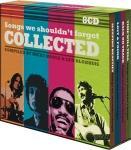 VARIOUS
SONGS WE SHOULDN T FORGET 8CDBOX
Drager: CD (Aantal 8) Levertijd: Niet meer leverbaar
Herkomst: NL Releasedatum: 15-11-2013 Item-nr: 3166794 EAN: 0602537571673
Disc 1
First Day Of My Life
Time To Get Alone
All U Can Eat
Something In The Way She Moves
Her Song
Me And My Lonely Room
Shuffletown
Kathy's Song
Northern Sky
Hallelujah
Soldier's Things
Then You Can Tell Me Goodbye
In The Winter
I Must Be In A Good Place Now
Crossroads
I'd Love To Change The World
Time In A Bottle
Broken Wings
Come Di Pioggia
Wild Is The Wind
Disc 3
Nothing Really Ends
Time Has Brought About A Change
Collapsible Plans (Sugar)
Live Here With You
Motel Blues
Leon
Fancy
Go, Leave
He Needs Me
Time And Again
The Jeweler
Burn The Midnight Oil No More
Soul Of A Man
Shenandoah
Never Let Me Go
Louise
Sing A Song For You
Slow Train
To Be Lonely
Disc 5
Checkin' In
Saunders Ferry Lane
Safe Haven
Fisherman's Woman
The Love Me Or Die
Morning Song To Sally
Blue River
Ruler Of My Heart
How Can I Tell You
I Don't Know What You've Got But It's Got Me (Parts 1 & 2)
Love Gets In The Way
Til The End
God Bless The Child
My Funny Valentine
Hurt
When I Was Young
My Lady
Try A Little Tenderness
Disc 7
Either Way
Taking Your Love Down
Uptight Good Man
This City
Still You Linger On
I Can't Stand The Rain
She
One Day I Walk
For You
Some Devil
Manchester Girl
Mama
El Camino
Turn You To Love
No Place To Fall
Myself Again
I Cover The Waterfront
Flame On My Head
Disc 2
Sweet Wanomi
Turn On Your Radio
If He's Ever Near
It Makes No Difference
Muskrat Candlelight
Clay Pigeons
The Facts About Jimmy
Love Is Our Cross To Bear
For A Spanish Guitar
Tiny Dancer
Get It While You Can
Durgerdam Slaapt
Who Knows Where The Time Goes?
Say Yes
I'd Rather Go Blind
Misguided Angel
I Was Just Thinking
South Side Lady
Cadence And Cascade
Keep The Curtains Closed Today
Disc 4
Each Wave That Breaks
Not The Girl You Think You Are
A Day
Little Bit Of Rain
If I Were Smart
Me Minus You Equals Loneliness
Cover Me
After All (I Live My Life)
When My Baby Calls My Name
My Man On Love
Blind Willie Mctell
Day Is Done
The Beast In Me
Can I Sleep In Your Arms
A Song For You
Love Has No Pride
A Change Is Gonna Come
Exit Music (For A Film)
Disc 6
Feel You
Misty Roses
Chains Of Love
Baby Plays Around
O My Soul
A Woman Needs A Man
Blues Run The Game
Naked, If I Want To
Bandits
Love's Enough
We Do What We Can
One Step
La Cienega Just Smiled
They Won't Go When I Go
For Ol' Times Sake
To Ramona
Goodnight
Disc 8
Please Be With Me
By The Time I Get To Phoenix
Downhill
Sharing The Night Together
The Vanishing Mind
Small Blue Thing
J'suis Dans La Dêche
White Folk's Blood
Black
Our Own Love Song
Good Time Charlie's Got The Blues
Then I'll Be Over You
The Weary Kind
Give Me Strength
House Of The Rising Sun
We Live Again
Moon
I'm Gonna Do All I Can (To Do Right By My Man)
Sweet Love
RECENSIE
Leo Blokhuis en Ricky Koole, muziekliefhebbers pur sang, zijn samen in hun platenkast gedoken om de mooiste liedjes naar boven te halen. Zo verzamelden ze de afgelopen jaren hun persoonlijke favoriete liedjes en brachten deze uit op dubbelalbums onder de titel "Songs We Shouldn't Forget". Deze box bevat de eerste vier delen: "Songs We Shouldn't Forget - Collected", bestaande uit de dubbel-albums "Sleeping Beauties", "Lost And Found", "Back On Track" en "Time Will Tell". Speciaal voor deze heruitgave verpakt in deluxe mintpacks en uitgebreide booklets. Stuks voor stuk prachtige verzamelalbums met mooie (vaak onbekendere) liedjes die niet in vergetelheid mogen raken. Een aanrader voor muziekliefhebbers en iedereen die pure, authentieke muziek wilt ontdekken. De albums bevatten oa muziek van James Taylor, Jeff Buckley, Bob Dylan, Donny Hathaway, Radiohead, Eric Clapton, Amos Lee, Wilco, Beck, Shelby Lynne, Bettye LaVette, Tom Waits en vele, vele anderen.
Leo Blokhuis kennen we van zijn werk bij de Top 2000, Top Pop, boeken, theatershows en Soundbooks. Ricky Koole is actrice en zangeres. In 1995 studeerde zij af aan de Academie voor Kleinkunst in Amsterdam. Sindsdien speelt ze in verschillende theatervoorstellingen en films. Samen maakten Leo en Ricky meerdere theaterprogramma's, waar ze het publiek meenamen op een muzikale reis.
CD 1
1: Bright eyes - first day of my life
2: The beach boys - time to get alone
3: Ben folds - all u can eat
4: James taylor - something in the way she move
5: Jake holmes - her song
6: Margin gaya - me and my lonely room
7: Joe henry - shuffletown
8: Eva cassidy - kathy's song
9: Nick drake - northern sky
10: Jeff buckley - hallelujah
11: Tom waits - soldier's things
12: Bettye swann - then you can tell me goodbye
13: Janis ian - in the winter
14: Bobby charles - i must be in a good place now
15: Don mclean - crossroads
16: Ten years after - i'd love to change the world
17: Jim croce - time in a bottle
18: Jw roy - broken wings
19: Gianmaria testa - come di pioggia
20: David bowie - wild is the wind
CD 2
1: Bill withers - sweet wanomi
2: Harry nilsson - turn on your radio
3: Karla bonoff - if he's ever near
4: The band - it makes no difference
5: Willis alan ramsey - muskrat candlelight
6: Blaze foley - clay pigeons
7: Shawn colvin - the facts about jimmy
8: John gorka - love is our cross to bear
9: Gene clark - for a spanish guitar
10: Elton john - tiny dancer
11: Howard tate - get it while you can
12: Jeroen zijlstra - durgerdam slaapt
13: Fairport convention - who knows where the time goes
14: Elliott smith - say yes
15: Etta james - i'd rather go blind
16: Cowboy junkies - misguided angel
17: Teitur - i was just thinking
18: George kooymans - south side lady
19: King crimson - cadence and cascade
20: Colin blunstone - keep the curtains closed today
CD 3
1: Deus - nothing really ends
2: Willie hightower - time has brought about a change
3: Tom freund - collapsible plans (sugar)
4: Dusty springfield - live here with you
5: Loudon wainright iii - motel blues
6: Euson - leon
7: Bobby gentry - fancy
8: Allison moorer - go, leave
9: Nina simone - he needs me
10: Charlie rich - time and again
11: Pearls before swine - the jeweler
12: Barbara keith - burn the midnight oil no more
13: Ollabelle - soul of a man
14: Charlie haden - shenandoah
15: Erma franklin - never let me go
16: Paul siebel - louise
17: Tim buckley - sing a song for you
18: The staple singers - slow train
19: Joan as police woman - to be lonely
CD 4
1: Piers faccini - each wave that breaks
2: Crowded house - not the girl you think you are
3: Inara george - a day
4: Fred neil - little bit of rain
5: Shelby lynne - if i were smart
6: Dr. john - me minus you equals loneliness
7: Eddie hinton - cover me
8: Frankie miller - after all (i live my life)
9: Stephen fearing - when my baby calls my name
10: Judee sill - my man on love
11: Bob dylan - blind willie mctell
12: Johan - day is done
13: Nick lowe - the beast in me
14: Willie nelson - can i sleep in your arms
15: Donny hathaway - a song for you
16: Bonnie raitt - love has no pride
17: Otis redding - a change is gonna come
18: Radiohead - exit music (for a film)
CD 5
1: A.j. croce - checkin' in
2: Sammi smith - saunders ferry lane
3: Cloudmachine - safe haven
4: Emiliana torrini - fisherman's woman
5: C.w. stoneking - the love me or die
6: Jerry jeff walker - morning song to sally
7: Danko, fjeld & andersen - blue river
8: Irma thomas - ruler of my heart
9: Ben taylor - how can i tell you
10: Little richard - i don't know what you've got but it's got m
11: Dayna kurtz - love gets in the way
12: James hunter - 'til the end
13: Blood sweat & tears - god bless the child
14: Chet baker - my funny valentine
15: Johnny cash - hurt
16: Otis gibbs - when i was young
17: Matthews'southern comfort - my lady
18: Aretha franklin - try a little tenderness
CD 6
1: Bertolf - feel you
2: Tim hardin - misty roses
3: Bobby bland - chains of love
4: Elvis costello - baby plays around
5: Daniel martin moore - o my soul
6: Yvonne baker - a woman needs a man
7: Jackson c. frank - blues run the game
8: Moby grape - naked if i want to
9: Midlake - bandits
10: David ackles - love's enough
11: Sheryl crow - we do what we can
12: David wiffen - one step
13: Ryan adams - la cienega just smiled
14: Stevie wonder - they won't go when i go
15: Tony joe white - for ol'times sake
16: Alan price - to ramona
17: Buffy sainte-marie - goodnight
CD 7
1: Wilco - either way
2: Paul pena - taking your love down
3: Laura lee - uptight good man
4: Steve earle - this city
5: Andrew gold - still you linger on
6: Ann peebles - i can't stand the rain
7: Royal parks - she
8: Tom rush - one day i walk
9: Judie tzuke - for you
10: Dave matthews - some devil
11: E - manchester girl
12: Beth hart - mama
13: Amos lee - el camino
14: Terry callier - turn you to love
15: Townes van zandt - no place to fall
16: Scott matthews - myself again
17: John lee hooker ft. van morrison & booker t - i cover the...
18: Blaudzun - glame on my head
CD 8
1: Cowboy - please be with me
2: Solomon burke - by the time i get to phoenix
3: Janne schra - downhill
4: Arthur alexander - sharing the night together
5: Calexico - the vanishing mind
6: Suzanne vega - small blue thing
7: Patrick bruel - j'suis dans la deche
8: House of freaks - white folk's blood
9: Danger mouse & daniele luppi ft. norah jones - black
10: Bettye lavette - our own love song
11: Danny o'keefe - good time charlie's got the blues
12: Ray charles - then i'll be over you
13: Ryan bingham - the weary kind
14: Eric clapton - give me strength
15: Miriam makeba - house of the rising sun
16: Beck - we live again
17: Phillip goodhand-tait - moon
18: Ike & tina turner - i'm gonna do all i can (to do right..)
19: Ghinzu - sweet love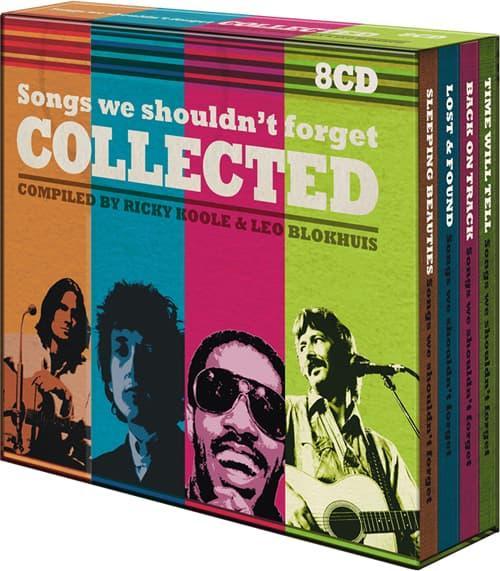 | | |
| --- | --- |
| Recensent | : Redactie |
| Datum | : 29-10-2013 |
| Waardering | : 8.0 |
CD/DVD gratis verzending vanaf € 25,-
Vinyl gratis verzending vanaf € 50,-
Geen verzendkosten: