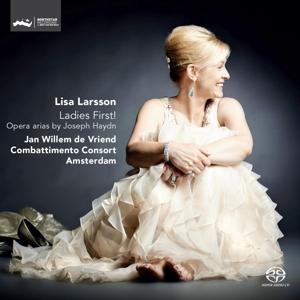 LARSSON, LISA / COMBATTIMENTO CONSO
LADIES FIRST! OPERA ARIAS BY JOSEPH
Drager: HSA (Aantal 1)
Levertijd: Op werkdagen voor 16:00 besteld, morgen in huis
Herkomst: NL
Releasedatum: 12-11-2013
Item-nr: 3166990
EAN: 0608917262223
RECENSIE
Een nieuwe cd van het Combattimento Consort Amsterdam onder leiding van Jan Willem de Vriend? Vorig jaar maakte de dirigent toch bekend dat hij vertrok bij het orkest? Klopt, maar het Consort maakte een doorstart onder naam Combattimento en de opnames voor dit album stammen nog uit begin 2012. Het orkest begeleidt de Zweedse sopraan Lisa Larsson (die ook veel met Ton Koopman samenwerkte) in een aantal goed gekozen opera-aria's van Joseph Haydn. Samen laten zij horen hoe onbegrijpelijk is dat de opera's van Haydn nog altijd zo ondergewaardeerd zijn.


Ladies First! Opera arias by Joseph Haydn

Berenice, che fai? (Scena di Berenice), Hob XXIVa:10
Arianna a Naxos, cantata, Hob.XXVIb/2
Armida: Overture

Numi possenti aita!...Dov'è l'amato bene?...Del mio core (from L'anima del filosofo, ossia Orfeo ed Euridice)

Maarten Komingsberger (baritone)
L'isola disabitata: Overture in G minor, Hob.Ia:13
Fra un dolce deliro from L'isola disabitata
Quando la rosa non ha piu spina (from L'Infedeltà Delusa)
Trinche vaine allegramente (from L'infedelta Delusa)
Lisa Larsson (soprano)
Combattimento Consort Amsterdam, Jan Willem de Vriend

The album 'Ladies First' presents the highly-regarded Swedish soprano Lisa Larsson performing arias from the little known operas of Joseph Haydn, including Armida, L'isola disabitata, and L'infedelta delusa. She is joined on this recording by the Combattimento Consort Amsterdam and conductor Jan Willem de Vriend.

Celebrated Swedish soprano Lisa Larsson started her career early as a concert flautist, and later studied in Basle and became a member of the Zürich Opera Studio, where she performed under, amongst others, Franz Welser-Möst, Nikolaus Harnoncourt and Christoph von Dohnanyi. Lisa Larsson's recordings include the Triumph of Aphrodite with Welser-

Möst, and Bach's Christmas Oratorio (BWV 248), Magnificat (BWV 243), Easter Oratorio (BWV 249) and several solo cantatas for Erato under the direction of Ton Koopman.

In 1790 Haydn was generally considered the most famous composer of his age, but the relative obscurity of his operas in comparison with his other works has continued from that time to the present day, with works like Armida, L'isola disabitata, and L'infedelta delusa being far less known today than those of Haydn's contemporaries Gluck and Mozart.

Nonetheless, his mastery of the symphonic genre in combination with his ability to write elegant vocal lines and melodic text interpretation reveal him to be a significant figure in the history and development of the operatic tradition.
| | |
| --- | --- |
| Recensent | : Redactie |
| Datum | : 30-10-2013 |
| verschenen in Platomania | : 303 |
| Waardering | : 7.5 |
CD/DVD gratis verzending vanaf € 25,-
Vinyl gratis verzending vanaf € 50,-
Geen verzendkosten: