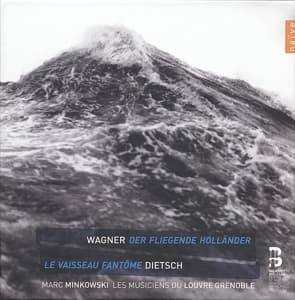 Drager: CD (Aantal 4)
Levertijd: 3 a 5 werkdagen
Herkomst: NL
Releasedatum: 11-11-2013
Item-nr: 3169311
EAN: 0822186053492
RECENSIE


Een heuse Wagner-wereldpremière in Enschede. Want daar was de oerversie van Wagners Der fliegende Höllander in 1997 voor het eerst te horen. Op de bok stond barokspecialist Marc Minkowski die de in opdracht van de Nationale Reisopera vervaardigde partituur tot leven bracht. Geen Tristan und Isolde-einde, van een klif springen is gewoon dood. En hoewel de muziek al vooruitwijzingen naar Wagners latere werk bevat, horen we hier vooral een componist die juist niet radicaal afwijkt van zijn Italiaanse collega's. Nu, vijftien jaar later, keert Minkowski terug naar Wagners eerste 'volwassen' opera samen met zijn Les Musiciens du Louvre Grenoble. In dit Wagner-jaar neemt hij echter niet alleen de oerversie met topsolisten op, maar ook Le Vaisseau Fantôme van Pierre-Louis Dietsch, de Franse componist die Wagners libretto in handen kreeg nadat Wagner zelf zijn pogingen om de opera in Parijs opgevoerd te krijgen zag mislukken en daarom de tekst maar verkocht. Minkowski's opname van beide opera's is misschien wel de interessantste van dit Wagner-jaar. Niet alleen horen we de meest Italiaanse versie van de Hollander, daarnaast krijgen we de Franse bewerking daarvan, die nog voor Wagners aangepast versie de wereldpremière beleefde.


Wagner: Der fliegende Holländer
Dietsch:
Le Vaisseau Fantôme


Evgeny Nikitin (Der Holländer), Ingela Brimberg (Senta), Eric Cutler (Georg), Mika Kares (Donald), Bernard Richter (Der Steuermann), Helene Schneiderman (Mary), Russell Braun (Troïl), Sally Matthews (Minna), Bernard Richter (Magnus), Ugo Rabec (Barlow) & Eric Cutler (Éric)

Les Musiciens du Louvre Grenoble, Marc Minkowski

When he arrived in Paris on 17 September 1839, the young Richard Wagner aspired to one single ambition: to have his music performed on the stage of the Opéra, for the French capital was, for an operatic composer, the sole temple of posterity. Inspired by reading a novella by Heine he began composing 'Der fliegende Holländer'. Unfortunately, Léon Pillet, the director of the Opéra who took up his post during the summer of 1840, shattered Wagner's hopes at a stroke. He proposed merely to buy from Wagner his 'idea', which he found appealing. To meet an urgent need for funds, Wagner sold the subject of the work to the new management for 500 francs. More precisely, he submitted a synopsis in broken French summarising an operatic adaptation of the story of the Flying Dutchman.

Entrusted to Paul Foucher and Bénédict-Henri Révoil in the summer of 1841, Wagner's synopsis soon assumed the form of a French libretto, enriched with new influences: Walter Scott's 'The Pirate', the writings of James Fenimore Cooper, and especially 'The Phantom Ship' by Frederick Marryat (translated into French in 1839 under the title of 'Le Vaisseau fantôme'). Once it had been set to verse by Foucher, it was handed over to the composer Pierre-Louis Dietsch, Léon Pillet's friend and protegée, newly-appointed chorusmaster at the Opéra. Wagner's missed opportunity with the Paris operatic stage (the first in a long series) therefore gave rise to two distinct works: Dietsch's 'Le Vaisseau fantôme', performed for the first time at the Paris Opéra on 9 November 1842, and Wagner's 'Der fliegende Holländer', premiered in Dresden on 2 January 1843.

Founded in 1982 by Marc Minkowski, Les Musiciens du Louvre Grenoble breathes new life into the Baroque, Classical and Romantic repertoires, performed on period instruments. Recent operatic successes include a Mozart gala for the orchestra's 30th anniversary and Offenbach's 'Les Contes d'Hoffmann' (Salle Pleyel); Wagner's 'Der fliegende Höllander' (Opéra de Versailles, MC2 Grenoble, Theater an der Wien, Palau de la Música in Barcelona); and Mozart's 'Lucio Silla' at the Salzburg Mozartwoche and Festival, and at the Musikfest Bremen where it has appeared regularly since 1995. The orchestra's recordings for naïve include the complete 'London' Symphonies of Haydn in 2010 and the Schubert symphonies in 2012, bestsellers on the naïve label.
| | |
| --- | --- |
| Recensent | : Redactie |
| Datum | : 23-10-2013 |
| verschenen in Platomania | : 302 |
| Waardering | : 8.0 |
CD/DVD gratis verzending vanaf € 25,-
Vinyl gratis verzending vanaf € 50,-
Geen verzendkosten: