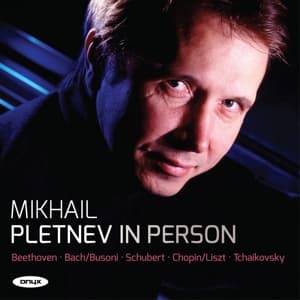 Drager: CD (Aantal 1)
Levertijd: 3 a 5 werkdagen
Herkomst: NL
Releasedatum: 28-10-2013
Item-nr: 3169331
EAN: 0880040411024
RECENSIE

Mikhael Pletnev in Person

Beethoven:
Piano Sonata No. 2 in A major, Op. 2 No. 2
Busoni:
Transcription of Bach's Partita BWV 1004: Chaconne
Chopin:
A maiden's love (words S. Witwicki), Op. 74, No. 5
Chopin/Liszt
Schubert:
Impromptu in C minor, D899 No. 1
Impromptu in G flat major, D899 No. 3
Tchaikovsky:
Nocturne for cello & small orchestra (or cello & piano), Op. 19 No. 4
The Seasons, Op. 37b: November (Troika)
Mikhail Pletnev (piano)

A treat for fans of Pletnev the pianist and piano enthusiasts. Recorded in single takes in between sessions for other recordings but with the red light left on, these performances capture one the great pianists of our time simply playing for himself. Never before released, the performances and recordings have been approved by Mikhail Pletnev for release.

The Beethoven sonata is a work he has not recorded before, and the Bach/Busoni Chaconne recording pre-dates his famous 'Live from Carnegie Hall' album. The Schubert Impromptus were recorded at Rachmaninov's villa in Switzerland on the composer's own Steinway. This CD allows us to eavesdrop on a great artist playing for pleasure – for himself whilst the recording technicians busied themselves with the 'official' recording. The spontaneous nature of the playing is captivating and, as always with Pletnev, exciting.
| | |
| --- | --- |
| Recensent | : Redactie |
| Datum | : 17-11-2013 |
| verschenen in Platomania | : 304 |
| Waardering | : 7.5 |
CD/DVD gratis verzending vanaf € 25,-
Vinyl gratis verzending vanaf € 50,-
Geen verzendkosten: