Dit artikel is vervallen en niet meer leverbaar.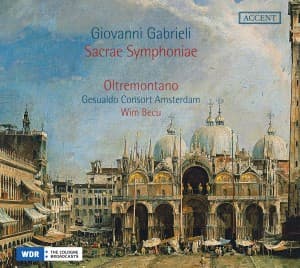 GABRIELI, G.
SACRAE SYMPHONIAE
Drager: CD (Aantal 1) Levertijd: Niet meer leverbaar
Herkomst: NL Releasedatum: 14-10-2013 Item-nr: 3169958 EAN: 4015023242821
RECENSIE

Gabrieli, G: Sacrae Symphoniae

Gesualdo Consort Amsterdam & Oltremontano, Wim Becu

Giovanni Gabrieli (1554/7?- 1612) is one of the most important representatives of Venetian polyphony; his "Sacrae Symphoniae" printed in 1597 are a monumental collection reflecting the power and esteem of the Venetian state.

The Ensemble Oltremontano and their director, Wim Becu, have selected the works for this recording primarily from this collection, forming a cross-section of Gabrieli's vocal and instrumental oeuvre. The ensemble, the core of which consists of baroque trombones and zinks, is expanded here by the inclusion of strings and organ; the vocal parts are sung by the Gesualdo Consort Amsterdam.

In the vocal concertos of the "Symphonia Sacrae", we find not only Psalm motets bound to the earlier, lofty Renaissance style, but also hymn-like settings of Marian prayer texts. In addition, there are also purely instrumental works in the "Sacrae Symphoniae" – a novelty for this period. The exactitude with which Gabrieli at times called for specific sound dynamics is shown, first of all, in the "Canzon in echo", but most emphatically in the "Sonata pian e forte", one of the earliest examples of dynamic notation in music history. The predilection of the period for the effects of echoing, changes in timbre and spatial antiphony is reflected in all the works; they are particularly magnificent in the 18-part "Hic est filius Die", which forms the brilliant culmination of this CD.
| | |
| --- | --- |
| Recensent | : Redactie |
| Datum | : 11-05-2013 |
| verschenen in Platomania | : 303 |
| Waardering | : 7.5 |
CD/DVD gratis verzending vanaf € 25,-
Vinyl gratis verzending vanaf € 50,-
Geen verzendkosten: