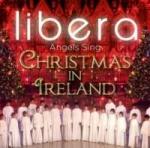 Drager: CD (Aantal 1)
Levertijd: 3 a 5 werkdagen
Herkomst: NL
Releasedatum: 8-11-2013
Item-nr: 3173854
EAN: 5099940956626
RECENSIE

Angels Sing: Christmas in Ireland

1. Joy to the World
2. God Rest You Merry Gentlemen
3. The Wexford Carol (Carúl Loch Garman)
4. In Dulci Ci Jubilo
5. Angels We Have Heard On High
6. Sanctus
7. Danny Boy
8. Carol of the Bells
9. O Holy Night
10. Still, Still, Still
11. Gaudete
12. Away in a Manger
13. Have Yourself a Merry Little Christmas
14. Silent Night
15. What Child Is This
Libera

The internationally-bestselling boy choir Libera releases a Christmas programme recorded in concert at St. Patrick's Cathedral in Armagh, Ireland and available on CD and DVD. Libera's timeless Christmas repertoire consists of six tracks never previously recorded by the vocal band, new arrangements of 14 traditional carols and of Danny Boy, and two bonus tracks: Once in royal David's city and Exsultate. The music content of the audio and video versions is identical and the DVD programme contains documentary features as well.

Libera was formed in 1999 by Music Director/Composer/Arranger/Conductor Robert Prizeman and named for the band's signature song based on the Libera me segment of the Requiem Mass. The boys who make up Libera, aged between 7 and 16, are from diverse backgrounds and attend schools in South London. The band's membership changes regularly, as older boys' voices break and they move on, making room for new members. Libera has an original sound, its music combining elements of Gregorian chant, classical composers and contemporary pop and new age music, mainly in arrangements by Prizeman. Libera's mystical chords and shimmering harmonies have inspired audiences across the generations and across the globe. They typically perform in flowing white robes.
| | |
| --- | --- |
| Recensent | : Redactie |
| Datum | : 17-11-2013 |
| verschenen in Platomania | : 303 |
| Waardering | : 7.5 |
CD/DVD gratis verzending vanaf € 25,-
Vinyl gratis verzending vanaf € 50,-
Geen verzendkosten: