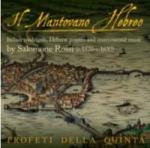 Drager: SACD (Aantal 1)
Levertijd: Meer dan 3 weken
Herkomst: Import (EU)
Releasedatum: 21-10-2013
Item-nr: 3165057
EAN: 0691062042925
RECENSIE

Il Mantovano Hebreo
Italian madrigals, Hebrew Prayers and Instrumental music by Salomone Rossi
Shir hamma'alót [Psalm 128]
Sinfonia Prima a 5 e a 3 si placet
Sfogava con le stele
Sinfonia Prima
Tu parti, ahi lasso
Cor mio, deh non languire
Sinfonia Undecima
Udite, lacrimosi spirti d'averno
Sinfonia seconda, detta la Emiglia
Gagliarda a 5 e a 3 si placet, detta Narciso
Correnta terza
Brando second
Tirsi mio, caro Tirsi
Sinfonia quinta
Rimanti in pace
Sinfonia decima
Psalm 100 - Mizmór letodá
Gagliarda disperata
Correnta sesta
Psalm 146 - Haleluyáh
Vedrò 'l mio sol
Sinfonia Duodecima
In dolci lacci
Sonata ottava aria, E tanto tempo hormai
Ohimè, se tanto amate
Messaggier di speranza
Corrente settima
Gagliarda a 5 e a 3 si placet, detta la Zambalina
Pargoletta, che non sai
Psalm 126 - Shir hama'alót, beshúv 'adonái adonái
Profeti della Quinta

Profeti della Quinta makes its Linn debut with a unique programme of Italian madrigals, instrumental pieces and Hebrew prayers by Salomone Rossi (c.1570-c.1630).

The programme encompasses Rossi's many-faceted talents both as a court composer in the service of the Gonzaga family and as a unique innovator of devotional music for the synagogue.

The award-winning a-cappella ensemble, comprising five core male singers, is joined for this recording by Katya Polin and Eva Saladin (violin) and Ori Harmelin and Ryosuke Sakamoto (theorbo).

The native Hebrew speaking singers specialize in the music of the Italian Baroque and have an immediate connection to Rossi as a Jewish Italian composer.
| | |
| --- | --- |
| Recensent | : Redactie |
| Datum | : 31-12-2013 |
| verschenen in Platomania | : 303 |
| Waardering | : 7.5 |
CD/DVD gratis verzending vanaf € 25,-
Vinyl gratis verzending vanaf € 50,-
Geen verzendkosten: