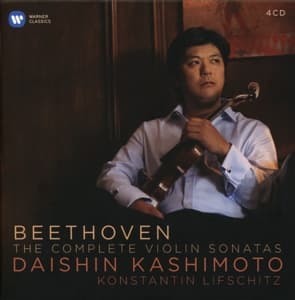 Drager: CD (Aantal 4)
Levertijd: 3 a 5 werkdagen
Herkomst: NL
Releasedatum: 6-02-2014
Item-nr: 3197915
EAN: 0825646349296
RECENSIE
De Japanse violist DaiShin Kashimoto (1979) heeft inmiddels een gerenommeerde reputatie opgebouwd als solist en kamermusicus.

Deze 4-CD set met de complete vioolsonates van Ludwig van Beethoven is mede een gevolg van een door veel critici toegejuichte tourcyclus die Kashimoto in Japan maakte samen met de Russische pianist Konstantin Lifschitz.

Eind 18e eeuw was deze kamermuziek al een populair genre en vooral bestemd voor uitvoering in de aristocratische salons. Nog steeds stuk voor stuk juweeltjes van de Klassieke Tijdsperiode zoals de lyrische en expressieve 'Spring' sonate en de aan de Franse vioolvirtuoos en dirigent Rudolphe Kreutzer opgedragen Kreutzersonate. Niet onvermeld mag blijven Beethoven's laatste in 1812 voltooide Sonate Opus 96, een werk van poëtische schoonheid.

Kashimoto en Lifschitz staan garant voor ruim vier uur luisterplezier!

Beethoven: Violin Sonatas Nos. 1-10 (Complete)

Daishin Kashimoto (violin) & Konstantin Lifschitz (piano)

Daishin Kashimoto has many strings to his bow, an outstanding and passionate performer of chamber music, a busy solo career with the world's greatest orchestras, as well as his position as first concertmaster of the Berliner Philharmoniker. Warner Classics is proud to be releasing this 4 CD box set of the complete set of Beethoven's violin sonatas available from January 2014.

Daishin Kashimoto, 1st Concertmaster of the Berliner Philharmoniker since 2009, has built a parallel reputation as a renowned international soloist and chamber musician. He makes his Warner Classics debut with the complete Beethoven Sonatas for Piano and Violin, partnered by the distinguished Russian pianist Konstantin Lifschitz with whom he has performed over many years. These recordings follow their critically acclaimed tour of the cycle in Japan.

"It is never easy to work on a Beethoven piece, not just the sonatas but even the small chamber pieces or orchestral pieces, especially spiritually or psychologically," Daishin said during the recording process. "I always try to understand the genius of Beethoven. Making music at the highest level like this gives me tremendous satisfaction and a feeling of being emotionally complete."

Ludwig van Beethoven was only 27 years old when he composed his first 'sonatas for piano and violin' in 1797 but his writing is already assured and confident. He accords the violin equal status with the piano in this popular genre intended for aristocratic salons and middle-class drawing rooms. The three Opus 12 sonatas, composed between 1797 and 1798, were dedicated to the court composer Antonio Salieri. The next sonatas, Opus 23 and 24, were composed in 1800 and bear a dedication to Count Moritz von Fries. The two works are very different, Opus 23 urgent and restless, Opus 24 'Spring Sonata' lyrical and expressive. Three sonatas, Opus 30, followed these, composed in 1802 after Beethoven had been advised to move from the centre of Vienna to the countryside because of his developing deafness and dedicated to the young Russian Tsar Alexander I. The next year, after an introduction to the celebrated violinist George Bridgetower, Beethoven composed a sonata (Opus 47) for him, which the two artists premiered together. Alas, they soon fell out and by the time the sonata was printed, it had been dedicated to the French virtuoso Rodolphe Kreutzer. Beethoven's final sonata, Opus 96, was completed in 1812, a work of poetic inwardness composed for the unflashy French violinist Pierre Rode.

Born in London in 1979, Daishin Kashimoto began studying the violin with Kumiko Etoh in Tokyo at the age of three. In 1986, he became the youngest student at the Pre-College Division of the Juilliard School in New York City. Four years later, he moved to the Lübeck Musikhochschule to study with Dr. Zakhar Bron and, in 1999, to the Freiburg Musikhochschule, where he was a pupil of Rainer Kussmaul and from which he graduated in 2005.

During his student years, Daishin won numerous awards including first prize in the Menuhin International Junior Violin Competition (1993) and the International Competition for Violinists in Cologne (1994 and 1996). In 1994, he was awarded the Steigenberger Prize and the Davidoff Prize. In 1996 he was the youngest-ever winner of both the International Fritz Kreisler Violin Competition in Vienna and the Marguerite Long – Jacques Thibaud International Competition in Paris.

Daishin has given recitals and made solo appearances in major cities of the United States, the Far East and Europe. He has performed with many internationally renowned orchestras, including the State Symphony Orchestra of Russia (Evgeny Svetlanov), the St. Petersburg Philharmonic Orchestra (Mariss Jansons and Yuri Temirkanov), the Moscow Radio Symphony Orchestra (Vladimir Fedoseev), the Moscow Soloists (Yuri Bashmet), and the NHK Symphony Orchestra (Evgeny Svetlanov), the Orchestre National de France and the Berliner Philharmoniker.

As a chamber musician, Daishin regularly collaborates with such artists as Yuri Bashmet, Konstantin Lifschitz, Myung-Whun Chung, Itamar Golan, Claudio Bohórquez, Yefim Bronfman, Shlomo Mintz, Tabea Zimmermann, Paul Meyer, Antoine Tamestit, Jian Wang, Eric Le Sage, Misha Maisky and Jing Zhao.

The Russian-born pianist Konstantin Lifschitz has studied with Alfred Brendel, Leon Fleisher, Theodor Gutmann, Hamish Milne, Charles Rosen, Karl-Ulrich Schnabel, Vladimir Tropp, Fou T'song and Rosalyn Tureck. Today he performs all over the world with leading orchestras and conductors, in recital and as a chamber musician with first tier colleagues. He has a vast repertoire and has premiered numerous works written expressly for him. An Associate and Fellow of the Royal Academy of Music in London, he is also professor of piano at the Hochschule für Musik in Lucerne and gives master classes all over the world. Lifschitz is known for his marathons and complete cycles of works by Bach, Beethoven, Chopin, Debussy, Mozart, Schubert and Shostakovich.
| | |
| --- | --- |
| Recensent | : Redactie |
| Datum | : 24-01-2014 |
| verschenen in Platomania | : 305 |
| Waardering | : 8.5 |
CD/DVD gratis verzending vanaf € 25,-
Vinyl gratis verzending vanaf € 50,-
Geen verzendkosten: