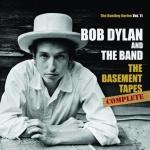 Drager: CD (Aantal 6)
Levertijd: 3 a 5 werkdagen
Herkomst: NL
Releasedatum: 31-10-2014
Item-nr: 3310834
EAN: 0888750161222
Disc 2
Disc 4
Disc 6
2 Dollars And 99 Cents
Jelly Bean
Any Time
Down By The Station
Hallelujah, I've Just Been Moved
That's The Breaks
Pretty Mary
Will The Circle Be Unbroken
King Of France
She's On My Mind Again
Goin' Down The Road Feeling Bad
On A Rainy Afternoon
I Can't Come In With A Broken Heart
Next Time On The Highway
Northern Claim
Love Is Only Mine
Silhouettes
Bring It On Home
Come All Ye Fair And Tender Ladies
The Spanish Song - Take 1
The Spanish Song - Take 2
Confidential
900 Miles From My Home
Confidential
RECENSIE
Bestaan er sessies die met meer mythes omgeven zijn Dylans Basement Tapes? Vanaf 1969, toen op niet de allereerste, maar wel een van meest legendarische, bootleg Great White Wonder zeven nummers van deze sessies opdoken zijn ze een soort heilige graal voor iedere Dylan-liefhebber. Andere artiesten hadden succes met de nummers die in Big Pink in 1967 waren opgenomen, waaronder natuurlijk The Band (This Wheel's On Fire, I Shall Be Released), maar toen in 1975 eindelijk de dubbel-lp The Basement Tapes verscheen was dat slechts het topje van de ijsberg. En erger: Robbie Robertson van The Band voegde overdubs en nummers van latere sessies toe.

Ook The Bootleg Series Vol. 1-3 (1991) leverde maar twee Basement Tapes-opnames, maar in de jaren die volgden legden verzamelaars de hand op vijf goed gevulde cd's genaamd The Genuine Basement Tapes, later gevolgd door een opgepoetste fanversie. Deze cd's gebruikte Greil Marcus als basis voor zijn onvolprezen Invisible Republic: Bob Dylan's Basement Tapes, maar hoewel het ene na het andere deel van de officiële Bootleg Series volgde, op een verdwaald nummer na bleef het wachten op een definitieve release van wat Clinton Heylin terecht omschreef als 'Dylan's greatest collection of songs'.

Tot nu. Zevenenveertig jaar nadat Dylan en wat even later The Band zou worden zich terugtrokken in het afzichtelijk roze geschilderde huis in West Saugerties verschijnt alles. En hoewel Garth Hudson, toch de archivaris van The Band, verklaarde dat op de vijf bootleg-cd's wel zo'n beetje alles wel stond, blijken nu zes tot de rand gevulde cd's nodig om de complete Basement Tapes te ontsluiten. Godlof, want in The Basement Tapes is de hele Amerikaanse muziekgeschiedenis vervat. Van hartverscheurend tot kolderiek, van bitter tot feestelijk, van raadselachtig tot rechtoe rechtaan.

Nog niet ieder klonken de tientallen originals en covers zo goed, nog niet eerder waren zelfs de miniemste details tussen verschillende takes hoorbaar en meer dan ooit valt op hoeveel Robertson in 1975 aan deze opnames gesleuteld heeft. En nu blijkt bijvoorbeeld dat Ain't No More Cane weliswaar een Basement Tape-opname is, maar dan gezongen door Dylan, die het natuurlijk al vanaf de vroege jaren zestig zong, maar niet de gepolijste Band-opname die op het 1975-album terug te vinden, hoe goed die versie ook is.

De 2cd-versie (ook op 3lp) bevat de hoogtepunten, maar de 6cd-versie is natuurlijk te prefereren. Jammer dat Sony het niet aandurfde om ook een 10lp-box uit te brengen, maar dat is dan werkelijk ook het enige puntje van kritiek op deze uitgave, die, om de bespreking in Rolling Stone uit 1975 maar eens te parafraseren, de beste van 2014 is, net zoals die, zelfs in verminkte vorm, de beste van 1975 was en van 1967 geweest zou zijn.
| | |
| --- | --- |
| Recensent | : Redactie |
| Datum | : 9-09-2014 |
| verschenen in Platomania | : 312 |
| Waardering | : 9.0 |
CD/DVD gratis verzending vanaf € 25,-
Vinyl gratis verzending vanaf € 50,-
Geen verzendkosten: