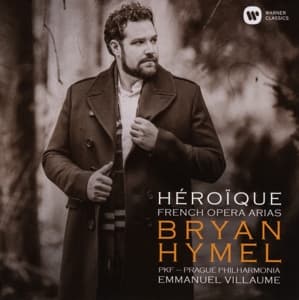 Drager: CD (Aantal 1)
Levertijd: 3 a 5 werkdagen
Herkomst: NL
Releasedatum: 13-02-2015
Item-nr: 3349743
EAN: 0825646179503
RECENSIE


De Amerikaanse tenor Bryan Hymel maakt wereldwijd furore met grote rollen in Franse opera's. Een logische keuze dus om voor zijn debuut-cd voor Warner te kiezen voor heroïsche aria's van Berlioz, Gounod, Massenet, Meyerbeer en de voor Parijs geschreven werken van Verdi en Rossini. Asile héréditaire uit Guillaume Tell maakt gelijk duidelijk dat dit repertoire Hymel op het lijf is geschreven. Wat volgt is een ware zegetocht langs de ene prachtige aria na de andere, gezongen met een prachtige dictie, fenomenale timing, kracht en technische perfectie. Vijf sterren.


Héroïque: French Opera Arias

Berlioz:
La Damnation de Faust, Op. 24: Nature immense, impénétrable et fière
Inutiles regrets…En un dernier naufrage (from Les Troyens)
Bruneau:
Le jour tombe, la nuit va bercer (from L'Attaque du Moulin)
Gounod:
Faiblesse de la race humaine (from La Reine de Saba)
Massenet:
Ne pouvant reprimer les elans de la foi (from Hérodiade)
Meyerbeer:
Pays merveilleux... Ô paradis (from L'Africaine)
Czech Philharmonic Choir of Brno
Rabaud:
Chante vieux jardin ta chanson de cigale (from Rolande et le mauvais)
Reyer:
Esprits gardiens (from Sigurd)
Rossini:
Asile héréditaire (from Guillaume Tell)
Czech Philharmonic Choir of Brno
Verdi:
L'Emir auprès de lui m'appelle...Je veux encore entendre (from Jérusalem)
E di Monforte il cenno!...Giorno di pianto (from I vespri Siciliani)
Bryan Hymel (tenor)
PKF – Prague Philharmonia, Emmanuel Villaume

This recital, Héroïque, is tenor Bryan Hymel's first studio recording for Warner Classics. Its imaginatively conceived programme showcases him in repertoire that he has made his own on stages such as the Metropolitan Opera, Covent Garden and the Bavarian State Opera: opera in French that demands a thrilling heroism in both voice and style – and a top register of outstanding brilliance, since the album offers a grand total of 19 top C's.

In the space of just a few years, the American tenor Bryan Hymel has become closely identified with the kind of repertoire that is showcased in this recital, his first recording for Warner Classics: opera in French that demands a thrilling heroism in both voice and style. The imaginatively conceived programme showcases his prowess in arias to French texts by Verdi and Rossini, by Berlioz, Meyerbeer, Gounod and Massenet, and by three composers whose works are rarely heard today: Reyer, Bruneau and Rabaud.

On stage, Hymel has gone from Don José in Carmen to Enée in Berlioz's Les Troyens, the title role in Meyerbeer's Robert le Diable, Henri in Verdi's Les Vêpres siciliennes and Arnold in Rossini's Guillaume Tell.

Hymel's active repertoire is by no means limited to roles in French – at the Met, he has recently sung Rodolfo in La bohème, while his Prince in Dvořák's Rusalka led the Financial Times to describe his "lustre and visceral abandon" as "worth travelling continents to hear." His interpretations of the Prince, Enée and Robert le Diable at London's Royal Opera House led to his 2013 Olivier Award for Outstanding Achievement in Opera – the Oliviers are the UK's most prestigious awards in the worlds of theatre, opera, and dance; it complemented another high-profile prize he won in 2013, the Beverly Sills Artist Award, which recognises achievement at the Metropolitan Opera.

As an alumnus of Philadelphia's Academy of the Vocal Arts, well-known for nurturing exceptional operatic talent, Bryan Hymel was already a rising name when he sang Enée at London's Royal Opera House in 2012. He had performed the role in Amsterdam in 2010, but in London he was replacing no less a star than Jonas Kaufmann, who had cancelled his entire run of performances. Hymel's success in Les Troyens at Covent Garden led to another triumph six months later – this time at the Met. It was his debut at the USA's most iconic opera house and – in an act of true operatic heroism – he was stepping in at the last minute for another major tenor, Marcello Giordani.
| | |
| --- | --- |
| Recensent | : Redactie |
| Datum | : 14-02-2015 |
| verschenen in Platomania | : 315 |
| Waardering | : 9.0 |
CD/DVD gratis verzending vanaf € 25,-
Vinyl gratis verzending vanaf € 50,-
Geen verzendkosten: