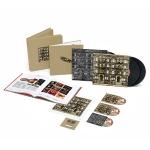 Drager: CD (Aantal 6)
Levertijd: 3 a 5 werkdagen
Herkomst: NL
Releasedatum: 19-02-2015
Item-nr: 3356232
EAN: 0081227957926
Disc 1
Disc 3
Disc 5
In The Light
Bron-Y-Aur
Down By The Seaside
Ten Years Gone
Night Flight
The Wanton Song
Boogie With Stu
Black Country Woman
Sick Again
Disc 7
Disc 9
Houses Of The Holy (Rough Mix With Overdubs)
Everybody Makes It Through (In The Light) [Early Version/in Transit]
Boogie With Stu (Sunset Sound Mix)
Driving Through Kashmir (Kashmir Rough Orchestra Mix)
Disc 2
Disc 4
Custard Pie
The Rover
In My Time Of Dying
Houses Of The Holy
Trampled Underfoot
Kashmir
Disc 6
Brandy & Coke (Trampled Under Foot) (Initial Rough Mix)
Sick Again (Early Version)
In My Time Of Dying (Initial Rough Mix)
Houses Of The Holy (Rough Mix With Overdubs)
Everybody Makes It Through (In The Light) (Early Version / In Transit)
Boogie With Stu (Sunset Sound Mix)
Driving Through Kashmir (Kashmir Rough Orchestra Mix)
Disc 8
Brandy & Coke (Trampled Under Foot) [Initial/rough Mix]
Sick Again (Early Version)
In My Time Of Dying (Initial / Rough Mix)
RECENSIE
 Super Deluxe Boxed Set
o Remastered double album on CD in vinyl replica sleeve.
o Companion audio on CD in card wallet featuring new alternate cover art.
o Remastered double album on 180-gram vinyl in a sleeve replicating first pressing.
o Companion audio on 180-gram vinyl in a sleeve with new alternate cover art.
o High-definition audio download card of all content at 96kHz/24 bit.
o Hard bound, 96 page book filled with rare and previously unseen photos and
memorabilia.
o High-quality print of the original album cover, the first 30,000 of which will be
individually numbered.
Tegen de tijd dat ze aan hun zesde plaat toe zijn, wordt Led Zep door de goegemeente gezien als een achterhaalde, volgevreten rockmoloch. Niet dat Page, Plant, Jones en Bonham zich daar iets van aan trokken, integendeel. De heren hadden namelijk een overdonderend antwoord klaar. Eind 1973, een half jaar na de release van Houses Of The Holy, begonnen ze te werken aan de opvolger, waar ze met tussenpozen nog een jaar mee bezig zouden zijn. Aan inspiratie geen gebrek: de overvloed aan nieuwe nummers, aangevuld met restmateriaal van de eerste vijf albums, leidde zelfs tot een dubbelalbum. Op Physical Graffiti, dat precies veertig jaar gelden verscheen, deed Led Zeppelin alles waar ze goed in zijn en nog veel meer: knallende riffs (Custard Pie, The Wanton Song, Sick Again), uitgesponnen blues (In My Time Of Dying) en akoestische folk (Bron-Yr-Aur, Black Country Woman), maar ze zijn ook catchy (Night Flight), laid back (Down By The Seaside) en melancholiek (Ten Years Gone). Voeg daarbij de dampende funk van Trampled Under Foot en het monumentale Kashmir, waarop een Oosterse drone, een strijkorkest en een rockband samen voor een hypnotiserend effect zorgen. Het resultaat is een mozaiek waar je niet aan uitgeluisterd raakt, vergelijkbaar met klassieke dubbelaars als The White Album en Blonde On Blonde. Ook deze reissue is door Jimmy Page opnieuw gemasterd en voorzien van een bonusschijf met alternatieve versies, waaronder vroege opnames van Trampled Under Foot, In The Light en Kashmir.
Companion Audio Disc
1. "Brandy & Coke" (Trampled Under Foot - Initial Rough Mix)
2. "Sick Again" (Early Version)
3. "In My Time Of Dying" (Initial Rough Mix)
4. "Houses Of The Holy" (Rough Mix With Overdubs)
5. "Everybody Makes It Through" (In The Light Early Version/In Transit)
6. "Boogie With Stu" (Sunset Sound Mix)
7. "Driving Through Kashmir" (Kashmir Rough Orchestra Mix)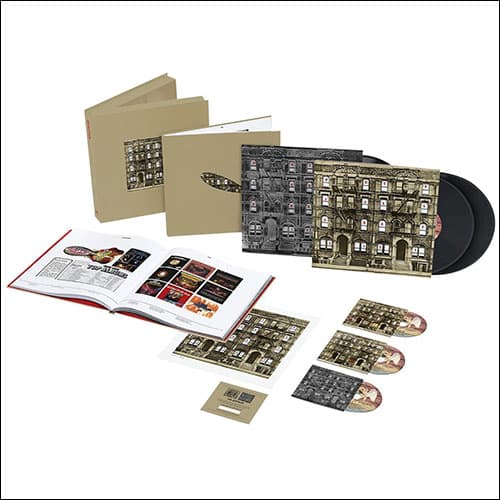 | | |
| --- | --- |
| Recensent | : Redactie |
| Datum | : 13-01-2015 |
| verschenen in Platomania | : 315 |
| Waardering | : 9.0 |
CD/DVD gratis verzending vanaf € 25,-
Vinyl gratis verzending vanaf € 50,-
Geen verzendkosten: