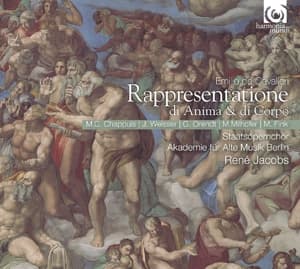 AKADEMIE FUR ALTE MUSIK BERLIN
RAPPRESENTATIONE DI ANIMA ET DI COO
Drager: CD (Aantal 2)
Levertijd: 3 a 5 werkdagen
Herkomst: NL
Releasedatum: 16-02-2015
Item-nr: 3358887
EAN: 3149020220023
RECENSIE
Het is een vrijwel jaarlijks terugkerend feestje voor de liefhebbers: de operarelease van René Jacobs. Ditmaal verrast hij met een werk dat noch opera noch oratorium is, simpelweg omdat het geschreven is in een tijd waarin beide genres nog niet bestonden. De ongeveer tussen 1550 en 1602 levende Italiaanse componist Emilio de Cavalieri maakte met Rappresentazione di Anima e di Corpo echter een indrukwekkend werk voor solisten, koor en groot orkest, dat handelt over de dialoog tussen lichaam en geest. Elk van de solisten krijgt door het orkest een eigen klankkleur mee en de Akademie für Alte Musik Berlin toont zich een warm pleitbezorger van muziek die elke barokliefhebber zal omarmen.


Cavalieri: Rappresentazione di Anima e di Corpo


Marie-Claude Chappuis (Anima), Johannes Weisser (Corpo), Gyula Orendt (Tempo, Consiglio), Mark Milhofer (Inteletto, Piacere), Marcos Fink (Mondo, Secondo Compagno di Piacere, Anima dannata)

Staatsopernchor, Concerto vocale, Akademie für Alte Musik Berlin, René Jacobs

Composed at a time when neither oratorio nor opera existed, this 'Rappresentatione' premiered in February 1600 is a magisterial musical drama. In its dialogue between Soul and Body, an emblematic theme of the Counter-Reformation, employing singers, chorus, and an extensive orchestra whose varied timbres both accompany and characterise the soloists. At the dawn of the Baroque revolution, song, stage action, dance, and instrumental music combine in perfect harmony. Since the 'Rappresentatione' is fully staged, in three acts with a spoken prologue, it can be considered to be the first surviving opera as such.

Emilio de' Cavalieri already had an eventful artistic life behind him when he gave the 'Rappresentatione' in February 1600 at the Oratorio della Vallicella in Rome. He was born around 1550 into a wealthy aristocratic Roman family, the son of Tommaso de' Cavalieri, Michelangelo's closest friend and who had easy access to the Vatican as an adviser in artistic matters. It is there that Emilio must have got to know Ferdinando de' Medici, the sixth son of the Grand Duke of Tuscany. When Ferdinando, after the death of his older brothers, doffed the cardinal's purple to become Grand Duke of Tuscany, he took Cavalieri with him to Florence and appointed him intendant of court festivities. Cavalieri was responsible for the famous musical intermedi to 'La Pellegrina' of 1589, staged for the Grand Duke's marriage, regarded as the most important forerunner of opera.

In subsequent years he maintained close diplomatic relations with the papal court on behalf of the Grand Duke and commuted regularly back and forth between Florence and Rome. Hence he came to assist Pope Clement VIII in the artistic organisation of the Holy Year 1600. It was on this occasion that he presented a work for which he claimed to have invented 'recitar cantando' – sung dramatic declamation – a few months before the first operas were produced in Florence in October 1600, during celebrations accompanying the wedding of Maria de' Medici with the King of France. Cavalieri himself scarcely had an opportunity to contribute to the further development of musical drama. Almost exactly two years after the performance of the Rappresentatione, he died in his native city. A memorial tablet in S. Maria in Aracoeli still reminds visitors today that he lies buried in this church on the Capitol.

Booklet includes 'Let every thing that hath breath . . .' notes on the work and on performance practice by René Jacobs and full libretto.
| | |
| --- | --- |
| Recensent | : Redactie |
| Datum | : 22-01-2015 |
| verschenen in Platomania | : 315 |
| Waardering | : 9.0 |
CD/DVD gratis verzending vanaf € 25,-
Vinyl gratis verzending vanaf € 50,-
Geen verzendkosten: