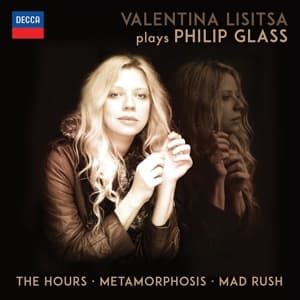 PIANO MUSIC OF PHILIP GLASS
Drager: CD (Aantal 2)
Levertijd: Op werkdagen voor 16:00 besteld, morgen in huis
Herkomst: NL
Releasedatum: 6-03-2015
Item-nr: 3358980
EAN: 0028947880790
RECENSIE
Door het plaatsen van filmpjes op YouTube heeft Valentina Lisitsa wereldwijd een grote schare fans voor klassieke muziek weten te winnen. Na haar albums met muziek van Chopin, Liszt, Rachmaninov en Nyman, speelt zij – op het verzoek van de fans – muziek van Philip Glass. Dit album bevat bekende pianowerken als Metamorphosis, maar ook transcripties van Glassworks en muziek uit The Hours, Mishima en The Truman Show. Bijzonder is de transcriptie van How Now, dat Glass in de jaren zestig schreef. Een prachtig album met muziek van een van de meest veelzijdige eigentijdse Amerikaanse componisten, die niet in het minimal music genre is blijven hangen, maar zich juist op vele verschillende podia het publiek raakt met aansprekende muziek.


Valentina Lisitsa plays Philip Glass

Opening from 'Glassworks'
Truman Sleeps, from 'The Truman Show'
The Poet Acts
Morning Passages
How Now
Something She Has To Do
I'm Going to Make a Cake
Olympian: Lighting of the Torch
Mad Rush
Dead Things
Tearing Herself Away
Wichita Vortex Sutra
Escape!
Choosing Life
The Hours
Metamorphosis I-V
Mishima: Closing
Valentina Lisitsa (piano)

This album brings together two artists with enormous followings: Valentina Lisitsa, with her dazzling artistry and hundreds of thousands of followers on YouTube; and Philip Glass, with his hugely popular minimalist piano music.

A generous selection of Philip Glass�s most successful and best-loved pieces for solo piano, brought together on one 150min release (2CD physical) including tracks from the BAFTA-winning and Academy Award nominated film �The Hours.�

Here is Glass at his best � using the building blocks of minimalism to achieve a huge, inventive soundscape of musical richness and contrasts. His music is richly harmonic, and this album is a deeply evocative listening experience.

Revelatory performances from YouTube sensation, pianist Valentina Lisitsa; a wonderful artist with exceptional musicality and a stunning technique.
| | |
| --- | --- |
| Recensent | : Wil Zenhorst |
| Datum | : 3-01-2015 |
| Waardering | : 8.5 |
CD/DVD gratis verzending vanaf € 25,-
Vinyl gratis verzending vanaf € 50,-
Geen verzendkosten: