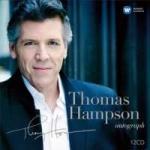 Drager: CD (Aantal 12)
Levertijd: 3 a 5 werkdagen
Herkomst: NL
Releasedatum: 6-03-2015
Item-nr: 3362728
EAN: 0825646190454
RECENSIE

Thomas Hampson: Autograph

ondermeer met
Britten:
Billy Budd (Excerpts)
Gounod:
Faust: excerpts
Mahler:
Rückert-Lieder (5 songs, complete)
Mendelssohn:
Die erste Walpurgisnacht, Op. 60: So weit gebracht, dass wir bei Nacht
Mozart:
Le Nozze di Figaro: excerpts
Don Giovanni: excerpts
Soave sia il vento (from Così fan tutte)
Rivolgete a lui lo sguardo (from Così fan tutte)
Schumann:
Dichterliebe, Op. 48
Thomas, Ambroise:
Hamlet: excerpts
Verdi:
Ove son io?....Vada in flamme (from Macbeth)
Perfidi!…Pietà, rispetto, amore (from Macbeth)

Oui, je fus bien coupable...Au sein de la puissance (from Les Vêpres siciliennes)

Di Provenza il mar (from La Traviata)
Suona ogni labbro il mio nome (from Simon Boccanegra)
Il Trovatore (excerpts)
Don Carlo (excerpts)
Wagner:
Tannhäuser (excerpts)
Götterdämmerung: excerpts
CD1 - MOZART AND THE OPERAS BY LORENZO DA PONTE
CD2 - GOETHE AND SHAKESPEARE (Mendelssohn, Gounod, Ambroise Thomas, Verdi)
CD3 - VERDI – FATHERS AND FANATICS
CD4 - WAGNER – OPERAS AND SONGS
CD5 - BRITTEN – OPERA AND WAR REQUIEM
CD6 - LIEDER AND MELODIES, PART ONE: SCHUBERT
CD7 - LIEDER AND MELODIES, PART TWO: SCHUMANN

CD8 - LIEDER AND MELODIES, PART THREE (Berlioz, Liszt, Strauss, Mahler, Korngold)

CD9 - AMERICAN SONG (Copland, Hopkinson, Bernstein, Ives, Ungar, Warren, Carpenter, Duke, Still, Bowles, Homer, MacDowell, Foster)

CD10 - OPERETTA AND BROADWAY (Lehár, Kálmán, Millöcker, Stolz, Tauber, Zeller, J Strauss II, Berlin, Porter, Weill, Kern)

CD11 – ORATORIO (Bach, Mozart, Brahms, Fauré, Puccini, Duruflé)
CD12 - AN INTERVIEW PORTRAIT (with Jon Tolansky)
Thomas Hampson (baritone)

One of today's most innovative and insightful singers, Thomas Hampson is widely admired for his accomplished performances and his commitment to musical research and education. Encompassing opera, operetta, song, oratorio and Broadway musicals, this special collection – Thomas Hampson has personally overviewed the track selection – showcases his remarkable versatility and highlights some of his greatest operatic roles. The set also includes an interview documentary CD by Jon Tolansky, which offers fascinating insights into Hampson's career and achievements.
| | |
| --- | --- |
| Recensent | : Redactie |
| Datum | : 3-01-2015 |
| verschenen in Platomania | : 316 |
| Waardering | : 8.5 |
CD/DVD gratis verzending vanaf € 25,-
Vinyl gratis verzending vanaf € 50,-
Geen verzendkosten: