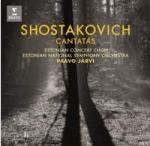 Drager: CD (Aantal 1)
Levertijd: 3 a 5 werkdagen
Herkomst: NL
Releasedatum: 29-04-2015
Item-nr: 3380544
EAN: 0825646166664
RECENSIE
3380544]
Toen Paavo Järvi uitgerekend in Estland deze cantates op het programma zette, had hij gelijk lijfwachten nodig. Helemaal verwonderlijk is dat niet, want hij koos ervoor de oorspronkelijke teksten te gebruiken die in twee van de cantates het schrikbewind van Stalin verheerlijken. Tot gruwel van de componist zelf, die min of meer gedwongen door de partij de werken schreef. Muzikaal zijn ze echter zeker de moeite waard, en Järvi's pleidooi voor de derde cantate, geschreven nadat Stalin was overleden, is terecht. Samen laten deze cantates zien hoe Shostakovich worstelde met het regime, en daarbij ook grenzen overschreed.


Shostakovich: Cantatas


The Execution of Stepan Razin, Op. 119
The Sun Shines on Our Motherland, Op. 90
The Song of the Forests, Op. 81

Aleksei Tanovitski (bass) & Kostiantin Andrejev (tenor)

Estonian National Symphony Orchestra, Narva Boys Choir & Estonian Concert Choir, Paavo Järvi


Following international acclaim, including Estonia's first Grammy Award, for their Grieg, Sibelius, Tüür and Pärt recordings on Erato, the Estonian-born conductor Paavo Järvi and the Estonian National Symphony Orchestra turn to rarely performed choral works by Dmitri Shostakovich: Song of the Forests Op. 81, The Sun Shines on our Motherland Op. 90, and The Execution of Stepan Razin Op. 119. The new release confirms Järvi's reputation as a conductor with a deep understanding for the music of Shostakovich, as well as a particular affinity for choral music, which has a strong tradition in his homeland. These cantatas have a particular significance in Estonia – a former Soviet Socialist Republic under Stalinist rule – where, according to Järvi, the orchestra's performance of the works was "scandalous".

"Järvi clearly prizes highly charged music making, often at top speed, with thoughtful phrasing and sharply punched accents… these qualities yield refreshing, powerful performances." - New York Times

"It got so out of hand that I actually had to have a bodyguard with me because the local papers started publishing articles about me praising Stalin in my concert program," he told Estonian World. "It was because the lyrics in one of the cantatas were praising Stalin but during the Brezhnev time, the texts were changed so that Stalin's name was not mentioned. I put all the original lyrics back together…so you get something really scary."

Shostakovich composed Song of the Forests in 1949, a year after he had been publicly condemned by Stalin's regime for the anti-Soviet nature of his music and forced to publicly apologise. A large-scale patriotic oratorio for tenor and bass soloists, children's choir and mixed choir with orchestra, Song of the Forests is set to text by the Soviet poet laureate Yevgeny Dolmatovsky that rhapsodises about Stalin's post-World War II reforestation programme in Russia and Siberia – a message that takes on renewed environmental urgency today. The work earned Shostakovich the Stalin Prize in 1950.

Shostakovich composed The Sun Shines on our Motherland in 1952 to another text by Yevgeny Dolmatovsky for mixed chorus, boys' chorus, large symphony orchestra and a brass band of trumpets and trombones. The sun symbolises the Communist Party, leading Russia toward the future. By the time Shostakovich composed The Execution of Stepan Razin for bass, concert chorus and orchestra in 1964, Stalin had died and the composer felt able to take a few risks under the regime of Nikita Khrushchev. The cantata is set to a grisly poem about a 17th-century Cossack revolutionary. Järvi calls the work an "absolute masterpiece" and a "critical view of the Soviet regime".

"It is very interesting to see all those three cantatas under the same label, on the same record, because you see the two extremely opposing sides of the great genius composer," he explains.
| | |
| --- | --- |
| Recensent | : Henri Drost |
| Datum | : 14-05-2015 |
| verschenen in Platomania | : 318 |
| Waardering | : 8.5 |
CD/DVD gratis verzending vanaf € 25,-
Vinyl gratis verzending vanaf € 50,-
Geen verzendkosten: