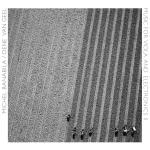 BANABILA, MICHEL / OENE VAN GEEL
MUSIC FOR VIOLA AND ELECTRONICS II
Drager: CD (Aantal 1)
Levertijd: Onbekend
Herkomst: NL
Releasedatum: 31-03-2015
Item-nr: 3391258
EAN:
RECENSIE
On Music for viola and electronics II, Banabila and Van Geel
explore further into their neo classical mix of viola improvisations,
ambient textures, minimal compositions, and modular experiments.
After their collabs on 'Music for viola and electronics', (2014)
Michel Banabila and Oene van Geel decided to continue their
recording sessions, again combining viola with electronics.
This time they invited Eric Vloeimans on trumpet, Keimpe de Jong
on contrabas clarinet, Joost Kroon on drums, Emile Visser on cello
and Radboud Mens for Ableton programming.
Emile plays in Zapp String Quartet with Oene, Eric performed live
with Oene and The Nordenians, Eric and Michel worked before on
their award winning album VoizNoiz 3, Keimpe and Michel
performed together in a theatre play, Radboud and Michel worked
on ZoomWorld and many other projects together.
The artwork is again by photographer Gerco de Ruijter.

| | |
| --- | --- |
| Recensent | : Redactie |
| Datum | : 4-07-2015 |
| Waardering | : 7.5 |
CD/DVD gratis verzending vanaf € 25,-
Vinyl gratis verzending vanaf € 50,-
Geen verzendkosten: