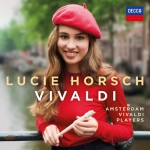 VIVALDI RECORDER CONCERTOS
Drager: CD (Aantal 1)
Levertijd: Op werkdagen voor 16:00 besteld, morgen in huis
Herkomst: NL
Releasedatum: 7-10-2016
Item-nr: 3591028
EAN: 0028948308972
RECENSIE




Blokfluitiste Lucie Horsch (1999) is één van de grootste muzikale talenten van haar generatie. Ze is nu al een veel gevraagde soliste in binnen- en buitenland. Ook heeft zij al diverse prijzen gewonnen. Voor Decca mag zij haar debuutalbum opnemen. De muziek van Vivaldi blijkt Horsch op het lijf geschreven. Lucie Horsch speelt samen met de Amsterdam Vivaldi Players, waaronder vader Gregor Horsch, prachtige fluitconcerten en bewerkingen van het Nisi Dominus (Psalm 126) en de Lente uit de Vier Jaargetijden. Lucie Horsch speelt sprankelend en adembenemend op vier verschillende blokfluiten, waarvan een aantal speciaal voor haar in Japan zijn gemaakt.






Lucie Horsch plays Vivaldi

Vivaldi:
Flautino Concerto in C major, RV443

Recorder Concerto in C minor, RV441

Nisi Dominus (Psalm 126), RV608: Cum dederit
transcribed for recorder

Flute Concerto, Op. 10 No. 1 in F major, RV 433 'La tempesta di mare'

Concerto for 2 Mandolins in G major, RV 532: 2nd movement, Andante

Flute Concerto, Op. 10 No. 2 in G minor, RV 439 'La notte'

Vedro con mio diletto (from Giustino)
transcribed for recorder

The Four Seasons: Spring, RV269 (1st movement)
transcribed for recorder

Lucie Horsch (recorder)
Amsterdam Vivaldi Players, Candida Thompson



Lucie Horsch is a brilliant young recorder virtuoso from Amsterdam. Still only 17, she began playing the recorder aged 5 winning numerous prizes and representing the Netherlands at Eurovision 2014 Young Musician of the Year in Cologne. In 2016 she was awarded the Concertgebouw Young Talent Award presented to her by Sir John Eliot Gardiner

For her debut DECCA album Lucie has chosen to record an all Vivaldi programme: "I love the music of Vivaldi" she writes, "it's rhythmical, light, energetic and the slow movements are utterly beautiful"

Four famous concertos – including La notte and La tempesta di mare – are recorded alongside transcriptions of some of Vivaldi's best-loved melodies, including 'Cum Dederit' from the Nisi Dominus and the aria 'Vedro con mio diletto' from the opera Giustino. A bonus is the first movement of 'Spring' from The Four Seasons transcribed in 1775 by Jean Jacques Rousseau

Lucie is joined by the hand-picked Amsterdam Vivaldi Players led by Candida Thompson and including Gregor Horsch, Lucie's father and principal cellist of the Royal Concertgebouw Orchestra

Lucie already tours extensively throughout Europe, including appearances at Janine Jansen's International chamber Music Festival in Utrecht, as well as making her debut in Canada with the Manitoba Chamber Orchestra. She will perform a series of concerts to launch the album in the Netherlands in Fall 2016.
| | |
| --- | --- |
| Recensent | : Wil Zenhorst |
| Datum | : 20-09-2016 |
| verschenen in Platomania | : 331 |
| Waardering | : 9.0 |
CD/DVD gratis verzending vanaf € 25,-
Vinyl gratis verzending vanaf € 50,-
Geen verzendkosten: