Dit artikel is vervallen en niet meer leverbaar.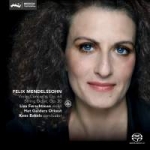 FERSCHTMAN LIZA/GELDERS ORKEST
VIOOLCONCERT
Drager: SACD (Aantal 1) Levertijd: Niet meer leverbaar
Herkomst: NL Releasedatum: 9-01-2017 Item-nr: 3660057 EAN: 8718456058651
RECENSIE
Violiste Liza Ferschtman speelt al vanaf haar vijftiende met veel plezier het Vioolconcert van Mendelssohn. Tot voor kort zag zij er geen reden om dit prachtige concert zelf op te nemen. Zovelen hebben dat al gedaan. Maar naarmate ze meer en meer kennis maakt met de muziek van Mendelsshon groeide de wens om dit concert op haar eigen manier op te nemen. In Kees Bakels vindt zij de idealie partner om samen met Het Gelders Orkest dit werk op te nemen. Het resultaat mag er wezen. Tijdens het Delft Chamber Music Festival 2016 speelt Liza Ferschtman met zeven bevriende musici het String Octet van dat de zestienjarige Mendelssohn schreef. In deze live opname hoor je hoe prachtig de partijen voor de acht strijkinstrumenten zijn. In het Scherzo legt Mendelssohn (de muziek is gebaseerd op Walpurgisnacht uit Goethe's Faust) de kiem voor zijn beroemde A Midsummer Night's Dream.

Mendelssohn: Violin Concerto & Octet

Mendelssohn:
Violin Concerto in E minor, Op. 64
Liza Ferschtman (violin)

Octet in E flat major, Op. 20
Het Gelders Orkest, Kees Bakels



One of the leading Dutch violinists, Liza Ferschtman is especially known for her passionate performances, and here she pairs Mendelssohn's famous masterpieces – the Violin Concerto and Octet for strings – in lively and highly communicative accounts.

With conductor Kees Bakels and the Arnhem Philharmonic Orchestra (Het Gelders Orkest), Ferschtman's chamber-like approach to the Violin Concerto helps in making this performance lighter than usual and able to convey some seldom heard details of the score. When performing it with the orchestra last year she says "I really was all of a sudden struck by a distinct feeling that I can only describe as falling in love all over again with this magical piece. Certain details in the score seemed to appear completely new to me and the idea of approaching the work with the same collaborative energy as in chamber music made me experience it completely afresh."

"The combination of passion, grand emotions and at the same time lightness and elegance, such characteristic traits for Mendelssohn, fell completely into place. To feel this way about such a familiar piece was revelatory and I knew I wanted to share these discoveries."

The daughter of Russian musicians, Liza Ferschtman's worldwide appearances include the Royal Concertgebouw Orchestra and Rotterdam Philharmonic, the London Philharmonic and BBC National Orchestra of Wales, Dallas and San Francisco Symphony Orchestras, Schleswig-Holstein Festival Orchestra, Bergen Philharmonic, Yomiuri Nippon Orchestra, and Hong Kong Philharmonic. Amongst conductors with whom she has worked are Frans Brüggen, Christoph von Dohnányi, Neeme Järvi, Gianandrea Noseda, Leonard Slatkin, Thomas Søndergård and Jaap van Zweden.

An avid chamber musician, Liza Ferschtman has collaborated regularly with artists such as Jonathan Biss, Nobuko Imai, Elisabeth Leonskaja, Christian Poltera, Lars Anders Tomter and Alisa Weilerstein, counting as her duo partners Enrico Pace and Inon Barnatan. For Challenge, she has previously made eight recordings, including a critically acclaimed Beethoven Concerto and Romances, the Dvořák Concerto, and solo works by Bach and Ysaÿe (Strad 'CD of the Month').
| | |
| --- | --- |
| Recensent | : Wil Zenhorst |
| Datum | : 21-01-2017 |
| verschenen in Platomania | : 334 |
| Waardering | : 8.5 |
CD/DVD gratis verzending vanaf € 25,-
Vinyl gratis verzending vanaf € 50,-
Geen verzendkosten: