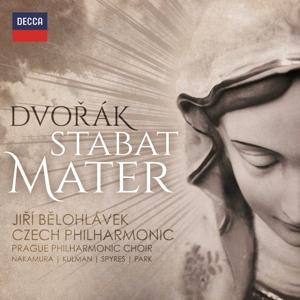 Drager: CD (Aantal 2)
Levertijd: Op werkdagen voor 16:00 besteld, morgen in huis
Herkomst: NL
Releasedatum: 5-05-2017
Item-nr: 3668687
EAN: 0028948315109
RECENSIE
1875 is voor Dvorak het annus mirabilis. Dvorak voltooit meerdere belangrijke werken waaronder een opera, krijgt een staatsprijs en verliest in het najaar zijn jongste dochter. Een half jaar later begint Dvorak met het componeren van het Stabat Mater om dit verlies te verwerken. In het Stabat Mater staat centraal de moeder die naar haar stervende zoon kijkt. Tijdens het orkestreren van het Stabat Mater verliest Dvorak nog een dochter en een zoon. Met name in Engeland wordt dit werk (waar het Stabat Mater met een groot koor en orkest in 1883 wordt uitgevoerd) zeer goed ontvangen. De Engelse pers is erg tevreden over deze prachtige Tsjechische opname, omdat de solisten, koor en orkest onder leiding van Jiri Belohlavek als geen ander het werk van Dvorak tot in hun haarvaten kennen.


Dvorak: Stabat Mater, Op. 58


Eri Nakamura (soprano), Elisabeth Kulman (contralto), Michael Spyres (tenor), Jongmin Park (bass)
Czech Philharmonic Orchestra, Prague Philharmonic Choir, Jiri Bělohlávek


Maestro Bělohlávek and the Czech Philharmonic present an authentic interpretation of Dvořák's Stabat Mater; a great Czech work performed by Czech musicians with an innate understanding of the music of their homeland.

Dvořák's Stabat Mater is performed here by Jiří Bělohlávek, the Czech Philharmonic and leading soloists Eri Nakamura, Elisabeth Kulman, Michael Spyres and Jongmin Park.


Austere and expansive in equal measure, Dvořák's Stabat mater is a curious but compelling work, its genesis shot through with personal tragedy: sketched in the immediate aftermath of the death of his daughter Josefa and orchestrated during a period which saw the loss of his two remaining children, its depiction of a grieving parent is raw and visceral even in comparison with other settings of Mary's lament at the foot of the Cross.

I got to know the piece just a year ago, under the baton of none other than my esteemed Presto colleague James, and found that many of our fellow performers and audience-members alike were also discovering the work for the first time. Happily, I'd just found out that this recording from Jirí Belohlávek and the Czech Philharmonic was newly in the can and advised the numerous converts to keep an eye out – having spent much of this week in its company, I'm fairly certain they'll agree that it was worth the wait!

It's an understatement to say that Belohlávek has serious form when it comes to Dvořák (his discography to date encompasses all the symphonies, the concertos, and the Slavonic Dances: see our links below in case you missed out on those outstanding recordings when they first came out!), and something of a cliché to state that he and the Czech Philharmonic have this music in their blood, but this is a wonderfully idiomatic account which really bears out a remark he once made about the 'singing art of playing [Dvořák]' – the mellow strings match the cantabile lines in the vocal parts every step of the way, the brass glow gently in the more introspective sections and flare into thrilling climaxes, and he captures the work's strange synthesis of baroque influences and Verdian grandeur (Dvořák was a huge fan during this stage in his career) without overegging the pudding in either direction. It's a work of stark and often sudden contrasts, and what I love most about this recording is Belohlávek's ability to turn on a sixpence from numb lamentation to quasi-operatic terror, or from manic renewed optimism to stoic acceptance (listen to the transition from the blazing, transcendent choral fugue to the still small voice of calm at the very end to experience this in microcosm). The marvellous Czech chorus (singing in Germanic Latin) respond to him as one, never losing focus in the hushed chorales and really rattling the rafters in the outer movements when invited.

The well-balanced solo quartet work splendidly both as a unit and against the full-bodied choral sound. First among equals is American tenor Michael Spyres, perhaps better known for his bravura performances of obscure (and often borderline unsingable!) operatic repertoire (if you can cope with Regietheater, do check out his astonishing performance in Mozart's Mitridate, rè di Ponto, recently released on DVD by Erato and included in our selection of new releases below).

His assertive first entry is a real 'sit up and listen' moment but in keeping with Belohlávek's attention to the lightning shifts of mood inherent in the work, he can switch from the gentlest veiled legato singing to full-throttle heroic mode in the blink of an eye – especially striking in Dvořák's unusual setting of the Fac me flere, where the soloist floats, pianissimo, above four-part male chorus before changing gear for a more declamatory section where the full orchestral forces are unleashed and lighter voices can often get swamped. He blends beautifully with the sweet-toned Japanese soprano Eri Nakamura in their duet Fac ut portem: the part's often assigned to much weightier voices, with several celebrated Brünnhildes featuring in the work's discography, but Nakamura brings a melting tenderness to all her contributions and has plenty in the tank to cut through even the densest textures in the climactic moments. Contralto Elisabeth Kulman also impresses in the pseudo-baroque Inflammatus (by several accounts regarded as the work's plum aria by early audiences), whilst bass Jongmin Park is imposing and steady of tone in the stern Fac ut ardeat cor meum.

All in all, this is surely set to become both an award-winner and a benchmark choice for this work – is it too much to hope for a Belohlávek Verdi Requiem soon?
| | |
| --- | --- |
| Recensent | : Wil Zenhorst |
| Datum | : 14-05-2017 |
| verschenen in Platomania | : 338 |
| Waardering | : 8.5 |
CD/DVD gratis verzending vanaf € 25,-
Vinyl gratis verzending vanaf € 50,-
Geen verzendkosten: