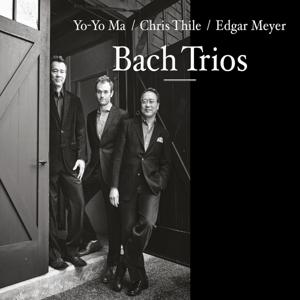 Drager: CD (Aantal 1)
Levertijd: 3 a 5 werkdagen
Herkomst: NL
Releasedatum: 6-04-2017
Item-nr: 3675540
EAN: 0075597939200
RECENSIE
Twintig jaar geleden namen cellist Yo-Yo Ma en contrabassist Edgar Meyer samen al een album op. Afgelopen jaar voegt mandolinespeler Chris Thile zich bij dit illustere. Een onwaarschijnlijk trio om muziek van Bach te spelen. Toch is het een prachtig album geworden met transcripties van pianowerken, muziek uit cantates, delen uit Die Kunst der Fuge en een sonate voor de viola da gamba van Bach. Eigenlijk komt geen enkele muziekstudent om Bach heen. Menig muziekstudent zal een van de preludes voor Anna Magdalena hebben gespeeld en vervolgens andere werken van Bach. De combinatie van cello, contrabas en mandoline is een geslaagde combinatie waarbij Bach deskundige Yo-Yo Ma zorgt voor een ideaal Bach geluid.




Bach Trios

Bach, J S:
Trio Sonata No. 6 in G major, BWV530
Prelude & Fugue Book 1 No. 19 in A major, BWV864: Prelude
Chorale Prelude BWV645 'Wachet auf, ruft uns die Stimme'
Prelude & Fugue Book 2 No. 20, BWV889: Fugue
Chorale Prelude BWV639 'Ich ruf' zu dir, Herr Jesu Christ'
Prelude & Fugue in E minor, BWV548 'Wedge'
Partita No. 5 in G major, BWV829: VI. Passepied
Chorale Prelude BWV650 'Kommst du nun, Jesu, vom Himmel herunter'
The Art of Fugue, BWV1080: Contrapunctus XIIIa a 3 (rectus)
The Art of Fugue, BWV1080: Contrapunctus XIIIb a 3 (inversus)
Chorale Prelude BWV721 'Erbarm' dich mein, o Herre Gott'
Viola da Gamba Sonata No. 3 in G minor, BWV1029

Yo-Yo Ma (cello), Chris Thile (mandolin), Edgar Meyer (double bass)


Nonesuch Records releases an album of Bach works recorded by cellist Yo-Yo Ma, mandolinist Chris Thile, and bassist Edgar Meyer, Bach Trios. The album comprises works by J.S. Bach written for keyboard instruments, plus one sonata for viola da gamba.

Yo-Yo Ma and Edgar Meyer's first recording together was the 1996 album Appalachia Waltz, which also featured fiddler Mark O'Connor; that album was followed by Appalachian Journey, also with O'Connor, in 2000. Meyer and Thile also began playing together nearly two decades ago, and first performed live as a duo in 2003. They have made two duo albums, 2008's Edgar Meyer & Chris Thile and the Grammy–winning 2014 record Bass & Mandolin.

Thile then joined Meyer on Ma's 2008 holiday album, Songs of Joy and Peace, before the trio reunited, along with Stuart Duncan, for The Goat Rodeo Sessions, an album of original tunes drawing from the musicians' backgrounds in bluegrass, classical, and American roots music.

As Ma told Billboard at that time: "How often do you work with people who are master virtuosos and also master improvisers and composers, who know at least two musical traditions unbelievably well?" He continued, "It's just extraordinary when you have people who can actually show on their instruments what they're thinking at any moment, without a delay. As soon as you think it, it gets transferred in your neuromusculature immediately into sound."

The New York Times said of Yo-Yo Ma, who is considered one of today's foremost interpreters of Bach, 'Other cellists hear Bach's suites the same as Mr. Ma, but few if any have the technical means to transfer their imaginings so precisely into sound.' Ma maintains a balance between his engagements as soloist with orchestras worldwide and his recital and chamber music activities. His discography includes more than one hundred albums, eighteen of which have won Grammy Awards. Ma also serves as the Artistic Director of Silkroad, an organization he founded to promote cross-cultural performance and collaborations. More than eighty works have been commissioned specifically for the Silk Road Ensemble, which tours annually. Ma also serves as the Judson and Joyce Green Creative Consultant to the Chicago Symphony Orchestra's Negaunee Music Institute and in 2016 was appointed Artistic Advisor to the Kennedy Center for the Performing Arts.
| | |
| --- | --- |
| Recensent | : Wil Zenhorst |
| Datum | : 4-01-2017 |
| verschenen in Platomania | : 337 |
| Waardering | : 8.5 |
CD/DVD gratis verzending vanaf € 25,-
Vinyl gratis verzending vanaf € 50,-
Geen verzendkosten: