Dertig jaar Nick Cave. Samen met 'zijn' Bad Seeds. Dertig jaar weggezet in vijfenveertig nummers, waarvan het gros geen inleiding nodig heeft. De keuze voor juist deze tracks is vrij divers, gekozen vanuit het oogpunt van de band zelf én haar fans. Ze zijn het meest blijven hangen. Nemen een verhaal mee. Zijn het populairst onder liefhebbers van de band. Of symbolisch. Zoals opener From Her To Eternity, waar het in 1984 allemaal mee begon. De verzamelaar doorkruist een van het meest eigenzinnige en inventieve oeuvre in het hedendaagse muzieklandschap. De klassiekers Stagger Lee, The Mercy Seat en Where The Wild Roses Grow worden afgewisseld met recente fan-favorieten als Jubilee Street en We No Who U R, moeiteloos aangevuld met nieuwelingen als O Children en Red Right Hand. Samen met de bandleden én founding father Mick Harvey is Cave in de archieven gedoken. Fraaie foto's zijn aan het geheel toegevoegd. Lovely Creatures is een must have!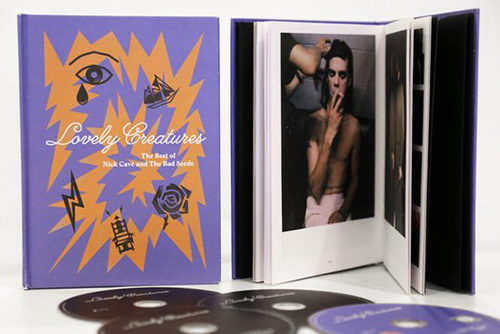 CD1: 1984 -1993
1. From Her To Eternity
2. In The Ghetto
3. Tupelo
4. I'm Gonna Kill That Woman
5. The Carny
6. Sad Waters
7. Stranger Than Kindness
8. Scum
9. The Mercy Seat
10. Deanna
11. Up Jumped The Devil
12. The Weeping Song
13. The Ship Song
14. Papa Won't Leave You, Henry
15. Straight To You
CD2: 1994 – 2003
1. Do You Love Me?
2. Nobody's Baby Now
3. Loverman
4. Red Right Hand
5. Stagger Lee
6. Where The Wild Roses Grow
7. Into My Arms
8. People Ain't No Good
9. Brompton Oratory
10. (Are You) The One That I've Been Waiting For?
11. Come Into My Sleep
12. Love Letter
13. God Is In The House
14. He Wants You
15. Shoot Me Down
CD3: 2004 – 2013
1. Hiding All Away
2. There She Goes, My Beautiful World
3. Nature Boy
4. Breathless
5. Babe, You Turn Me On
6. O Children
7. Dig, Lazarus, Dig!!!
8. Night Of The Lotus Eaters
9. We Call Upon The Author
10. Jesus Of The Moon
11. More News From Nowhere
12. We No Who U R
13. Jubilee Street
14. Higgs Boson Blues
15. Push The Sky Away