Dit artikel is vervallen en niet meer leverbaar.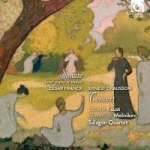 FAUST/MELNIKOV/SALAGON QUARTET
CONCERT PIANO & VIOLIN SONATA
Drager: CD (Aantal 1) Levertijd: Niet meer leverbaar
Herkomst: NL Releasedatum: 25-05-2015 Item-nr: 3705536 EAN: 8718456068278
RECENSIE
De Duitse violiste Isabelle Faust en de Russische pianist Alexander Melnikov vormen een dreamteam die in deze combinatie geweldige albums hebben afgeleverd met muziek van Beethoven, Brahms, Schubert en Schumann. Voor dit album nemen ze de vioolsonate in A groot van Cesar Franck op, die hij enkele jaren voor het noodlottige ongeval schreef. Bijzonder is het concert in D groot voor piano, viool en strijkkwartet van Ernest Chausson. Dit geweldige werk wordt maar zelden gespeeld. Tezamen met het Duitse Salagon Quartet leveren Isabelle Faust en Alexander Melnikov een spetterende opname waar de vonken vanaf vliegen. Een aanrader om dit geweldige werk te beluisteren. Helaas verongelukte Ernest Chausson op zijn vierenveertigste, zodat we de werken van deze bewonderaar van Franck zeker moeten koesteren.



Franck: Violin Sonata & Chausson: Concert


Chausson:
Concert in D major for piano, violin and string quartet, Op. 21
Salagon Quartet

Franck, C:
Violin Sonata in A major


Isabelle Faust (violin), Alexander Melnikov (piano)





Regular chamber partners Isabelle Faust and Alexander Melnikov, playing on period instruments, shine new light on two major works of chamber music written at the dawn of the 20th century.

The 'Sonata' is Franck's most frequently played and recorded work. Premiered by Eugène Ysaÿe, in Brussels on 16 December 1886, a judge as shrewd as Alfred Cortot was lucid enough to make an arrangement for solo piano. Since then it has been transcribed for nearly every instrument on the planet and is a permanent staple of the repertoire.

Although it is devoid of passages in double stopping or pizzicato, the violin part, replete with treacherous chromatic twists and turns, nonetheless poses formidable difficulties of intonation.

Franck's influence on Ernest Chausson's 'Concert' is unmistakable. A late-Romantic hybrid, the work blends elements of piano and string quintet styles and here regains a freshness which delicately illuminates, in the hands of Faust and Melnikov. Completed a year after the Symphony in B flat, and again written for Ysaÿe, the 'Concert' asserts its roots in the heritage of Rameau and Couperin, thus foreshadowing Debussy's 'Hommage à Rameau' (1905) and Ravel's 'Le Tombeau de Couperin' (1917).





Read Presto's complete review of this disc here.

Violinist Isabelle Faust and pianist Alexander Melnikov have proved quite a formidable pairing in recent years, with many impressive recordings to their name, and so it is a real thrill to hear them tackle one of the giants of the repertoire: the Sonata by César Franck.

Interestingly, Franck designated this as a "Sonate pour piano et violon", and his ordering of those instruments tells you something about the formidable demands placed upon the pianist; this is no mere accompanimental role.

Melnikov plays on an Érard piano from c. 1885, and it makes such a difference to the sound. Right from the off, he conjures up a soft, tender tone that matches perfectly with the way that Faust gently but huskily plays her first phrase. Indeed, the opening section offers a perfect example of their approach to this piece. The first minute and a half or so are incredibly restrained, almost glassy in tone, with minimal vibrato from Faust, so that when they finally introduce a crescendo and turn on the warmth, it's an extremely satisfying moment of release after such an extended period of denial.

Things turn stormier in the second movement, but even in the busiest passages, thanks to the touch of the Érard piano and Melnikov's sensitive pedalling, all of the piano's semiquavers are pleasingly distinct. There's certainly nothing showy or flashy about this performance at all – whilst that may disappoint some people hoping for more overt fireworks, for me this overall mood of introspection actually suits the piece extremely well, with the two performers drawing you in with the magnetism and quiet intensity of their playing.

A case in point: there's a violin melody that first occurs about four and a half minutes into the third movement, with some striking, relatively wide leaps; usually this moment is extremely intense and dramatic (indeed Franck does mark it dramatico), but here even this moment is more of a slow burn: despite the aforementioned marking, the printed dynamic is actually only mezzo forte, with a subsequent crescendo and then a dying away, which Faust and Melnikov take great care to observe. Furthermore, this means that when the same melody returns in the last movement, properly fortissimo, the pay-off is even greater.

Coupled with this is the Concert, op. 21 for piano, solo violin, and string quartet by Ernest Chausson (a student and friend of Franck), for which Faust and Melnikov are joined by the Salagon Quartet. I must admit I wasn't previously familiar with this piece, but I'm very glad to have been able to get to know it, as it's a real gem. The Salagon Quartet merge effortlessly with the performing style established in the Franck; the second movement, a gently-lilting Sicilienne, is especially charming.

The highlight for me, though, must be the third movement Grave, a mournful piece with a funereal tread. The first two and a half minutes of this movement are just solo violin and piano; when the string quartet finally enters with a solemn F minor chord, the stark sound they create is really rather chilling.

Throughout this disc, Faust and Melnikov are utterly spellbinding. It might not be quite like any performance you've heard of the Franck sonata before, but that makes it all the more welcome; a genuine delight.
| | |
| --- | --- |
| Recensent | : Wil Zenhorst |
| Datum | : 6-02-2017 |
| verschenen in Platomania | : 338 |
| Waardering | : 9.0 |
CD/DVD gratis verzending vanaf € 25,-
Vinyl gratis verzending vanaf € 50,-
Geen verzendkosten: