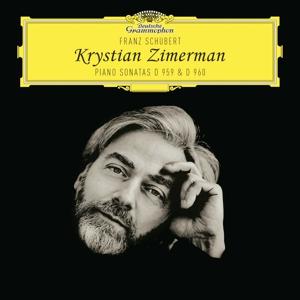 SCHUBERT PIANO SONATAS D 959 & 960
Drager: CD (Aantal 1)
Levertijd: Op werkdagen voor 16:00 besteld, morgen in huis
Herkomst: NL
Releasedatum: 8-09-2017
Item-nr: 3718716
EAN: 0028947975885
RECENSIE
Schubert: Piano Sonatas D959 and D960

Schubert:
Piano Sonata No. 20 in A major, D959
Piano Sonata No. 21 in B flat major, D960

Krystian Zimerman (piano)


Legendary Polish pianist Krystian Zimerman in his first solo album for DG for over twenty-five years. Revelatory readings of Piano Sonatas D959 & D960, Schubert's last major compositions for the piano before his death aged thirty-one. Recorded at the Kashiwazaki City Performing Arts Centre in Japan in January 2016.

Krystian performed these last two eternal masterworks intensely over the last few years to highest critical acclaim. This album is set to take its place among the great Schubert recordings.


Following on from some outstanding Beethoven piano sonatas from Evgeny Kissin a fortnight ago, Deutsche Grammophon continues its run of great pianists returning to the "Yellow Label" with a new disc from Krystian Zimerman of Schubert's final two sonatas, D959 in A major and D960 in B flat major. Not only is this Zimerman's first solo album for DG in over twenty-five years, I think I'm right in saying that it is the first time he has recorded any Schubert sonatas, so I felt a particular sense of anticipation to hear what he would make of these colossal works.


Zimerman is known for his exacting standards, always travelling with and performing on his own piano. For this recording, however, he went one stage further: he refitted his piano with a new keyboard designed by himself, in order to approximate the kind of sound that Schubert would perhaps have expected. The main modification is that the hammer strikes the string in a different place to a modern grand, which not only means that the sound itself is altered (due to a combination of the change in attack and the distinctive overtones that are invoked as a result), but also that the action is lighter, allowing for more control over fast repeated notes.

I must admit I only discovered this after I had already listened to the disc, and so on first hearing I was marvelling at the incredible sound that Zimerman was producing, wondering how on earth he had achieved it! It really does have an audible effect, especially in the second movement of the D960 sonata, where the softer attack brings a husky, muted tone that suits the movement beautifully. The varied overtones combine to make it sound like the piano has been tuned to some strange new intonation, so much so that at times I was almost fooled into thinking that Zimerman was indeed playing on an instrument from Schubert's time.

Similarly, the second movement of D959, a kind of melancholy Valse triste, sounds otherworldly and hauntingly mesmerising in Zimerman's hands. His voicing of chords is exquisite, and by bringing out the accents and other dynamic markings, he highlights some of the more unexpected harmonies, making it sound eerily modern in places. Perhaps the best example of the benefits his modified keyboard can bring, though, is the final movement of D960, where even the very first note demonstrates the different kind of articulation that is possible, whilst the many repeated notes scattered throughout the movement are despatched with an easy clarity that wouldn't necessarily be attainable on a "normal" piano. That's not to say that there isn't plenty of heft when required, however: the opening of D959 is pleasingly robust, and there's no shortage of drama in some of the more turbulent outbursts in the last movement of D960.

I hope I've not focussed too much on the technical aspects of the piano at the expense of Zimerman himself: the way he shapes a phrase is a joy to listen to, and he knows exactly how to pace the longer movements. He also brings great charm and an appealingly direct simplicity to the Scherzo of D959 and the third movement of D960, while the very end of the first movement of D959 is played with affection and a gentle care that is most agreeable. Zimerman has said that, although he has been performing these works for thirty years, he has not recorded them until now out of a combination of fear and respect for these cornerstones of the repertoire; with such a highly impressive account of both sonatas it has definitely been worth the wait!
| | |
| --- | --- |
| Recensent | : Wil Zenhorst |
| Datum | : 9-09-2017 |
| verschenen in Platomania | : 341 |
| Waardering | : 9.0 |
CD/DVD gratis verzending vanaf € 25,-
Vinyl gratis verzending vanaf € 50,-
Geen verzendkosten: