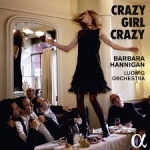 CRAZY GIRL CRAZY (CD/DVD)
Drager: CD+DVD (Aantal 2)
Levertijd: Op werkdagen voor 16:00 besteld, morgen in huis
Herkomst: NL
Releasedatum: 1-09-2017
Item-nr: 3746690
EAN: 3760014192937
Disc 2
Music Is Music (Video)
RECENSIE
Dat de Canadese sopraan een fenomenale zangeres is, laat zij meteen horen in Berio's Sequenza III uit 1965 waarmee het album Crazy Girl Crazy opent. Een bijzonder album, omdat Hannigan niet alleen zingt, maar ook haar cd-debuut maakt als dirigent. Dat doet zij met de suite uit Alban Bergs onvoltooide opera Lulu – waarvan zij titelrol met veel succes vertolkte bij de Munt in Brussel. Samen met het Amsterdamse Ludwig Orchestra tekent zij voor een zeer expressieve uitvoering, gevolgd door een nieuw arrangement van Gershwins Girl Crazy dat wonderwel past in dit inventieve programma. De bijgevoegde dvd geeft een boeiend inkijkje in het repetitieproces. Het lijkt geen twijfel dat Hannigan ook als dirigent een grote toekomst heeft.




Crazy Girl Crazy. Berio, Berg en Gershwin
Barbara Hannigan & Ludwig Alpha (cd + dvd)

Berio: Sequenza III for woman's voice

Berg: Lulu-Suite (Five Symphonic Pieces) for soprano and orchestra

Gershwin:
Barbara Hannigan: Girl Crazy Suite (arr. B. Elliott and B. Hannigan for voice and orchestra)



VOLKSKRANT RECENSIE (Frits van der Waa)

Het is niet het geringste werk dat Barbara Hannigan heeft uitgekozen voor haar cd-debuut als dirigent: Alban Bergs Lulu-suite, een werk dat de componist in 1934 samenstelde als 'trailer' voor de gelijknamige opera die hij niet meer zou voltooien.

Maar Hannigan kent het werk van binnen en van buiten: in 2012 vertolkte de Canadese stersopraan de hoofdrol in de Brusselse enscenering, waarin ze van regisseur Krzysztof Warlikowski de hele avond op spitzen moest balanceren.
Voor deze uitvoering hoefde ze niet op haar tenen te lopen. Dat is te zien in de op dvd bijgeleverde documentaire die Mathieu Amalric over het repetitieproces met orkest Ludwig maakte. Hannigan is fenomenaal, of ze nu zingt of dirigeert. En het gaat allemaal even natuurlijk. 'Het moet zo ver komen dat de orkestleden als een zwerm vogels met zijn allen een plotselinge wending kunnen maken zonder te botsen', legt ze uit. Naast de solopartij, die ze in een van de delen al dirigerend vertolkt, zingt ze ook moeiteloos de lastige 'atonale' orkestpartijen mee en legt heel precies uit wat de relatie met het libretto van de opera is.

De dirigent heeft van de cd een muzikaal zelfportret gemaakt door Berg te omlijsten met Berio's solostuk Sequenza III, waaraan ze een eigen, lichte toets geeft, en een door Bill Elliott en haarzelf gearrangeerde (en met Lulu-verwijzingen opgeluisterde) suite met liederen uit Gershwins Girl Crazy.

Als zangeres is Hannigan, nu halverwege de 40, al nagenoeg legendarisch. Ze heeft het in zich om het als dirigent ook te worden.





Whether singing, conducting, dancing or acting, the Canadian soprano Barbara Hannigan is a constant source of fascination. Alpha Classics is proud to enter her world and her very first album as singer and conductor in 2017: with the Amsterdam based orchestra Ensemble Ludwig, of which she is associate artist.

Barbara Hannigan has devised a programme including Berg's Lulu Suite and Gershwin's Girl Crazy in a Suite newly arranged by the multi award- winning American composer Bill Elliott. To complement these two pieces, she has recorded Berio's spectacular Sequenza III for solo voice.

An outstanding soprano, a distinguished interpreter of the music of the twentieth and twenty-first centuries, an all-round artist who creates a sensation on concert platforms and in opera houses throughout the world, Barbara Hannigan has enriched her palette over the past few years by devoting a portion of her activities to conducting. This album in the form of a musical portrait of the artist, is completed by a DVD of a film made by Mathieu Amalric during the rehearsals and recording sessions. It plunges into the heart of the orchestra with a very personal look at the exchanges between conductor and musicians.

Over the next few years, Alpha will accompany Barbara Hannigan in a number of projects from very varied horizons.

The fearless Canadian soprano Barbara Hannigan has made something of a speciality of playing what one broadsheet critic recently referred somewhat dismissively as 'dotty women', creating psychologically complex contemporary operatic roles such as Hans Abrahamsen's and Brett Dean's depictions of Ophelia, and Agnés in George Benjamin's Written on Skin. Her debut recording on Alpha (which sees her conducting the Ludwig Orchestra at the same time as navigating some serious vocal pyrotechnics!) focuses on another of her signature-roles, Berg's chameleonic Lulu, juxtaposing the suite from the opera with music by Berio and Gershwin to offer new perspectives on the 'crazy girl' stereotype with which she's become associated.

It's becoming increasingly common for singers to direct their own ensembles 'from the voice' (Philippe Jaroussky and Nathalie Stutzmann both have upcoming albums where they take the reins), but such endeavours generally focus on small-scale baroque repertoire rather than twentieth-century heavyweights like Alban Berg. The Canadian soprano Barbara Hannigan, though, is something else, and for her debut recording on Alpha she's devised and directed a programme of music by three composers I never thought I'd see sharing the billing on a soprano album: Berio, Berg and Gershwin. But Crazy Girl Crazy is no ordinary 'soprano album' – it's all built around one of Hannigan's signature-roles (Berg's mercurial Lulu), but the emphasis is firmly on the music itself and the story which binds these three unlikely bedfellows together rather than on the unconventional diva herself.

Hannigan takes her cue from a remark which Berg made to Gershwin when they met in Vienna in the 1920s (and which gives the short film which accompanies this release its title), 'Mr Gershwin, music is music', and the project draws out unexpected but fascinating parallels between the compositions which each man was working on at the time: Lulu and Girl Crazy. As well as taking on the roles of singer, conductor and dramaturg, Hannigan has also worked with the Broadway arranger Bill Elliot to forge Gershwin's hits from that show into a companion-piece for the Suite from Berg's opera, and it's a revelation. (You can read my extended interview with her about the project here).

The album stirs into life from a place that's as primal as the opening bars of Wagner's Ring Cycle, with the uncanny mutterings of Berio's Sequenza III. The work is a nine-minute tour de force for unaccompanied female singer, who's called upon to deliver all manner of avant-garde vocal pyrotechnics: giggling, sighing, whispering, as well as singing fragmented musical phrases to a brief, disordered text depicting a woman's desire for security and stability.

But what strikes me about Hannigan's performance is its lucidity: in our interview she was adamant about resisting the temptation to view the piece as an experimental counterpart to the 'mad scenes' of nineteenth-century opera, and though her interpretation emphasises many of the devices associated with such writing (coloratura-like excursions up and down the entire vocal range, stratospheric high notes) the overall effect here is of a personality gradually warming into focus rather than disintegrating before our ears. It helps to be acquainted with the back-story which Hannigan's created for this nameless character (as she explains in our interview, she sees it as a depiction of 'the pre-Lulu' - an exploited fifteen-year-old girl, using an enforced hospital-stay as an opportunity to find her voice), but even on its own terms this disembodied voice comes across as a nascent personality who continues to evolve throughout the rest of the album.

The Suite from Berg's Lulu (with Hannigan singing the roles of both the eponymous anti-heroine and the Countess who loves and dies with her) seems to emerge organically from the Sequenza, and the transition into the new Gershwin Suite is hardly less seamless – using the same orchestration as Berg, Hannigan and Elliot play up the affinity between Berg's jazz-inflected score and the big band sound-world of Girl Crazy so that the link (which could sound contrived on paper) comes across as entirely natural.

But what of the connection between Gershwin and Berio? Hannigan completes the circle with brilliant simplicity: in the final stretch of the Gershwin Suite the opening phrase of 'I got rhythm' stutters tantalisingly into life much as the disjointed utterances of the Sequenza do before flaring to a thrillingly uninhibited conclusion, complete with a glassy top E flat that reminds us that Lulu's with us until the very end.

This is a fascinating Portrait of the Artist as a Woman both young and mature, a sequence of songs of innocence and experience which capitalises on both the eternally girlish qualities which have become a hallmark of Hannigan's artistry and the formidable musical authority which she's built up over a career immersed in the complexities of contemporary music. It's also a hugely alluring listening experience, and I strongly urge you to give in and embrace the 'craziness'.

I spoke to Barbara the morning after the opening night of Debussy's Pélleas et Mélisande (a production which sees her navigating Debussy's sinuous vocal lines whilst dancing en pointe!) to learn more about the concept behind this fascinating and eclectic album, and how she negotiates the physical and mental demands of conducting and singing simultaneously…

It's not very often that we see Gershwin, Berg and Berio together on the same CD! What connections do you see between the three pieces, and how did the programme evolve?

It's all built around Lulu: this incredible woman who has such incomparable self-knowledge and instinct, which makes everyone around her go crazy because they're confronted with their own shortcomings compared to her. The central piece of course is the Lulu-Suite, using material from the second and third acts of the opera (from the moment before she kills Doctor Schön till after her death), and there are many different stories even within the Suite itself: not only do we see Lulu herself through different prisms, but also the people around her. Then comes the Gershwin: as the Berg is composed using the mirror technique, I took the Gershwin and made it as a kind of mirror for Lulu and also for the Countess Geschwitz. Just as the Lulu-Suite ends with Geschwitz singing about her own loneliness and the fact that she didn't get the girl, we start [the Gershwin] with the same person singing the same words, the same story, with exactly the same orchestration - but at a very different temperature!

For me this whole period of artistic development in the world between the Wars, especially the 1920s leading into the 1930s, was so fertile: as I mention in the liner-notes, Berg and Gershwin met and played their own music for each other in 1928, which would have been when Berg was already writing Lulu and Gershwin was about to begin writing Girl Crazy. They were great admirers of each other, and for me it's not just a connection of time, it's also a connection of two artistic souls: both died young, both were exploring beyond the dictates of music at the time.

And then we have the Berio Sequenza, which for me is Lulu at 15 years old. The text is: 'Give me a few words for a woman to sing/Allowing us to build a house without worrying before night comes.' For me, it's directly related to the moment in the third act of the opera when Lulu is telling the Marquis that when she was 15 years old (and already living with Doctor Schön) she had 'the good fortune' to go into hospital for a couple of months, and during those couple of months she was away from the eyes of men and learned to know who she was. It's all pretty creepy, but it set off so many trains of thought for me: why did she go into the hospital for several months? Why did she call it 'good fortune'? Who was she before she knew herself?. And that's how I'm playing Sequenza III: as the pre-Lulu, the one that's about to go into the hospital, that didn't have a home or a voice, and wanted to stop worrying and just live. In a way it's a little strange to put a solo voice piece on a CD with big orchestral pieces, but I really wanted to tell that dramaturgical story.

I don't think of the Sequenza as a piece of madness, not at all. In fact I had a very clear motivation in choosing the word 'Crazy' for the project, because I think it can so often be applied in a rather blasé way, especially to women. So I wanted to take it and use it in a positive way: to be crazy about something, to be driven crazy by something so powerful that it's beyond us, like love or jealousy.

You often collaborate closely with living composers (in fact when I spoke to Hans Abrahamsen last year about Let me tell you, he said you single-handedly taught him how to write for the voice!) – how closely did you work with Bill Elliott on the Gershwin Suite?

Super-close! It was such wonderful serendipity to be introduced to him and then to just click in the way that we did. Bill writes a lot not only for Broadway but also for the Boston Pops, so I asked if he would be interested in me commissioning him. We first met up in Boston just to choose the songs and the order of the songs, and I explained that it would be recorded and performed in companion with the Lulu-Suite and needed to have the same orchestration. Next I started introducing him to Berg because he didn't know Lulu so well - I wanted him to understand the tone-rows and the architectural devices of composition that Berg had used in Lulu because I wanted there to be a connection. This was in February 2016, then that summer when I was in Aix-en-Provence he started emailing me drafts of just a piano score, and I would take the first draft and re-arrange: we'd have long sessions on Skype where I would sit at the piano and play and sing things to him, and I would take pictures of what I'd written and he would do the same. We were real collaborators and co-arrangers.

Eventually we had something that was referential but also very personal: it was him, it was also me and characters I've played (and not just the Berg - it has quite strong connections with Ligeti and Boulez), and then Bill orchestrated it. He came to the first orchestral rehearsals last summer in Lucerne, and even then we were changing things, reallocating solos, adding more 'candy' as he would say, with percussion, particularly glockenspiel. What I love about working with Bill is that because he's an arranger he really is à la minute, cooking on the spot. Most composers I work with don't make any changes – by the time it gets to the performers, it's done!

The other interesting thing about the Gershwin suite is that it's the first piece ever composed for a singer who is also conducting. There are very rhythmic sections that you absolutely have to turn round and simply conduct (for instance 'Strike Up The Band', in the second movement), and then other passages are written in such a way that he knew I wouldn't be conducting. It's like a cross between a big band composition and a modern music composition - and in that way it's like Lulu, which has all these jazz-band elements alongside the tone-rows.

Conducting whilst singing seems to be something that an increasing number of musicians are trying on these days, particularly in baroque music – what are the challenges and the rewards for you, from a purely technical point of view? How do you make the vocal production and physicality work?

Back in the days when I did a lot of Handel and Vivaldi concerts, I found it was often really unnecessary to have a conductor when you have a group of really fine musicians - what you need are leaders who are completely present during rehearsal, so that we have the dramaturgy of how we want to play this music for this particular performance, and that work takes place in the rehearsal-room. But these days I'm doing pieces as a conductor that are for very large orchestra (things like Berg's Lulu-Suite, or Stravinsky's Symphony in Three Movements, or Sibelius's Luonnotar), and with music like that you really have to conduct rather than lead, there's no question.

The serious conducting has been going on for about six or seven years for me (I started at the Châtelet in Paris) and it does present certain challenges, not least what it does to your neck and shoulders: every conductor I know goes to a very specific massage therapist! But if you have that tension and you're still trying to sing at the same time…well, after four or five days of rehearsal you're in trouble, unless you're extremely careful and conscious of how you train and use the body. It's the rehearsals that do you in, not the performances: conducting, explaining, talking to the orchestra, it's all of those things which can take a toll on the instrument.

For the first couple of years it was incredibly hard and now it's less difficult – but it's always going to be challenging and exhausting! I was reading an interview with Esa-Pekka Salonen the other day where he said that when he comes back to conducting after taking a few months off just to compose, he can barely walk or function after the first day back! It's so exhausting on your system to be in front of the energy of 80 or 100 people, trying to tame and shape and sculpt that energy and that sound - it's a completely different experience to being a soloist.

This recording is the first of your new partnership with Alpha: what attracted you to the label?

I looked at all the other albums they are making and have made, and knew it would be a perfect marriage! What I love about Alpha is that they're game for anything – they're risky, and that really connects with me because I like to do off-the-wall wild-card stuff. I'm not a young singer who's been put into a box and told 'This is how we want to present you', and I don't want to do the sort of conventional album of arias that many other labels would want me to do: I could never be constrained in that way. The world is not waiting for another disc of standard operatic arias from me, and I'm not waiting to do it – it has to be a very personal expression of the music that I feel needs to be championed or presented in a particular way.

The new album is a CD/DVD package, including a film by Mathieu Amalric called Music is Music: it's just been selected for the New York Film Festival, which takes place just a few weeks after the album comes out. It's a very beautiful, special, intimate film about the way the orchestra and I work together and also about the various aspects of how I'm using my voice and musicality.
| | |
| --- | --- |
| Recensent | : Henri Drost |
| Datum | : 29-09-2017 |
| verschenen in Platomania | : 342 |
| Waardering | : 9.0 |
CD/DVD gratis verzending vanaf € 25,-
Vinyl gratis verzending vanaf € 50,-
Geen verzendkosten: