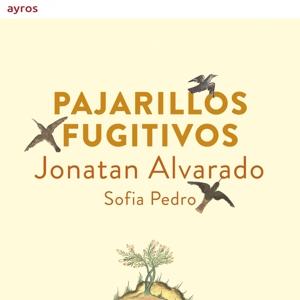 Drager: CD (Aantal 1)
Levertijd: 3 a 5 werkdagen
Herkomst: NL
Releasedatum: 6-04-2018
Item-nr: 3818751
EAN: 5902768283068
RECENSIE
Pajarillos Fugitivos

Jonatan Alvarado (singer), Sofia Pedro (soprano)

The songs included in this album come from diverse origins, united by the subtle narrative, poetic and musical threads all common to the Spanish repertoire. Pieces of literary traditions from the XVI and XVII centuries are intermingled with others belonging to folkloric ones, all of them taken from non-Spanish sources, and organized into five thematic groups, alternating between each other as if they were refined panels in a Renaissance altarpiece.
Engaging with this music involves entering a singularly vast field, rich with centuries old intersections, borrowings and appropriations between cultures; a natural occurrence, considering the identity of the the old American colonial territories and their population – their complex and mixed nature. Through this program I aim to expose the varied processes of appropriation and transculturation, especially significant to the Latin American colonial
repertoire, informed by the interpretative tradition that I inherited and built between the spheres of the 'popular' and the 'academic': the comings and goings of tropes, images, melodies, from the mouth of the people to the written page, and from there again, transformed into popular songs, to the musical practices of my referents, my teachers and, finally, to my own.

| | |
| --- | --- |
| Recensent | : Redactie |
| Datum | : 16-04-2018 |
| verschenen in Platomania | : 347 |
| Waardering | : 8.5 |
CD/DVD gratis verzending vanaf € 25,-
Vinyl gratis verzending vanaf € 50,-
Geen verzendkosten: