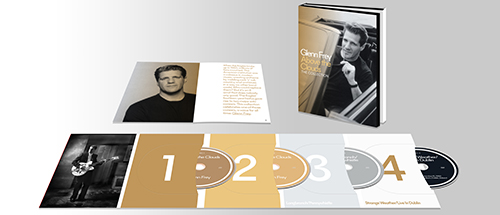 Above The Clouds wordt uitgebracht in een één cd-variant die hetzelfde bevat als de eerste cd in de uitgebreide 3CD & DVD-box. Deze schijf bevat de grootste hits van de al weer meer dan twee jaar geleden overleden Eagles-oprichter waaronder natuurlijk The Heat Is On uit Beverly Hills Cop, You Belong To The City en het nog steeds fraaie Smuggler's Blues, dat gebruikt werd in Miami Vice. De tweede schijf bevat zogenaamde deep cuts: nummers die niet als single verschenen zijn, maar die wel degelijk de moeite waard zijn. De derde schijf is gereserveerd voor een heruitgave van Longbranch Pennywhistles enige album uit 1969. Deze met JD Souther opgenomen plaat wordt nu voor het eerst op cd uitgebracht en is voor de liefhebber zeker de moeite waard. De dvd bevat een concert uit 1992. De box maakt duidelijk dat Frey een muzikale grootheid was die ook buiten de Eagles fraai werk geleverd heeft. Een mooi overzicht dus.
CD 1 – ABOVE THE CLOUDS
1. The Heat Is On
2. Call On Me
3. Part Of Me, Part Of You
4. You Belong To The City
5. Smuggler's Blues
6. Sexy Girl
7. The Allnighter
8. Soul Searchin'
9. Same Girl
10. The One You Love
11. Strange Weather
12. I've Got Mine
13. River Of Dreams
14. Love In The 21st Century
15. Lyin' Eyes / Take It Easy (Medley - Live at the National Stadium, Dublin, Ireland / 1992)
CD 2 – ABOVE THE CLOUDS
1. Let's Go Home
2. I Got Love
3. This Way To Happiness
4. Common Ground
5. After Hours
6. Rising Sun (Instrumental)
7. The Shadow Of Your Smile
8. Better In The U.S.A.
9. Brave New World
10. Caroline, No
11. For Sentimental Reasons
12. It's Too Soon To Know
13. Worried Mind
14. Lover's Moon
15. Route 66
16. True Love
CD 3 – LONGBRANCH / PENNYWHISTLE
1. Jubilee Anne
2. Run Boy, Run
3. Rebecca
4. Lucky Love
5. Kite Woman
6. Bring Back Funky Women
7. Star-Spangled Bus
8. Mister, Mister
9. Don't Talk Now
10. Never Have Enough
DVD – STRANGE WEATHER / LIVE IN DUBLIN
RECORDED SEPTEMBER 15 1992 AT THE NATIONAL STADIUM, DUBLIN, IRELAND
1. Long Hot Summer
2. Peaceful Easy Feeling
3. New Kid In Town
4. The One You Love
5. Strange Weather
6. I've Got Mine
7. Lyin' Eyes / Take It Easy (Medley)
8. Wild Mountain Thyme
9. River Of Dreams
10. True Love
11. Love In The 21st Century
12. Livin' Right
13. Smuggler's Blues
14. The Heat Is On
15. Heartache Tonight
16. Party Town
17. Desperado
DVD approximate run time: 88 minutes