HALF SPEED MASTERS, EXTRA GOED GELUID

• ALLE STUDIO-ALBUMS VAN DE STONES VANAF 1971
• OPGENOMEN VANAF DE ORIGINAL MASTER TAPES
• REMASTERED / HALF SPEED MASTERS
• 180 GRAM VINYL
• GENUMMERDE LIMITED EDITION
• INCLUSIEF DOWNLOAD CODES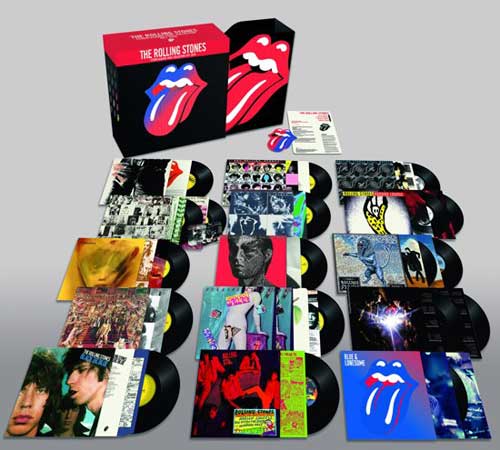 Wanneer The Rolling Stones iets doen, doen ze het met kwaliteit en gravitas. Na het definiëren van rock'n'roll in de jaren 60, gingen The Rolling Stones hun imperiale fase in 1971 binnen met Sticky Fingers. Wat volgde was een reeks albums die op geen enkel ander moment door een andere band kon zijn gebeurd: de decadente overmaat aan Exile On Main St, het Jamaicaanse voodoo-moeras van Goats Head Soup, de disco en punk-geïnfruide jacht van Some Girls. Met elk nieuw decennium evolueerden de Stones terwijl ze trouw bleven aan hun roots, komen ze in 2016 rond met Blue & Lonesome, een liefdesbrief naar hun eerste inspiratie: de blues. The Rolling Stones komt met een gloednieuwe 15-albums limited-edition vinylbox-set collectie 'The Studio Albums Vinyl Collection 1971-2016', komt uit op 15 juni 2018.
'The Studio Albums Vinyl Collection 1971-2016' presenteert dit monumentale tijdperk in rock'n'roll-geschiedenis in een zeer op maat gemaakte, lenticulaire gemonteerde boxset met beperkte oplage waarin de 15 studioalbums van Sticky Fingers tot en met Blue & Lonesome in getrouwe en ingewikkelde originele verpakkingsreplicaties. Ek album is met liefde geremastered en op onthullende halve snelheid gesneden in Abbey Road Studios, van vinylspecifieke originele tape-transfers die zijn ontworpen om het allerbeste geluid van het formaat te krijgen. Elk album wordt gedrukt op zwaargewicht 180 gram zwart vinyl en bevat een downloadkaart voor digitale HD-inwisseling van de catalogus en een genummerd certificaat van authenticatie.
Op halve snelheid gesneden, dit zijn de beste vinylpersen die deze klassieke Rolling Stones-albums ooit hebben ontvangen. Halve snelheid mastering en geperst tot een zeer hoge standaard zorgt voor topkwaliteit geluidskwaliteit voor de luisteraar.
Er is speciale zorg besteed aan het maken van verpakkingen volgens dezelfde hoge normen, waardoor een gedetailleerde reproductie van de illustraties voor elk album wordt gemaakt. 'Some Girls' wordt gehuisvest in het replica-ontwerp met 20 uitsparingen op de cover, terwijl de hoes van 'Sticky Fingers' wordt gepresenteerd als het originele ontwerp van Andy Warhol, compleet met een werkende rits met een verborgen afbeelding eronder en 'Exile On Main' Street 'wordt geleverd met een set van 12 originele briefkaart-inserts.
OVER HET PROCES
De ingenieurs van Abbey Road Studios hebben groeven in schijven gesneden sinds de studio's voor het eerst werden geopend in 1931. In 2013 voegde de bekroonde ingenieur Miles Showell zich bij hun bestaande masteringsteam en bracht hem een ​​schat aan disknipervaring bij.
Een van de ambachtelijke technieken die door Abbey Road Studios wordt aangeboden en die resulteert in de allerbeste geluidsweergave, is Half Speed ​​Cutting. Dit proces houdt in dat de masterbron wordt afgespeeld met exact de helft van de opgenomen snelheid, terwijl de snij-draaibank op dezelfde manier wordt gedraaid met de helft van de gewenste afspeelsnelheid. Hierdoor kan de snijkop twee keer de tijd om de ingewikkelde groef af te snijden, waardoor aanzienlijk meer nauwkeurigheid mogelijk is met belangrijke zaken zoals frequentie-extremen en micro-dynamische contrasten. De resulterende sneden hebben een uitstekende hoge frequentierespons (treble) en zeer solide en stabiele stereobeelden.
Het is niet zo simpel als alles voor de helft te doen. Er is een EQ-curve toegepast op alle vinylplaten en door de draaimachine op halve snelheid te laten draaien, zijn alle frequenties verkeerd. Het technische personeel van Abbey Road Studios heeft echter nieuwe op maat gemaakte filters laten installeren waarmee Miles op een gemodificeerde Neumann VMS-80-draaimachine het halve toerental volledig kan snijden.
'The Studio Albums Vinyl Collection 1971-2016'
•Sticky Fingers (1971)
•Exile On Main St (1972)
•Goats Head Soup (1973)
•It's Only Rock'n'Roll (1974)
•Black And Blue (1976)
•Some Girls (1978)
•Emotional Rescue (1980)
•Tattoo You (1981)
•Undercover (1983)
•Dirty Work (1986)
•Steel Wheels (1989)
•Voodoo Lounge (1994)
•Bridges To Babylon (1997)
•A Bigger Bang (2005)
•Blue & Lonesome (2016)
Tracklisting:
Sticky Fingers
Brown Sugar, Sway, Wild Horses, Can't You Hear Me Knocking, You Gotta Move, Bitch, I Got The Blues, Sister Morphine, Dead Flowers, Moonlight Mile
Exile On Main St
Rocks Off, Rip This Joint, Shake Your Hips, Casino Boogie, Tumbling Dice, Sweet Virginia, Torn And Frayed, Sweet Black Angel, Loving Cup, Happy, Turd On The Run, Ventilator Blues, I Just Want To See His Face, Let It Loose, All Down The Line, Stop Breaking Down, Shine A Light, Soul Survivor
Goats Head Soup
Dancing With Mr. D., 100 Years Ago, Coming Down Again, Doo Doo Doo Doo Doo (Heartbreaker), Angie, Silver Train, Hide Your Love, Winter, Can You Hear The Music, Star Star
It's Only Rock'n'Roll
If You Can't Rock Me, Ain't Too Proud To Beg, It's Only Rock'n'Roll (But I Like It), Till The Next Goodbye, Time Waits For No One, Luxury, Dance Little Sister, If You Really Want To Be My Friend, Short And Curlies, Fingerprint File
Black And Blue
Hot Stuff, Hand Of Fate, Cherry Oh Baby, Memory Motel, Hey Negrita, Melody, Fool To Cry, Crazy Mama
Some Girls
Miss You, When The Whip Comes Down, Just My Imagination (Running Away With Me), Some Girls, Lies, Far Away Eyes, Respectable, Before They Make Me Run, Beast Of Burden, Shattered
Emotional Rescue
Dance, Summer Romance, Send It To Me, Let Me Go, Indian Girl, Where The Boys Go, Down In The Hole, Emotional Rescue, She's So Cold, All About You
Tattoo You
Start Me Up, Hang Fire, Slave, Little T&A, Black Limousine, Neighbours, Worried About You, Tops, Heaven, Not Used To Crying, Waiting On A Friend
Undercover
Undercover Of The Night, She Was Hot, Tie You Up (The Pain Of Love), Wanna Hold You, Feel On Baby, Too Much Blood, Pretty Beat Up, Too Tough, All The Way Down, It Must Be Hell
Dirty Work
One Hit (To The Body), Fight, Harlem Shuffle, Hold Back, Too Rude, Winning Ugly, Back To Zero, Dirty Work, Had It With You, Sleep Tonight, Key To The Highway
Steel Wheels
Sad Sad Sad, Mixed Emotions, Terrifying, Hold On To Your Hat, Hearts For Sale, Blinded By Love, Rock And A Hard Place, Can't Be Seen, Almost Hear You Sigh, Continental Drift, Break The Spell, Slipping Away
Voodoo Lounge
Love Is Strong, You Got Me Rocking, Sparks Will Fly, The Worst, New Faces, Moon Is Up, Out Of Tears, I Go Wild, Brand New Car, Sweethearts Together, Suck On The Jugular, Blinded By Rainbows, Baby Break It Down, Thru And Thru
Bridges To Babylon
Flip The Switch, Anybody Seen My Baby?, Low Down, Already Over Me, Gunface, You Don't Have To Mean It, Out Of Control, Saint Of Me, Might As Well Get Juiced, Always Suffering, Too Tight, Thief In The Night, How Can I Stop
A Bigger Bang
Rough Justice, Let Me Down Slow, It Won't Take Long, Rain Fall Down, Streets Of Love, Back Of My Hand, She Saw Me Coming, Biggest Mistake, This Place Is Empty, Oh No Not You Again, Dangerous Beauty, Laugh I Nearly Died, Sweet Neo Can, Look What The Cat Dragged In, Driving Too Fast, Infamy
Blue & Lonesome
Just Your Fool, Commit A Crime, Blue And Lonesome, All Of Your Love, I Gotta Go, Everybody Knows About My Good Thing, Ride 'Em On Down, Hate To See You Go, Hoo Doo Blues, Little Rain, Just Like I Treat You, I Can't Quit You Baby
Sticky Fingers (1971)
LP sleeve presented as Andy Warhol's original design complete
with working zip and hidden image beneath
Exile On Main St (1972) (2LP)
2LP in original style gatefold sleeve complete with inner-bags
and set of 12 perforated postcards
Goats Head Soup (1973)
LP in gatefold sleeve with two inserts
It's Only Rock'n'Roll (1974)
LP with original heavyweight inner sleeve
Black And Blue (1976)
LP in gatefold sleeve with original inner bag and lyric sheet
Some Girls (1978)
LP housed in replica design including 20 cut-outs on the cover
Emotional Rescue (1980)
LP with original sized poster
Tattoo You (1981)
LP with original heavyweight inner sleeve
Undercover (1983)
LP with original heavyweight inner sleeve and lyric sheet
Dirty Work (1986)
LP with original heavyweight inner sleeve, red shrink wrapping
and bespoke sticker
Steel Wheels (1989)
LP complete with original inner sleeve and sales insert
Voodoo Lounge (1994) (2LP)
2LP gatefold sleeve with original lyric inners
Bridges To Babylon (1997) (2LP)
2LP with original lyric inners
A Bigger Bang (2005) (2LP)
2LP gatefold sleeve with original lyric inners
Blue & Lonesome (2016) (2LP)
2LP gatefold sleeve with original inners