Dit artikel is vervallen en niet meer leverbaar.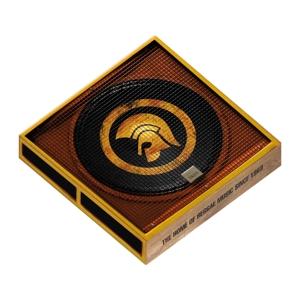 VARIOUS
TROJAN RECORDS BOXSET -BOX SET-
Drager: LP (Aantal 12) Levertijd: Niet meer leverbaar
Herkomst: NL Releasedatum: 10-08-2018 Item-nr: 3851096 EAN: 4050538379709
Disc 1
Red Red Wine
Return Of Django
Skinhead Moonstomp
Long Shot Kick De Bucket
Liquidator
Sweet Sensation
To Be Young Gifted And Black
Monkey Man
Love Of The Common People
You Can Get It If You Really Want
Black Pearl (Single Version)
Double Barrel
Disc 3
Sufferation 1969
Dancing Time
I'm Shocking
(Baby) I'll Be Yours
Lick It Back
Easy Come, Easy Go (Alternate Take)
Do The Boogaloo
Soul Love
Reggae To Jeggae
Terrible Mistake
The Lesson
Mettle
Disc 5
You Have Caught Me (Alternate Version)
The Little That You Have (Alternate Version)
Disc 7
The Voice Of The Father
Nyah Dread
White Bird Come Down
Show I The Way
Fight Down I
Another Moses
We've Got To Part
My Love For You Is Over Now
I Don't Want To Be A Beggar
Jah Jah I
African Woman
Key Of Keys
The Slave Trade
Peace Pipe Dub
Stranger In Love
Happiness
Dignity & Principle
I'm Still In Love With You Girl
Opportunity
Segregation
Right Road To Zion
Let's Spend The Night Together
Tell The Children The Truth
Disc 9
Ska Beat
Who La La (Alternate Take)
Party Tonight
Girls Galore
Time Marches On (Alternate Version)
Creature From The Moon
Too Experienced (Alternate Version)
Girl I've Got A Date
Green River
My Desire (Alternate Take)
Dread It
Tennessee Waltz
Do The Moonwalk
Hey Jude (Alternate Take)
Deep In My Soul
Sycilidin
Wide A Wake In A Dream
Bush Beat
Just My Imagination (Alternate Version)
Soul Inspiration
Loving Feeling
Old Man River
Lonely For Your Love (Alternate Mix)
Niki Hoeky
You Have To Pay
Disc 11
Donkey Returns
The Bullet
Fire Corner
Put A Little Love In Your Heart
Wear You To The Ball
You Can't Wine
She Want It
Satisfaction
What Greater Love
54-46 Was My Number
Blood And Fire
East Of The River Nile
Follow The Leader
Mother And Child Reunion
The Further You Look (The Less You See)
Money In My Pocket (1972 Version)
Lonely Woman
S.90 Skank
Stalag 17
Fire Burning
None Shall Escape The Judgement
Love Is Overdue
Hurt So Good
Sad And Lonely
Keep It Like It Is
Disc 2
Rain
Pied Piper
Black And White
Monkey Spanner
Let Your Yeah Be Yeah
Moon River
Give And Take (Give A Little, Take A Little)
I Am What I Am
Suzanne Beware Of The Devil
Big Seven
Everything I Own
Help Me Make It Through The Night
Disc 4
What Am I To Do (Strings Version)
Got To Come Back (Strings Version)
Feel A Little Better (Strings Version)
Fire And Rain
Lonely Man (Strings Version)
Weep (Strings Version)
Funny
Working On It Night And Day
Suzanne Beware Of The Devil
A Little Bit Of Soap
Lord Pity Us All
Come On Girl
Disc 6
Thunderstorm
This Life Makes Me Wonder
Mind Yourself (Aka You Think You Too Bad)
Denver
Pickney Gal
Bread On The Table
Sugar Cane
Montego Bay
Off Limits
Sir Collins' Special
Brandy
Chopsticks
Hysteriacide
Tchaikovsky's Piano Concerto No. 1
Big Six
Think About That
Ain't It Groovy
Big Eight
Behold
We Are Not The Same
Passing Strangers
Crying Over You
This Monday Morning Feeling
Running Over
Nothing Is Impossible
Disc 8
Barberman Bawling
Nothing Gained (From Loving You)
Why Won't You Come On
Liquid Horns
Ghetto-Ology
We've Got To Make It
How Can A Man Be Happy
Fight, Fight, Fight
Take Five (Aka The Russians Are Coming)
Time Is Important To Me
Give To The Poor
Killerman Jarrett
Sensi For Sale
Pirate
Dancing Shoes
(Who Is He) What Is Man
Jailhouse
Original Man
Disc 10
Having A Party
Nana
You Know What I Mean
Burial Of Longshot, Part 2
Whisper A Little Prayer
Angel
Piccadilly Hop
Everytime
You, Yes You
Don't Play That Song
Equal Rights
Crazy Rhythm
Love You The Most
I'll Be Right There
Little Boy Blue
Africa Is Paradise
A Little Love
I'll Be There
Lollipop Girl
Bogus-Ism
Sounds Of Babylon
My Best Dress
(Woman) Don't Try To Use Me
You're The One I Love
Darling Dry Your Eyes
Disc 12
Real Reggae Music (Feat. Tippa Irie)
Real Reggae Music (Feat. Tippa Irie) ( Dj Madd Remix)
RECENSIE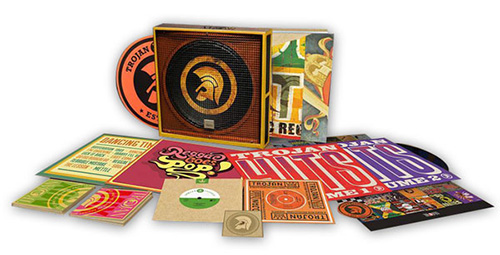 Trojan Records werd in de zomer van 1968 opgericht en in een tijdsbestek van tien jaar had het label meer dan dertig hits op haar naam. Doel van Trojan was om reggae naar het grote publiek te brengen en dat is meer dan gelukt. Deze lijvige box brengt de geschiedenis in beeld en geluid en is werkelijk fantastisch vorm gegeven. De zes cd's bevatten 130 nummers waarvan meer dan de helft nog nooit eerder op cd zijn verschenen. Natuurlijk is er een hits compilatie met tracks van Desmond Dekker, The Maytals en Dave & Ansel Collins, maar heel interessant zijn de rarities en die staan zowel op cd als op vinyl op een aparte schijf. Ook zijn er twee singles toegevoegd met niet eerder verschenen en nieuw werk, is er een fraai boekwerk met de geschiedenis van het label en de albumhoezen en krijg je wat leuke extra's in de vorm van een poster, een patch, een slipmat en een single adaptor voor je platenspeler.
| | |
| --- | --- |
| Recensent | : Bert Dijkman |
| Datum | : 26-07-2018 |
| verschenen in Platomania | : 349 |
| Waardering | : 8.0 |
CD/DVD gratis verzending vanaf € 25,-
Vinyl gratis verzending vanaf € 50,-
Geen verzendkosten: