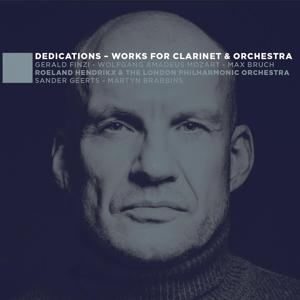 DEDICATIONS - WORKS FOR C
Drager: CD (Aantal 1)
Levertijd: Op werkdagen voor 16:00 besteld, morgen in huis
Herkomst: NL
Releasedatum: 5-10-2018
Item-nr: 3875531
EAN: 0608917721225
RECENSIE
Ondanks de aanwezigheid van het wereldberoemde klarinetconcert van Mozart en het dubbelconcert voor klarinet en altviool van Bruch op dit album, lijkt uiteindelijk toch het concert voor klarinet en strijkorkest van Gerald Finzi (1901-1956) centraal te staan. Vooral ook vanwege de persoonlijke binding die klarinettist Roeland Hendrikx met het werk heeft. Hendrikx draagt zijn uitvoering op aan zijn masterclass-lerares Thea King, die in haar jonge jaren getrouwd geweest met klarinettist Frederick Thurston voor wie Finzi het werk in 1948 schreef. In een gedreven uitvoering van solist en orkest straalt de muziek in het eerste en derde deel een zekere opgeruimdheid uit. Hoogtepunt is het tweede deel, een adagio met prachtige verstillende momenten in de wisselwerking tussen klarinet en strijkorkest.


Dedications - Works for Clarinet & Orchestra

Gerald Finzi, Wolfgang Amadeus Mozart, Max Bruch

Roeland Hendrikx & The London Philharmonic Orchestra


More than any other instrument, the clarinet is a medium for personal dedication to specific virtuosi. Mozart created his clarinet concerto for Anton Stadler, while Max Bruch dedicated his (double) concerto to his son Max Felix. Belgian virtuoso Roeland Hendrikx also plays Gerald Finzi's clarinet concerto, to which he has front row access via his teacher Thea King, doyenne of British clarinettists and spouse of Frederick Thurston, who premiered the Finzi concerto in 1949. Teaming up with the London Philharmonic Orchestra, Hendrikx pays homage to a genre – the clarinet(tist) concerto –, its gems, and its genius performers.
| | |
| --- | --- |
| Recensent | : Frits Broekema |
| Datum | : 14-10-2018 |
| verschenen in Platomania | : 352 |
| Waardering | : 8.5 |
CD/DVD gratis verzending vanaf € 25,-
Vinyl gratis verzending vanaf € 50,-
Geen verzendkosten: