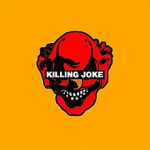 Drager: LP (Aantal 2)
Levertijd: 3 a 5 werkdagen
Herkomst: NL
Releasedatum: 18-01-2019
Item-nr: 3923343
EAN: 8719262008397
Disc 1
The Death & Resurrection Show
Total Invasion
Asteroid
Implant
Blood On Your Hands
Disc 2
Loose Cannon
You'll Never Get To Me
Seeing Red
Dark Forces
The House That Pain Built
RECENSIE
180 gram audiophile black vinyl
Gatefold sleeve with leather look
Feat. Dave Grohl (Nirvana/Foo Fighters) on drums
Legendary 2003 album, available on vinyl for the first time
2 printed innersleeves
Produced by Gang of Four member Andy Gill
Limited Edition of 2.500 individually numbered copies

Killing Joke is the eleventh studio album of the band of the same name. Dave Grohl (Nirvana/Foo Fighters) performed the drums on this album and integrated some of his famous drum rolls in the different songs. It's the new incarnation of the '80s Killing Joke, one where they are showing their new spirits.
| | |
| --- | --- |
| Recensent | : Redactie |
| Datum | : 17-01-2019 |
| Waardering | : 7.5 |
CD/DVD gratis verzending vanaf € 25,-
Vinyl gratis verzending vanaf € 50,-
Geen verzendkosten: