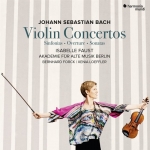 AKADEMIE FUR ALTE MUSIK BERLIN ISAB
BACH J.S. VIOLIN CONCERTOS
Drager: CD (Aantal 2)
Levertijd: Op werkdagen voor 16:00 besteld, morgen in huis
Herkomst: NL
Releasedatum: 15-03-2019
Item-nr: 3934885
EAN: 3149020935811
Disc 1
Ouverture In A Minor Bwv 1067A I. Grave E Fuga
Ii. Rondeaux
Iii. Sarabande
Iv. Bouree I, Bouree Ii
V. Polonaise. Moderato E Staccato, Double
Vii.menuet
Viii. Battinerie
Triosonata In D Minor Bwv 527 I. Andante
Ii. Adagio E Dolce.
Iii. Vivace
Concerto For Violin In G Minor Bwv 1056 - I.
Ii. Largo
Iii. Presto
Iii. Allegro
Concerto For Violin In A-Moll Bwv 1041 I.
Ii. Andante
Iii. Allegro Assai
Sinfonia In D Major Bwv 1045
Concerto For 2 Violins In D Minor Bwv 1043 I. Vivace
Ii. Largo Ma Non Tanto
Iii. Allegro
RECENSIE
Johann Sebastiaan Bach speelde veel op de viool. Sterker nog (volgens zijn zoon Carl Philipp Emmanuel) gebruikte Bach de viool om het orkest in het juiste ritme te houden. Met de viool bleek Bach veel meer grip op het orkest te hebben dan met het klavecimbel. Het is jammer dat van Bach maar drie vioolconcerten zijn overgeleverd. Bach heeft ongetwijfeld veel meer werken voor viool geschreven. Na gedegen onderzoek blijkt dat een aantal composities van Bach oorspronkelijk ook voor viool zijn bedoeld. Dit dubbel album bevat naast de drie monumentale vioolconcerten drie afgeleide vioolconcerten, alsmede Sinfonia's, Trio sonates en Suite 2 voor viool en orkest. Tien jaar na de verpletterende opnamen van alle Sonates en Partita's voor viool solo en een jaar na de succesvolle opname van alle sonates voor viool en klavecimbel, is nu dit prachtige album dat Isabella Faust opnam met de specialisten van de Akademie für Alte Musik Berlin.


JS Bach: Violin Concertos

Isabelle Faust (violin), Bernhard Forck, (violin), Xenia Loeffler (oboe)
Akademie für Alte Musik Berlin

The German violinist joins forces with oboist Xenia Löffler and Bernhard Forck's Akademie für Alte Musik Berlin for a tour of Bach's violin concertos, interspersed with alternate versions of sinfonias and sonatas that have been reconstructed for the first time.
After the double album of the violin and harpsichord sonatas with Kristian Bezuidenhout, a bestseller in 2018, here is the next instalment in the Bach recording adventure that began nine years ago with a set of the sonatas and partitas now regarded as a benchmark. Isabelle Faust and Bernhard Forck and his partners at the Akademie für Alte Musik Berlin have explored patiently a multitude of other works by Bach: harpsichord concertos, trio sonatas for organ, instrumental movements from sacred cantatas... All are revealed here as direct or indirect relatives of the three monumental concertos BWV 1041-43.
This fascinating achievement is a timely reminder that the master of The Well-Tempered Clavier was also a virtuoso violinist.
| | |
| --- | --- |
| Recensent | : Wil Zenhorst |
| Datum | : 15-03-2019 |
| verschenen in Platomania | : 356 |
| Waardering | : 8.5 |
CD/DVD gratis verzending vanaf € 25,-
Vinyl gratis verzending vanaf € 50,-
Geen verzendkosten: