Dit artikel is vervallen en niet meer leverbaar.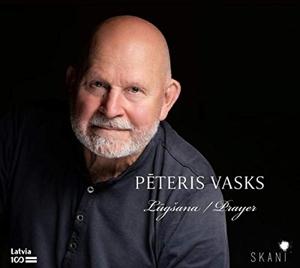 Drager: CD (Aantal 1) Levertijd: Niet meer leverbaar
Herkomst: NL Releasedatum: 15-03-2019 Item-nr: 3952527 EAN: 4751025440345
Prayer For A Mother
Ludate Dominum
Missa
Prayer For Latvia
RECENSIE
The album "Prayer" (Lugsana) is composer Peteris Vasks' gift to Latvia on its centenary. It contains four vocal symphonic compositions written over the past 40 years. Three of the works, Prayer for a Mother, Laudate Dominum and Prayer for Latvia, appear here for the first time in new versions, with Vasks himself having been present during the recording process.

The oldest of the compositions is Prayer for a Mother (1978), initially called the Cantata for Women and with lyrics by Imants Ziedonis. Vasks wrote it, as he says himself, when he was still a young composer. Three different versions of the Missa (2000, 2001, 2005), in which the a cappella choir was joined by the organ and string orchestra, premiered in Copenhagen, Riga and Helsinki. Laudate Dominum (2016) and Prayer for Latvia (2014, 2016) with lyrics by Velta Toma are the most recent compositions.

State Choir Latvija and its artistic director Maris Sirmais joins forces with Latvian National Symphony Orchestra and Professional Symphonic Band Riga in this world premiere recording.


| | |
| --- | --- |
| Recensent | : Redactie |
| Datum | : 3-06-2019 |
| Waardering | : 7.5 |
CD/DVD gratis verzending vanaf € 25,-
Vinyl gratis verzending vanaf € 50,-
Geen verzendkosten: