RECENSIE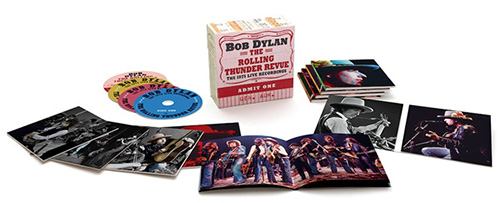 De monumentale 14CD box bevat 5 complete Bob Dylan sets van Rolling Thunder Revue concerten, unieke soundcheck opnamen, een 52-pagina tellend booklet en nog niet eerder uitgebracht materiaal.
'Bob Dylan – The Rolling Thunder Revue: The 1975 Live Recordings' valt samen met de nieuwe Netflix film 'Rolling Thunder Revue – A Bob Dylan Story by Martin Scorsese' die een registratie geeft van de gelijknamige tour in 1975. De film is deels een concertfilm en deels een documentaire. Alle optredens van Bob Dylan in deze film zijn terug te vinden in de boxset.
Met een uitgebreide bloemlezing van muziek van het eerste deel van Bob Dylan's baanbrekende Rolling Thunder Revue, bevat de 14CD boxset de 5 volledige sets van deze tour die professioneel zijn opgenomen. In deze collectie ook niet eerder uitgebracht beeld van de repetities in New York's S.I.R. studios en het Seacrest Motel in Falmouth, plus een bonuscd met unieke optredens van de tour.
De collectie bevat 148 tracks, waarvan meer dan 100 nooit eerder uitgebracht zijn. Toegevoegd aan de boxset is een 52-pagina's tellende booklet met zeldzaam en nooit eerder vertoonde Rolling Thunder Revue foto's en een essay geschreven door schrijver/muzikant Wesley Stace.
Gelanceerd in de herfst van 1975, Bob Dylan's Rolling Thunder Revue was een tour met gastoptredens van Dylan's bevriende muzikanten waaronder T Bone Burnett, Mick Ronson, Joan Baez, Ramblin' Jack Elliot, Bobby Neuwirth, Scarlett Rivera, Ronee Blakely, Steven Soles, David Mansfield, Rob Stoner, Howie Wyeth en Luther Rix, dichter Allen Ginsberg en Joni Mitchell. De shows duurde meestal meer dan 4 uur, in kleine en ongebruikelijke zalen, vaak met een aankonding op het laatste moment. Dylan speelde voor het eerst de songs die hij schreef voor het nog uit te komen album 'Desire'. Ook speelde hij niet voor de hand liggende covers en interpreterende versies van songs uit zijn backcatalog.
| | |
| --- | --- |
| Recensent | : Redactie |
| Datum | : 5-01-2019 |
| verschenen in Platomania | : 358 |
| Waardering | : 8.0 |
CD/DVD gratis verzending vanaf € 25,-
Vinyl gratis verzending vanaf € 50,-
Geen verzendkosten: