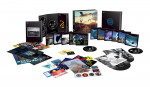 Drager: CD (Aantal 18)
Levertijd: verwacht op 29-11
Herkomst: NL
Releasedatum: 29-11-2019
Item-nr: 4037962
EAN: 0190295413132
Disc 1
Signs Of Life
Learning To Fly
The Dogs Of War
One Slip
On The Turning Away
Yet Another Movie
Round And Around
A New Machine Part 1
Terminal Frost
A New Machine Part 2
Sorrow
Disc 3
One Of These Days
Time
On The Run
The Great Gig In The Sky
Wish You Were Here
Welcome To The Machine
Us And Them
Money
Another Brick In The Wall, Part 2
Comfortably Numb
One Slip
Run Like Hell
Disc 5
Shine On You Crazy Diamond, Parts 1-5
The Great Gig In The Sky
Wish You Were Here
Sorrow
Money
Comfortably Numb
Run Like Hell
Disc 7
Shine On You Crazy Diamond, Parts 1-5
Signs Of Life
Learning To Fly
Sorrow
The Dogs Of War
On The Turning Away
One Of These Days
Time
On The Run
The Great Gig In The Sky
Wish You Were Here
Us And Them
Money
Comfortably Numb
One Slip
Run Like Hell
Disc 9
Venice Concert 1989 / Knebworth Concert 1990
Disc 11
Arnold Layne (Live At Syd Barrett Tribute 2007)
A Momentary Lapse Of Reason Album Cover
The Division Bell Heads Album Cover Photography
Pulse Tv Ad 1995
The Endless River Film By Ian Emes
A Momentary Lapse Of Reason Cover Shoot Interview With David
The Division Bell Airships 1994
The Division Bell Tour
Arnold Layne Rehearsal (Syd Barrett Tribute 2007)
The Endless River Launch Event 2014
The Endless River Epk 2014
Disc 13
Pulse Film 2019 Restored & Re-Edited
Disc 15
Music Videos:
View Tracklist
Bonus Live Tracks From Delicate Sound Of Thunder
View Tracklist
Tour Rehearsal 1994:
View Tracklist
Concert Screen Films 1987
View Tracklist
Concert Screen Films 1994
View Tracklist
Wish You Were (Rock & Roll Hall Of Fame Induction)
View Tracklist
Disc 17
Arnold Layne
Etched
Disc 2
Shine On You Crazy Diamond, Parts 1-5
Signs Of Life
Learning To Fly
Yet Another Movie
Round And Around
A New Machine Part 1
Terminal Frost
A New Machine Part 2
Sorrow
The Dogs Of War
On The Turning Away
Disc 4
One Of These Days (Live In Hanover 1994)
Astronomy Domine (Live In Miami 1994)
The Dogs Of War (Live In Atlanta 1987)
On The Turning Away (Live In Atlanta 1987)
Run Like Hell (Live In Atlanta 1987)
Blues 1 (Unreleased 1994 Recording)
Slippery Guitar (Unreleased 1994 Recording)
S Theme (Unreleased 1994 Recording)
S Blues (Unreleased 1994 Recording)
Marooned Jam (Unreleased 1994 Recording)
Nervana (Unreleased 1994 Recording)
Disc 6
A Momentary Lapse Of Reason Updated & Remixed 2019
First Release Of 2019 Mixes In 5.1
View Tracklist
The Division Bell 2014 Remix
View Tracklist
Unreleased Studio Recordings
Disc 8
Pulse Film 2019 Restored & Re-Edited
Disc 10
Music Videos:
View Tracklist
Bonus Live Tracks From Delicate Sound Of Thunder
View Tracklist
Tour Rehearsal 1994:
View Tracklist
Concert Screen Films 1987
View Tracklist
Concert Screen Films 1994
View Tracklist
Wish You Were (Rock & Roll Hall Of Fame Induction)
Disc 12
Shine On You Crazy Diamond, Parts 1-5
Signs Of Life
Learning To Fly
Sorrow
The Dogs Of War
On The Turning Away
One Of These Days
Time
On The Run
The Great Gig In The Sky
Wish You Were Here
Us And Them
Money
Comfortably Numb
One Slip
Run Like Hell
Disc 14
Venice Concert 1989 / Knebworth Concert 1990
Disc 16
Arnold Layne (Live At Syd Barrett Tribute 2007)
A Momentary Lapse Of Reason Album Cover Photo Shoot
The Division Bell Heads Album Cover Photography (Ely, Cambri
Pulse Tv Ad 1995
The Endless River Film By Ian Emes
A Momentary Lapse Of Reason Cover Shoot Interview With David
The Division Bell Airships 1994
The Division Bell Tour
Arnold Layne Rehearsal (Syd Barrett Tribute 2007)
The Endless River Launch Event 2014
The Endless River Epk 2014
Disc 18
Lost For Words
Etched
RECENSIE
Pink Floyd The Later Years is een boxset van Pink Floyd. Binnen de set valt al het materiaal dat is uitgebracht tussen 1987 tot 2019 (16 discs). De boxset bestaat uit 5 cd's, 6 blu-rays, 2 keer een 7" vinyl. en 5 dvd's. Daarbij wordt het volgende aangeboden:
- Een geupdate versie van 'A Momentary Laps Of Reason', wat is ge-remixed door David Gilmore en Andy Jackson.
- 6 uur aan onuitgebracht werk.
- Verschillende concerten.
- Het 'Syd Barret Tribute Concert' uit 2007 waar David Gilmour, Nick Mason en Richard Wright op te horen zijn.
- Diverse 7'' vinyl waar diverse singles op te horen zijn.
- Diverse boekwerken over tours, lyrics en foto's.
On 29 November 2019, Pink Floyd Records will release 'Pink Floyd The Later Years', an 18-disc set (5xCDs, 6xBlu-Rays, 5xDVDs, 2x7" plus exclusive photo book and memorabilia) covering the material created by David Gilmour, Nick Mason and Richard Wright from 1987 onwards. The period generated record sales of over 40 million worldwide and included three studio albums: 'A Momentary Lapse of Reason', 'The Division Bell' and 'The Endless River' as well as two live albums: 'Delicate Sound of Thunder' and 'Pulse'. With additional production from David Gilmour and Andy Jackson, over 13 hours of unreleased audio and audiovisual material, including the sought-after 1989 Venice and 1990 Knebworth concerts, 'Pink Floyd The Later Years' is a must for all fans.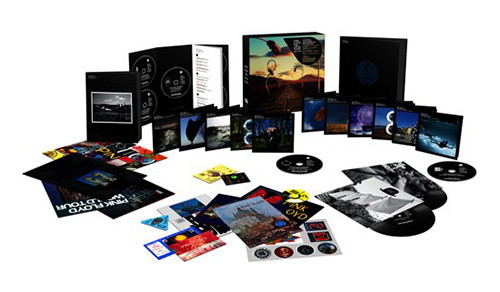 | | |
| --- | --- |
| Recensent | : Redactie |
| Datum | : 9-10-2019 |
| Waardering | : 7.5 |
CD/DVD gratis verzending vanaf € 25,-
Vinyl gratis verzending vanaf € 50,-
Geen verzendkosten: