Limited edition hand-numbered box set
2 x 180-gram LPs in stereo and mono with restored original album art
2 x SACDs in stereo and mono housed in custom 12" sleeve
7" single of "Honky Tonk Women"/ "You Can't Always Get What You Want" in mono with original picture sleeve
80-page hardcover book with essay by David Fricke and never-before seen photos by Ethan Russell
Three 12"x12" hand-numbered, replica-signed lithographs printed on embossed archival paper, housed in foil-stamped envelope Full-colour (23 x 23) poster with restored art from original 1969 Decca package
Remastered audio by Bob Ludwig at Gateway Mastering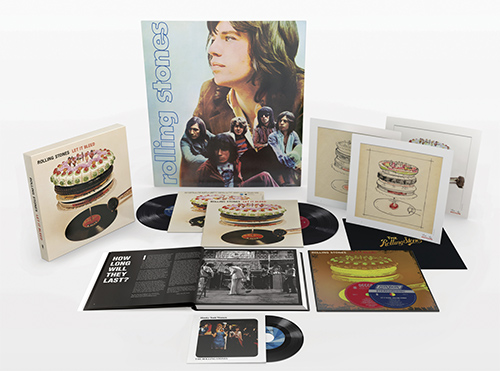 Let It Bleed is een van de klassiekers die The Rolling Stones maakten. Het is daarnaast ook het album dat voor de Stones de sixties uitluidde. De vrije jaren zestig waren voor sommige bandleden iets te vrij met als gevolg dat Brian Jones het veld moest ruimen en op slechts twee nummers op percussie te horen is. Mick Taylor werd gevraagd om de band te versterken en is als gitarist ook op twee nummers te horen. Richards moest het dus vooral alleen doen en slaagde daar wonderwel in, tenslotte was ook hij niet vies van de middeltjes. Daarnaast is er ook een prominente plek voor Nicky Hopkins' pianospel. Gimme Shelter, Live With Me, Midnight Rambler en You Can't Always Get What You Wanted zijn slechts vier van de klassiekers die het album telt. Voor deze verjaardagsuitgave vinden we zowel de mono- als stereoversie op zowel vinyl als SACD in een box. Daarbij gevoegd is een replica van de Honky Tonk Woman/You Can't Always Get-single. Is het de moeite waard aangezien er geen nieuwe muziek opstaat? Dat is een individuele keuze. Naast de muziek is er echter wel een mooi boek bijgevoegd. Als daar ook nog drie facsimile litho's en een poster bijkomen, weten we dat we hoe dan ook van een mooie reissue spreken.
TRACKLIST BOXSET
LP 1 - Stereo
Side 1
1. Gimme Shelter
2. Love In Vain
3. Country Honk
4. Live with Me
5. Let It Bleed
Side 2
1. Midnight Rambler
2. You Got the Silver
3. Monkey Man
4. You Can't Always Get What You Want
LP 2 - Mono
Side 1
1. Gimme Shelter
2. Love In Vain
3. Country Honk
4. Live with Me
5. Let It Bleed
Side 2
1) Midnight Rambler
2. You Got the Silver
3. Monkey Man
4. You Can't Always Get What You Want
Hybrid Super Audio CD 1 - Stereo
1. Gimme Shelter
2. Love In Vain
3. Country Honk
4. Live with Me
5. Let It Bleed
6. Midnight Rambler
7. You Got the Silver
8. Monkey Man
9. You Can't Always Get What You Want
Hybrid Super Audio CD 2 - Mono
1. Gimme Shelter
2. Love In Vain
3. Country Honk
4. Live with Me
5. Let It Bleed
6. Midnight Rambler
7. You Got the Silver
8. Monkey Man
9. You Can't Always Get What You Want
7" vinyl single - (Mono)
Side A – Honky Tonk Women
Side B – You Can't Always Get What You Want