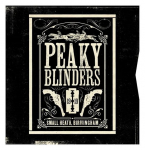 PEAKY BLINDERS (3LP) + GRATIS TOTE-BAG
Drager: LP (Aantal 3)
Levertijd: Op werkdagen voor 16:00 besteld, morgen in huis
Herkomst: NL
Releasedatum: 22-11-2019
Item-nr: 4055894
EAN: 0602508156502
Disc 1
Tommy: 'it's Not A Good Idea '
Red Right Hand
St. James Infirmary Blues
Truce (From 'peaky Blinders' Original Soundtrack / Series 1)
Tommy: 'right I Have Bought You Hear Today '
The Prowl
Polly: 'there's Only One Thing '
Love Is Blindness
To Bring You My Love
Alfie: 'i've Heard Very Bad, Bad, Bad Things '
River Styx
Post Irish Meeting (From 'peaky Blinders' Original Soundtrack / Series 2)
Red Right Hand
What He Wrote
Arthur: 'do You Wanna Tell 'em '
Come On Over
Do I Wanna Know? (Album Version)
Disc 3
Snake Oil
Polly: 'it's In Our Gypsy Blood '
Pyramid Song
A Hard Rain's A-Gonna Fall
Ada: 'so, Tommy Shelby, Mp '
The Wizard
Papi Pacify
Atmosphere (Mix)
Tommy: 'you Need To Understand '
You're Not God (From 'peaky Blinders' Original Soundtrack / Series 5)
Arthur: 'there's A Bentley Outside '
I'm The Man
Never Fight A Man With A Perm
Tommy: 'i Will Continue '
Ballad Of A Thin Man
Disc 2
Tommy: 'i Love You '
Breathless
You And Whose Army?
Polly: 'a Woman Of Substance '
This Is Love
Sons (From 'peaky Blinders' Original Soundtrack / Series 3)
Tommy: 'you Can Change What You Do '
Burn The Witch (Album Version)
Bad Habits
Lazarus
Tommy: 'sex, Freedom, Whiskey Sours '
Adore
The Mercy Seat
I Wish, I Wish
Ballad Of Polly Gray (From 'peaky Blinders' Original Soundtrack / Series 4)
Tommy: 'i'm Not A Traitor To My Class '
Devil Inside Me
RECENSIE
Peaky Blinders tote-bag actie
Bij aanschaf van de Peakers Blinders 3LP krijg je bij ons
een kekke tote-bag
er helemaal gratis bij cadeau! De actie geldt zowel online als in alle Plato en Concerto winkels maar OP=OP. Het is ook mogelijk om hier te reserveren en af te halen in de winkel.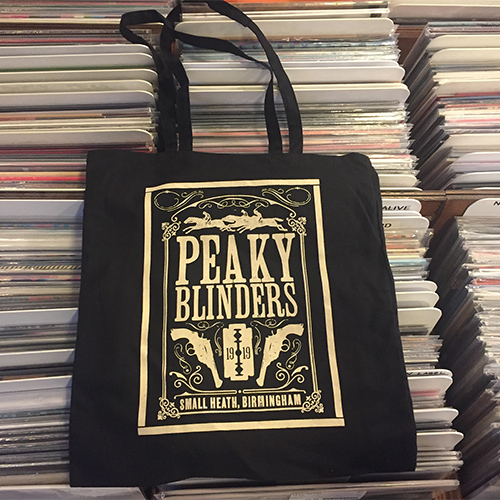 Er zijn een hoop fantastische TV-series tegenwoordig, maar er is maar één Peaky Blinders. Snoeihard, extreem spannend en met heel, heel veel stijl vormgegeven. De avonturen van de gebroeders Shelby, zwaar getraumatiseerde WW1 veteranen die de straatbende in Birmingham naar grote hoogtes brengen, wordt begeleidt door een al even fenomenale soundtrack. In een vlaag van genialiteit kozen de makers niet voor muziek uit de periode waarin het zich afspeelt, maar voor harde, eigentijdse gitaarmuziek. Een aantal klassiekers van Black Sabbath en Joy Division daargelaten zijn het Nick Cave, met onder andere de thema song Red Right Hand, The Arctic Monkeys, The White Stripes en Dan Auerbach die de toon zetten. Speciale vermelding voor rarities van, alweer, Nick Cave, Jack White (Love Is Blindness), en een speciaal opgenomen cover door Richard Hawley, die Dylan's Ballad Of A Thin Man onder handen neemt. Gelardeerd met de altijd scherpe dialogen uit de serie en een enkele score compositie maken deze soundtrack tot een prachtige luistertrip. Niet dat je een keus hebt, want als de Peaky Focking Blinders zeggen dat je iets moet doen, dan doe je dat gewoon…..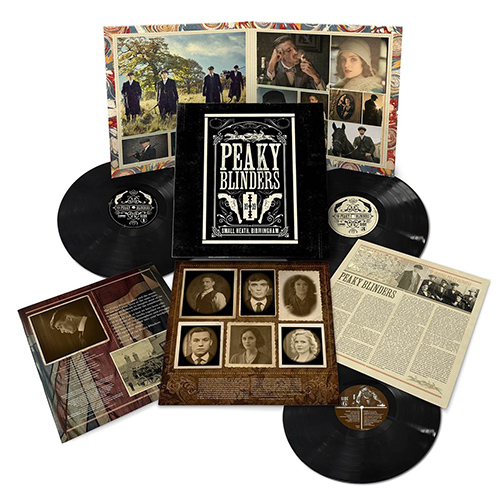 Track listing:
· - 1 -
o 1. *Tommy: 'It's Not a Good Idea...'
o 2. Nick Cave and the Bad Seeds - Red Right Hand
o 3. The White Stripes - St James Infirmary Blues
o 4. Truce - From 'Peaky Blinders' Original Soundtrack / Series 1
o 5. *Tommy: 'Right I Have Bought You Hear Today...'
o 6. Dan Auerbach - the Prowl
o 7. *Polly: 'There's Only One Thing...'
o 8. Jack White - Love is Blindness
o 9. Pj Harvey - To Bring You My Love
o 10. Alfie: 'I've Heard Very Bad, Bad, Bad Things...'
o 11. Black Rebel Motorcycle - River Styx
o 12. Post Irish Meeting - From 'Peaky Blinders' Original Soundtra
o 13. Pj Harvey - Red Right Hand
o 14. Laura Marling - What He Wrote
o 15. Arthur: 'Do You Wanna Tell 'Em...'
o 16. Royal Blood - Come On Over
o 17. Arctic Monkeys - Do I Wanna Know?
· - 2 -
o 1. Tommy: 'I Love You...'
o 2. Nick Cave and the Bad Seeds - Breathless
o 3. Radiohead - You and Whose Army?
o 4. Polly: 'A Woman of Substance...'
o 5. Pj Harvey - This is Love
o 6. Sons - From 'Peaky Blinders' Original Soundtrack / Series 3
o 7. Tommy: 'You Can Change What You Do...'
o 8. Queens of the Stone Age - Burn the Witch
o 9. The Last Shadow Puppets - Bad Habits
o 10. David Bowie - Lazarus
o 11. Tommy: 'Sex, Freedom, Whiskey Sours...'
o 12. Savages - Adore
o 13. Nick Cave and the Bad Seeds - the Mercy Seat (Live From Kcrw
o 14. Rachel Unthank & the Winterset - I Wish
o 15. Ballad of Polly Gray - From 'Peaky Blinders' Original Soundt
o 16. Tommy: 'I'm Not a Traitor To My Class...'
o 17. Frank Carter and the Rattlesnakes - Devil Inside Me
· - 3 -
o 1. Foals - Snake Oil
o 2. Polly: 'It's In Our Gypsy Blood...'
o 3. Radiohead - Pyramid Song
o 4. Laura Marling - a Hard Rain's A-Gonna Fall
o 5. Ada: 'So, Tommy Shelby, Mp...'
o 6. Black Sabbath - the Wizard
o 7. Anna Calvi - Papi Pacify
o 8. Joy Division - Atmosphere
o 9. Tommy: 'You Need To Understand...'
o 10. You're Not God - From 'Peaky Blinders' Original Soundtrack /
o 11. Arthur: 'There's a Bentley Outside...'
o 12. Jehnny Beth - I'm the Man
o 13. Idles - Never Fight a Man With a Perm
o 14. Tommy: 'I Will Continue...'
o 15. Richard Hawley - Ballad of a Thin Man
| | |
| --- | --- |
| Recensent | : Jurgen Vreugdenhil |
| Datum | : 27-10-2019 |
| verschenen in Platomania | : 363 |
| Waardering | : 8.0 |
CD/DVD gratis verzending vanaf € 25,-
Vinyl gratis verzending vanaf € 50,-
Geen verzendkosten: