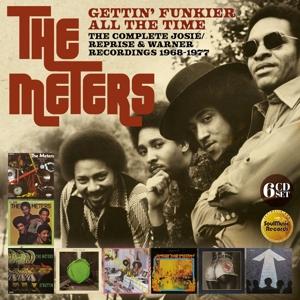 GETTIN' FUNKIER ALL THE..
Drager: CD (Aantal 6)
Levertijd: Op werkdagen voor 16:00 besteld, morgen in huis
Herkomst: NL
Releasedatum: 24-01-2020
Item-nr: 4067612
EAN: 5013929089006
Disc 1
Sophisticated Cissy
Sehorns Farm
Cissy Strut
Here Comes The Meter Man
Cardova
Live Wire
Art
6V6 La
Stormy
Sing A Simple Song
Ease Back
Ann
The Look Of Love
Soul Machine
Dry Spell
Little Old Money Maker
Look-Ka Py Py
Rigor Mortis
Pungee
Thinking
This Is My Last Affair
Funky Miracle
Yeah, You're Right
Oh, Calcutta!
The Mob
9 'til 5
Disc 3
Do The Dirt
Smiling
You've Got To Change (You Got To Reform)
Stay Away
Birds
The Flower Song
Soul Island
Lonesome And Unwanted People
Gettin' Funkier All The Time
Cabbage Alley
Chug Chug Chug-A-Lug (Push And Shove) Part I
Chug Chug Chug-A-Lug (Push And Shove) Part Ii
People Say
Love Is For Me
Just Kissed My Baby
What'cha Say
Jungle Man
Hey Pocky A-Way
Disc 5
Disco Is The Thing Today
Mister Moon
Find Yourself
All These Things
I Want To Be Loved By You
Suite For 20 G
Doodle Loop (The World Is A Little Bit Under The Weather)
Trick Bag
Chug-A-Lug
Hang 'em High
Honky Tonk Woman
Love The One You're With
What More Can I Do?
Down By The River
Come Together
Big Chief
Disc 2
Chicken Strut
Hey! Last Minute
Grass
Borro (Aka Borrow)
Liver Splash
Wichita Lineman
Joog
Go For Yourself
Same Old Thing
Hand Clapping Song
Darling Darling Darling
Tippi-Toes
Britches
Ride Your Pony
Funky Meters' Soul
Meter Strut
A Message From The Meters
Zony Mash
Stretch Your Rubber Band
Groovy Lady
(The World Is A Bit Under The Weather) Doodle-Oop
I Need More Time
Good Old Funky Music
Sassy Lady
Disc 4
It Ain't No Use
Loving You Is On My Mind
Africa
Out In The Country
Fire On The Bayou
Love Slip Upon Ya
Talkin' 'bout New Orleans
They All Ask'd For You
Can You Do Without?
Liar
You're A Friend Of Mine
Middle Of The Road
Running Fast
Mardi Gras Mambo
Keep On Marching
He Bite Me
A Mother's Love
Jambalaya (On The Bayou)
Disc 6
No More Okey Doke
I'm Gone
Be My Lady
My Name Up In Lights
Funkify Your Life
Stop That Train
We Got The Kind Of Love
Give It What You Can
All I Do Every Day Various Single Edits
Hey Pocky A-Way
People Say
Running Fast
Disco Is The Thing Today (Disco Mix)
Be My Lady
RECENSIE
Deze uit 6 CD's en 116 tracks bestaande boxset bevat alles wat The Meters in de periode 1968 -1977 voor Josie Records (1968-1971) en Reprise/Warner (1972-1977) gemaakt hebben. Behalve al het materiaal van de acht albums (The Meters, Look- Ka Py Py, Struttin', Gabbage Alley, Rejuvanation, Fire on the Bayou, Trick Bag en New Directions) die zij in die periode uitbrachten, bevat de boxset ook nog veel bonusmateriaal in de vorm van non-album tracks, single-edits en een disco-mix van de nog nooit eerder op CD beschikbare track Disco is the thing today. Inclusief een boekwerk en fotomateriaal.
| | |
| --- | --- |
| Recensent | : Redactie |
| Datum | : 1-02-2020 |
| Waardering | : 7.5 |
CD/DVD gratis verzending vanaf € 25,-
Vinyl gratis verzending vanaf € 50,-
Geen verzendkosten: