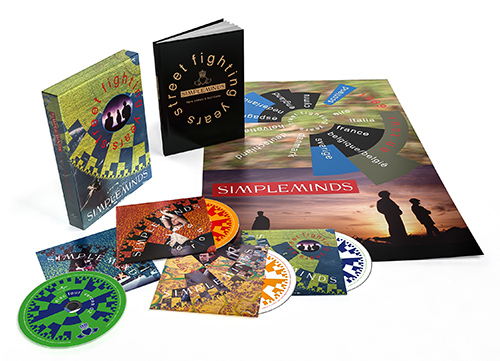 Street Fighting Years was in 1989 de opvolgers van het succesvolle Once Upon A Time, met stadionhits als Alive and Kicking, Sanctify Yourself en Ghostdancing. Onder invloed van producer Trevor Horn, destijds bekend van zijn werk voor Frankie Goes To Hollywood, sloeg de band een nieuwe weg in. Het energieke, krachtige, soms bombastische geluid van Once Upon A Time werd verruild voor een meer sferische benadering, met Keltische- en folkinvloeden. Street Fighting Years werd ook een politiek getint album, met hits als Belfast Child, Mandela Day en het Peter Gabrielnummer Biko. De nu verschenen reissue verschijnt als dubbel-cd met edits, B-kantjes, remixes en nummers die eerder op The Amsterdam EP verschenen (waaronder het Prince-nummer Sign Of The Times) en als boxset die tevens een nog niet eerder uitgebracht live-optreden (Verona, 1989) bevat. Het geremasterde album verschijnt daarnaast opnieuw op LP, met de bonustrack When Spirits Rise.
4-CD BOX SET
DISC ONE: STREET FIGHTING YEARS
1. Street Fighting Years
2. Soul Crying Out
3. Wall of Love
4. This Is Your Land
5. Take A Step Back
6. Kick It In
7. Let It All Come Down
8. Mandela Day
9. Belfast Child
10. Biko
11. When Spirits Rise
DISC TWO: EDITS, B-SIDES AND REMIXES
1. Belfast Child - Edit
2. Mandela Day- Edit .
3. This Is Your Land - Edit
4. Saturday Girl – B-Side
5. Year of The Dragon – B-Side
6. This Is Your Land - DJ Version
7. Kick It In - Edit
8. Waterfront - '89 Remix
9. Big Sleep - Live
10. Kick It In - Unauthorised Mix
11. Sign O' The Times - Edit
12. Let It All Come Down - Edit
13. Sign O' The Times - B-Side
14. Jerusalem B-Side
15. Sign O' The Times - C. J. Mackintosh Remix
DISC THREE: VERONA
1. Theme for Great Cities '90
2. When Spirits Rise
3. Street Fighting Years
4. Mandela Day
5. This Is Your Land
6. Soul Crying Out
7. Waterfront
8. Ghost Dancing
9. Book of Brilliant Things
10. Don't You (Forget About Me)
DISC FOUR: VERONA
1. Gaelic Melody
2. Kick It In
3. Let It All Come Down
4. Belfast Child
5. Sun City
6. Biko
7. Sanctify Yourself
8. East at Easter
9. Alive and Kicking