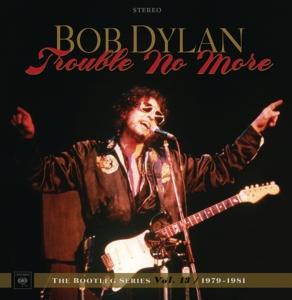 BOOTLEG SERIES 13-CD+DVD-
Drager: CD (Aantal 9)
Levertijd: Op werkdagen voor 16:00 besteld, morgen in huis
Herkomst: NL
Releasedatum: 3-11-2017
Item-nr: 4097369
EAN: 0889854546526
Disc 1
Disc 3
Disc 5
Disc 7
Disc 9
Jesus Met The Woman At The Well - Live
Intro - Main Title Open
Are You Ready? - Live
Hipocrisy Sermon
Solid Rock - Live
Virtue Sermon, Part 1
Slow Train - Live
Virtue Sermon, Part 2
When He Returns - Live
Precious Angel - Live
Temperance Sermon
Saved - Live
Gluttony Sermon
Do Right To Me Baby (Do Unto Others) - Live
Justice Sermon, Part 1
Ain't Gonna Go To Hell For Anybody - Live
Justice Sermon, Part 2
What Can I Do For You? - Live
Prudence
Pressing On - Live
Abraham, Martin And John - Live
Credits
Shot Of Love - Live
Cover Down, Pray Through - Live
Jesus Met The Woman At The Well - Alternate Version
Ain't Gonna Go To Hell For Anybody - Complete Version
Precious Angel - Complete Version
Slow Train - Complete Version
RECENSIE
Het nieuwste deel in de Bob Dylan Bootleg serie zoomt in op de muziek die Dylan schreef en uitvoerde in één van zijn meest verrassende, controversiële en inspirerende periodes uit zijn carrière.

De albums die Dylan in deze periode uitbracht - Slow Train Coming (1979), Saved (1980) en Shot Of Love (1981) waren zeer persoonlijk en vol van geloof, wat een deel van zijn fanbase van hem vervreemdde. 20 jaar eerder gebeurde hetzelfde toen Dylan elektrisch ging spelen.

Op deze essentiële anthologie zijn 100 nooit eerder te horen live- en studio opnames te vinden, waaronder 14 nooit uitgebrachte nummers. Deze Deluxe Box Set bevat de exclusieve DVD "Trouble No More: A Musical Film", met nooit eerder gezien beeldmateriaal van zijn 1980 tours, waaronder een zeldzame uitvoering van "Shot Of Love" in Avignon in 1981. De docu is geregisseerd door Jennifer Lebeau. De Box Set bevat daarnaast een hardcover boek met liner notes van Amanda Petrusich, Rob Bowman en Penn Jillette, met voorwoord van Dylan geleerde Ben Rollins.
| | |
| --- | --- |
| Recensent | : Redactie |
| Datum | : 3-04-2020 |
| Waardering | : 7.5 |
CD/DVD gratis verzending vanaf € 25,-
Vinyl gratis verzending vanaf € 50,-
Geen verzendkosten: