ZAPPA, FRANK
THE MOTHERS 1970
Genre: Reissues
Label: UNIVERSAL
Releasedatum: 26-06-2020
Herkomst: NL
Item-nr: 4119700
EAN: 0824302003329
Op werkdagen voor 16:00 besteld, morgen in huis.
Recensie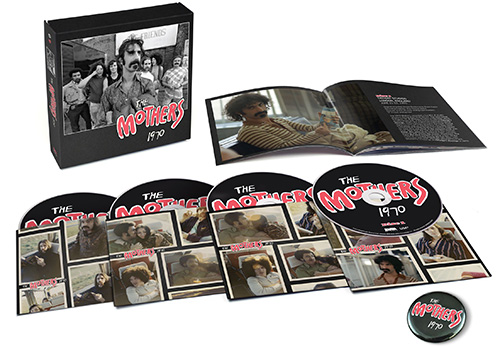 Of het gedonder in de familie nu helemaal over is, is mij niet geheel duidelijk. Feit is echter wel dat Ahmet de frequentie van uitgifte van onbekend materiaal flink opgeschroefd heeft. Deze keer zijn The Mothers aan de beurt. De band die hier gepresenteerd wordt bestaat naast Zappa en Ian Underwood uit Aynsley Dunbar en Jeff Simmons, George Duke is hier ook aanwezig en zal na een kort verblijf elders later terugkeren. Goede muzikanten dus en dat is fijn. Het is echter de toevoeging van Mark Volman en Howard Kaylan die het meest opvalt. Met de komst van deze als Flo & Eddie bekendstaande vocalisten verandert er iets in de aanpak. Het is niet voor niets dat met de komst van deze twee een periode begint die wel eens de Vaudeville Years genoemd wordt.
De eerste schijf opent met Red Tubular Lighter, ook de volldige unedited master is terug te vinden, een heerlijk instrumentaal nummer dat gelijk verwachtingen schept voor de rest van het boxje. Overigens staan er meer van die instrumentale hoogstandjes op deze schijf zoals Item 1 en Envelopes dat pas in 1981 op Ship Arriving... terug zal keren. Op het tweede nummer horen we Flo & Eddie voor het eerst. Het zorgt gelijk voor herkenning en neemt je mee naar de Zappa van de vroege jaren zeventig, iets waar de fraaie alternatieve mix van Sharleena ook aan bijdraagt. Wonderful Wino horen we hier in originele vorm, de Zoot Allures-versie gebruikte deze als basis maar behield uiteindelijk alleen wat gitaarlicks. Hier dus origineel en in twee versies. Overigens moet ik het fantastische geluid van deze schijf zeker niet onvermeld laten. De tweede schijf opent met Jan Donkers, met andere woorden: het beroemde VPRO Piknik-optreden, in het Godvrezende Uddel nota bene. Dit 18 juni 1970-concert is te vinden op talloze semiofficiële uitgaves. Ik heb de weergave hier vergeleken met die ik al in de kast heb staan en in mijn oren klinkt deze versie aangenamer, aangezien The New Maternity nogal schel is. Wel is er vergeleken met die schijf iets gesneden in het interview. Niet erg, want het blijft een heerlijk concert! De rest van deze schijf wordt gevuld met vijf fijne tracks opgenomen in The Pepperland in San Rafael in september 1970 waaronder Happy Together van Flo & Eddies vorige band The Turtles. Op de derde schijf is beoogd een volledige concertimpressie te geven door delen van twee concerten uit augustus en september samen te voegen. De band speelt gedegen en hoewel het geluidstechnisch misschien niet helemaal 'high-tech' is, valt hier meer dan genoeg te genieten om dat te compenseren. Op de vierde schijf vinden we meer livemateriaal waaronder het vooruitgeschoven Portugese Fenders. Geluidstechnisch mag het ook hier dan af en toe misschien iets variëren, maar wat wordt hier goed gespeeld! Pound For A Brown en Turn It Down bijvoorbeeld en ook Easy Meat, dat we hier al in een protoversie terugvinden, zijn slechts enkele voorbeelden. Samenvattend is dit een heerlijke uitgave en daarom mag deze zeker niet ontbreken in een Zappaverzameling!
Tracks
Disc 1
1. Red Tubular Lighter
2. Lola Steponsky
3. Trident Chatter
4. Sharleena (Roy Thomas Baker Mix)
5. Item 1
6. Wonderful Wino (Fz Vocal)
7. "enormous Cadenza"
8. Envelopes
9. Red Tubular Lighter (Unedited Master)
10. Wonderful Wino (Basic Tracks / Alternate Take)
11. Giraffe (Take 4)
12. Wonderful Wino (Fz Vocal / Alternate Solo)
Disc 2
1. Introducing...the Mothers (Live At "piknik" Vpro, 6/18/1970)
2. Wonderful Wino (Live At "piknik" Vpro, 6/18/1970)
3. Concentration Moon (Live At "piknik" Vpro, 6/18/1970)
4. Mom & Dad (Live At "piknik" Vpro, 6/18/1970)
5. The Air (Live At "piknik" Vpro, 6/18/1970)
6. Dog Breath (Live At "piknik" Vpro, 6/18/1970)
7. Mother People (Live At "piknik" Vpro, 6/18/1970)
8. You Didn't Try To Call Me (Live At "piknik" Vpro, 6/18/1970)
9. Agon (Live At "piknik" Vpro, 6/18/1970)
10. Call Any Vegetable (Live At "piknik" Vpro, 6/18/1970)
11. King Kong Pt. I (Live At "piknik" Vpro, 6/18/1970)
12. Igor's Boogie (Live At "piknik" Vpro, 6/18/1970)
13. King Kong Pt. Ii (Live At "piknik" Vpro, 6/18/1970)
14. What Kind Of Girl Do You Think We Are? (Live At Pepperland, San Rafael, Ca., 9/26/1970)
15. Bwana Dik (Live At Pepperland, San Rafael, Ca., 9/26/1970)
16. Daddy, Daddy, Daddy (Live At Pepperland, San Rafael, Ca., 9/26/1970)
17. Do You Like My New Car? (Live At Pepperland, San Rafael, Ca., 9/26/1970)
18. Happy Together (Live At Pepperland, San Rafael, Ca., 9/26/1970)
Disc 3
1. "welcome To El Monte Legion Stadium!" (Live At Santa Monica Civic Auditorium, 8/21/970)
2. Agon (Live At Santa Monica Civic Auditorium, 8/21/970)
3. Call Any Vegetable (Live At Santa Monica Civic Auditorium, 8/21/1970 And The Coliseum, Spokane,
4. Pound For A Brown (Live At Santa Monica Civic Auditorium, 8/21/970)
5. Sleeping In A Jar (Live At Santa Monica Civic Auditorium, 8/21/970)
6. Sharleena (Live At Santa Monica Civic Auditorium, 8/21/970)
7. The Air (Live At Santa Monica Civic Auditorium, 8/21/1970 And The Coliseum, Spokane, Wa., 9/17/
8. Dog Breath (Live At The Coliseum, Spokane, Wa., 9/17/1970)
9. Mother People (Live At The Coliseum, Spokane, Wa., 9/17/1970)
10. You Didn't Try To Call Me (Live At Santa Monica Civic Auditorium, 8/21/1970 And The Coliseum, S
11. King Kong Pt. I (Live At Santa Monica Civic Auditorium, 8/21/1970 And The Coliseum, Spokane, Wa
12. Igor's Boogie (Live At The Coliseum, Spokane, Wa., 9/17/1970)
13. King Kong Pt. Ii (Live At The Coliseum, Spokane, Wa., 9/17/1970)
14. "eat It Yourself..." (Live At The Coliseum, Spokane, Wa., 9/17/1970)
15. Trouble Every Day (Live At The Coliseum, Spokane, Wa., 9/17/1970)
16. "a Series Of Musical Episodes" (Live At The Coliseum, Spokane, Wa., 9/17/1970)
17. Road Ladies (Live At The Coliseum, Spokane, Wa., 9/17/1970)
18. "the Holiday Inn Motel Chain" (Live At The Coliseum, Spokane, Wa., 9/17/1970)
19. What Will This Morning Bring Me This Evening? (Live At The Coliseum, Spokane, Wa., 9/17/1970)
20. What Kind Of Girl Do You Think We Are? (Live At The Coliseum, Spokane, Wa., 9/17/1970)
Disc 4
1. "what's The Deal Dick?" (Fz Tour Tape Recording)
2. Another M.o.i. Anti-Smut Loyalty Oath (Live / Fz Tour Tape Recording)
3. Paladin Routine #1 (Live / Fz Tour Tape Recording)
4. Portuguese Fenders (Live / Fz Tour Tape Recording)
5. The Sanzini Brothers (Live / Fz Tour Tape Recording)
6. Guitar Build '70 (Live / Fz Tour Tape Recording)
7. Would You Go All The Way? (Live / Fz Tour Tape Recording)
8. Easy Meat (Live / Fz Tour Tape Recording)
9. "who Did It?" (Fz Tour Tape Recording)
10. Turn It Down! (Live / Fz Tour Tape Recording)
11. A Chance Encounter In Cincinnati (Fz Tour Tape Recording)
12. Pound For A Brown (Live / Fz Tour Tape Recording)
13. Sleeping In A Jar (Live / Fz Tour Tape Recording)
14. Beloit Sword Trick (Live / Fz Tour Tape Recording)
15. King Solos Pt. I (Live / Fz Tour Tape Recording)
16. Igor's Boogie (Live / Fz Tour Tape Recording)
17. King Solos Pt. Ii (Live / Fz Tour Tape Recording)
18. Gris Gris (Live / Fz Tour Tape Recording)
19. Paladin Routine #2 (Live / Fz Tour Tape Recording)
20. King Kong - Outro (Live / Fz Tour Tape Recording)