DELUXE BOXSET
Deze luxe boxset bevat 2LP's op grijs/oranje vinyl en 2LP's op grijs/oranje splattered vinyl, 2 cd's, een blu-ray, posters, bladmuziek, 5 plectrums en een exclusief boek van 28 pagina's met foto's van Anton Corbijn.
Actie exclusieve postcard!
Bij aanschaf van het nieuwe album S & M krijg je bij ons een
exclusieve postcard
cadeau!
De actie geldt bij alle acht de edities van het album en zowel bij online bestellingen als reserveringen in de winkel. Zolang de voorraad strekt. OP=OP
Vele fans hebben reikhalzend uitgezien naar dit album met live-opnames van Metallica's concerten in september 2019 met San Francisco Symphony. De shows waren een vervolg op een project met dit 70-koppig orkest 20 jaar geleden toen de band zelf bijna 20 jaar bestond. Drummer Lars Ulrich plaatste in 1980 een advertentie 'bandleden gezocht'. Je kunt S&M2 dus zien als een verjaardagstaart op Metallica's jubileumfeest. Van de concerten is zowel een cd, lp als dvd gemaakt. De fusie tussen klassiek en metal smaakte in 1999 al naar meer. De muzikanten laten opnieuw horen hoe goed beide stijlen samenvloeien. Opvallend: Metallica geeft de orkestleden nu meer ruimte om zelf arrangementen te maken. Ook sommige bandsolo's worden nu uitgevoerd door de orkestleden. Gitarist Kirk Hammett noemt het een cadeautje dat zijn solo in The Unforgiven III door zeventig instrumentalisten wordt gespeeld. Een bassolo van Metallica's eerste bassist Cliff Burton die omkwam bij een ongeluk met de tourbus neemt orkestbassist Scott Pingel over. Hij kocht er speciaal een elektrische bas voor. Op het dubbelalbum staan een aantal klassiekers die ook gespeeld zijn in 1999. Denk aan: The Call of Ktulu, Nother Else Matters. Enter Sandman kreeg op S&M2 nieuwe arrangementen met strijkers. Ook nieuwer werk zoals Halo on Fire klinkt gelaagder door de orkestbijdragen, maar verliest de rauwe rocksound niet. Helaas is Sanatorium dat ook heel geschikt is voor een orkestrale aanpak niet gekozen. Maar de nummers die geselecteerd zijn, ontpoppen zich vaak op verrassende wijze met nieuwe arrangementen, orkestsolo's en melodieuze wendingen.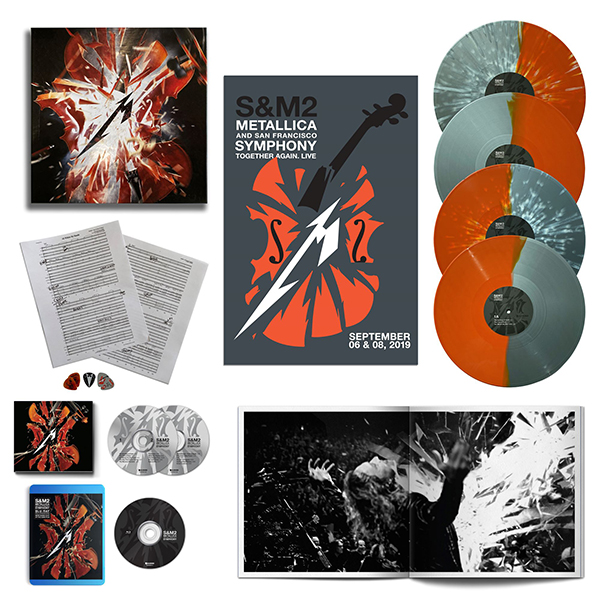 TRACKLIST
The Ecstasy of Gold (Live)
The Call of Ktulu (Live)
For Whom the Bell Tolls (Live)
The Day that Never Comes (Live)
The Memory Remains (Live)
Confusion (Live)
Moth Into Flame (Live)
The Outlaw Torn (Live)
No Leaf Clover (Live)
Halo on Fire (Live)
Intro to Scythian Suite (Live)
Scythian Suite, Opus 20 II: The Enemy God And The Dance Of The Dark Spirits (Live)
Intro to The Iron Foundry (Live)
The Iron Foundry, Opus 19 (Live)
The Unforgiven III (Live)
All Within My Hands (Live)
(Anesthesia) - Pulling Teeth (Live)
Wherever I May Roam (Live)
One (Live)
Master of Puppets (Live)
Nothing Else Matters (Live)
Enter Sandman (Live)