Recensie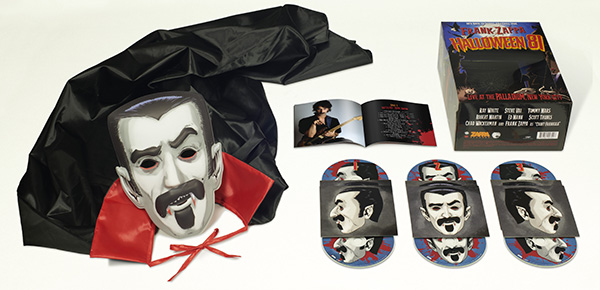 Eerst maar even een punt van kritiek. Bij de bespreking van de Helloween '73 in Mania 362 stelde ik al dat al die bijgevoegde onzin als een handschoen van mij niet hoeft. Er is niet naar mij geluisterd, aangezien we hier te maken hebben met een zes cd's tellende box aangevuld met een masker en een cape. Laten we ons dan vooral op de muzikale inhoud richten. We merken dan, dat die de verpakkingskritiek meer dan goed maakt. De Halloweenshows van Zappa zijn zo langzamerhand legendarisch en waar in 1980 de concerten vanwege ziekte ingekort werden, was de meester hier in een bloedvorm. Hoewel Zappa net een wisseling in zijn band aangebracht had, zo is de ritmesectie vernieuwd met Chad Wackerman en Scott Thunes, terwijl ook toetsenist/vocalist Bobby Martin een nieuw gezicht is, draaide de band direct op topniveau. Niets was te gek en aangezien de band alles kon spelen, kon er naast het spelen van nieuwe arrangementen ook uitgebreid afgeweken worden van voorgeschreven paden. De stuntgitaar van Vai, de stemmen van Martin en natuurlijk good old Ray White en de meester zelf… één groot feest! Natuurlijk materiaal van zijn net verschenen You Are What You Is, maar zeker ook prachtig materiaal uit de rest van zijn carrière. Drie concerten lang genieten. Her en der zijn overigens wel stukjes verschenen van deze concerten, denk bijvoorbeeld aan The Dub Room Special Soundtrack, One Shot Deal of in de You Can't Do That-serie, maar van de uitgave van de gehele concerten was geen sprake. Van de 86 tracks zijn er hier dan ook 78 voor het eerst in alle glorie te horen, Voor deze uitgave zijn alle concerten opnieuw gemixt en het geheel klinkt dan ook prima. Naast deze uitmuntende verzameling is er ook een enkele schijf uitgebracht met de hoogtepunten van de shows. De versie telt veertien tracks, waarvan Strictly Genteel exclusief is voor deze release… Dan moet je ze dus toch allebei hebben!
DISC 1
10/31/81 – 8pm Show 1
1. Chunga's Revenge
2. "The Finest Night Of The Year"
3. You Are What You Is – Take 1
4. You Are What You Is – Take 2
5. Mudd Club
6. The Meek Shall Inherit Nothing
7. Dumb All Over
8. Heavenly Bank Account
9. Suicide Chump
10. Jumbo Go Away
11. Envelopes
12. Drowning Witch
13. What's New In Baltimore?
14. Moggio
15. We're Turning Again
16. Alien Orifice
DISC 2
10/31/81 – 8pm Show 1 – cont'd
1. Teen-age Prostitute
2. Flakes
3. Broken Hearts Are For Assholes
4. The Blue Light
5. Tinsel Town Rebellion
6. Yo Mama
7. Bobby Brown Goes Down
8. City Of Tiny Lites
9. "We're Not Gonna Stand For It!"
10. Strictly Genteel
11. Dancin' Fool
12. Whipping Post
DISC 3
10/31/81 – 12am Show 2
1. Black Napkins
2. "A Historical Event"
3. Montana
4. Easy Meat
5. Society Pages
6. I'm A Beautiful Guy
7. Beauty Knows No Pain
8. Charlie's Enormous Mouth
9. Fine Girl
10. Teen-age Wind
11. Harder Than Your Husband
12. Bamboozled By Love
13. Sinister Footwear II
14. Stevie's Spanking
15. Commercial Break
DISC 4
10/31/81 – 12am Show 2 – cont'd
1. Cocaine Decisions
2. Nig Biz
3. Doreen
4. Goblin Girl
5. The Black Page #2
6. Tryin' To Grow A Chin
7. Strictly Genteel
8. The Torture Never Stops
9. "The Real Show Keeps Going"
10. Joe's Garage
11. Why Does It Hurt When I Pee?
12. The Illinois Enema Bandit
13. "The Halloween Tradition"
14. King Kong
15. Auld Lang Syne
DISC 5
11/01/81
1. Zoot Allures
2. "The Last Of Our Halloween Shows"
3. I'm The Slime
4. Pound For A Brown
5. Dave & Al
6. Cosmik Debris
7. Montana
8. Easy Meat
9. Dumb All Over
10. Heavenly Bank Account
11. Suicide Chump
12. Jumbo Go Away
13. Envelopes
14. Drowning Witch
DISC 6
11/01/81 – cont'd
1. What's New In Baltimore?
2. Moggio
3. We're Turning Again
4. Alien Orifice
5. Teen-age Prostitute
6. Sinister Footwear II
7. Stevie's Spanking
8. Cocaine Decisions
9. Nig Biz
10. Goblin Girl
11. The Black Page #2
12. Whipping Post
13. Broken Hearts Are For Assholes
14. The Torture Never Stops
Tracks
Disc 1
1. Chunga's Revenge (Live At The Palladium, New York City, 10/31/81 - Show 1)
2. "the Finest Night Of The Year" (Live At The Palladium, New York City, 10/31/81 - Show 1)
3. You Are What You Is (Live At The Palladium, New York City, 10/31/81 - Show 1 / Take 1)
4. You Are What You Is (Live At The Palladium, New York City, 10/31/81 - Show 1 / Take 2)
5. Mudd Club (Live At The Palladium, New York City, 10/31/81 - Show 1)
6. The Meek Shall Inherit Nothing (Live At The Palladium, New York City, 10/31/81 - Show 1)
7. Dumb All Over (Live At The Palladium, New York City, 10/31/81 - Show 1)
8. Heavenly Bank Account (Live At The Palladium, New York City, 10/31/81 - Show 1)
9. Suicide Chump (Live At The Palladium, New York City, 10/31/81 - Show 1)
10. Jumbo Go Away (Live At The Palladium, New York City, 10/31/81 - Show 1)
11. Envelopes (Live At The Palladium, New York City, 10/31/81 - Show 1)
12. Drowning Witch (Live At The Palladium, New York City, 10/31/81 - Show 1)
13. What's New In Baltimore? (Live At The Palladium, New York City, 10/31/81 - Show 1)
14. Moggio (Live At The Palladium, New York City, 10/31/81 - Show 1)
15. We're Turning Again (Live At The Palladium, New York City, 10/31/81 - Show 1)
16. Alien Orifice (Live At The Palladium, New York City, 10/31/81 - Show 1)
Disc 2
1. Teen-Age Prostitute (Live At The Palladium, New York City, 10/31/81 - Show 1)
2. Flakes (Live At The Palladium, New York City, 10/31/81 - Show 1)
3. Broken Hearts Are For Assholes (Live At The Palladium, New York City, 10/31/81 - Show 1)
4. The Blue Light (Live At The Palladium, New York City, 10/31/81 - Show 1)
5. Tinsel Town Rebellion (Live At The Palladium, New York City, 10/31/81 - Show 1)
6. Yo Mama (Live At The Palladium, New York City, 10/31/81 - Show 1)
7. Bobby Brown Goes Down (Live At The Palladium, New York City, 10/31/81 - Show 1)
8. City Of Tiny Lites (Live At The Palladium, New York City, 10/31/81 - Show 1)
9. "we're Not Gonna Stand For It!" (Live At The Palladium, New York City, 10/31/81 - Show 1)
10. Strictly Genteel (Live At The Palladium, New York City, 10/31/81 - Show 1)
11. Dancin' Fool (Live At The Palladium, New York City, 10/31/81 - Show 1)
12. Whipping Post (Live At The Palladium, New York City, 10/31/81 - Show 1)
Disc 3
1. Black Napkins (Live At The Palladium, New York City, 10/31/81 - Show 2)
2. "a Historical Event" (Live At The Palladium, New York City, 10/31/81 - Show 2)
3. Montana (Live At The Palladium, New York City, 10/31/81 - Show 2)
4. Easy Meat (Live At The Palladium, New York City, 10/31/81 - Show 2)
5. Society Pages (Live At The Palladium, New York City, 10/31/81 - Show 2)
6. I'm A Beautiful Guy (Live At The Palladium, New York City, 10/31/81 - Show 2)
7. Beauty Knows No Pain (Live At The Palladium, New York City, 10/31/81 - Show 2)
8. Charlie's Enormous Mouth (Live At The Palladium, New York City, 10/31/81 - Show 2)
9. Fine Girl (Live At The Palladium, New York City, 10/31/81 - Show 2)
10. Teen-Age Wind (Live At The Palladium, New York City, 10/31/81 - Show 2)
11. Harder Than Your Husband (Live At The Palladium, New York City, 10/31/81 - Show 2)
12. Bamboozled By Love (Live At The Palladium, New York City, 10/31/81 - Show 2)
13. Sinister Footwear Ii (Live At The Palladium, New York City, 10/31/81 - Show 2)
14. Stevie's Spanking (Live At The Palladium, New York City, 10/31/81 - Show 2)
15. Commercial Break (Live At The Palladium, New York City, 10/31/81 - Show 2)
Disc 4
1. Cocaine Decisions (Live At The Palladium, New York City, 10/31/81 - Show 2)
2. Nig Biz (Live At The Palladium, New York City, 10/31/81 - Show 2)
3. Doreen (Live At The Palladium, New York City, 10/31/81 - Show 2)
4. Goblin Girl (Live At The Palladium, New York City, 10/31/81 - Show 2)
5. The Black Page #2 (Live At The Palladium, New York City, 10/31/81 - Show 2)
6. Tryin' To Grow A Chin (Live At The Palladium, New York City, 10/31/81 - Show 2)
7. Strictly Genteel (Live At The Palladium, New York City, 10/31/81 - Show 2)
8. The Torture Never Stops (Live At The Palladium, New York City, 10/31/81 - Show 2)
9. "the Real Show Keeps Going" (Live At The Palladium, New York City, 10/31/81 - Show 2)
10. Joe's Garage (Live At The Palladium, New York City, 10/31/81 - Show 2)
11. Why Does It Hurt When I Pee? (Live At The Palladium, New York City, 10/31/81 - Show 2)
12. The Illinois Enema Bandit (Live At The Palladium, New York City, 10/31/81 - Show 2)
13. "the Halloween Tradition" (Live At The Palladium, New York City, 10/31/81 - Show 2)
14. King Kong (Live At The Palladium, New York City, 10/31/81 - Show 2)
15. Auld Lang Syne (Live At The Palladium, New York City, 10/31/81 - Show 2)
Disc 5
1. Zoot Allures (Live At The Palladium, New York City, 11/1/81)
2. "the Last Of Our Halloween Shows" (Live At The Palladium, New York City, 11/1/81)
3. I'm The Slime (Live At The Palladium, New York City, 11/1/81)
4. Pound For A Brown (Live At The Palladium, New York City, 11/1/81)
5. Dave & Al (Live At The Palladium, New York City, 11/1/81)
6. Cosmik Debris (Live At The Palladium, New York City, 11/1/81)
7. Montana (Live At The Palladium, New York City, 11/1/81)
8. Easy Meat (Live At The Palladium, New York City, 11/1/81)
9. Dumb All Over (Live At The Palladium, New York City, 11/1/81)
10. Heavenly Bank Account (Live At The Palladium, New York City, 11/1/81)
11. Suicide Chump (Live At The Palladium, New York City, 11/1/81)
12. Jumbo Go Away (Live At The Palladium, New York City, 11/1/81)
13. Envelopes (Live At The Palladium, New York City, 11/1/81)
14. Drowning Witch (Live At The Palladium, New York City, 11/1/81)
Disc 6
1. What's New In Baltimore? (Live At The Palladium, New York City, 11/1/81)
2. Moggio (Live At The Palladium, New York City, 11/1/81)
3. We're Turning Again (Live At The Palladium, New York City, 11/1/81)
4. Alien Orifice (Live At The Palladium, New York City, 11/1/81)
5. Teen-Age Prostitute (Live At The Palladium, New York City, 11/1/81)
6. Sinister Footwear Ii (Live At The Palladium, New York City, 11/1/81)
7. Stevie's Spanking (Live At The Palladium, New York City, 11/1/81)
8. Cocaine Decisions (Live At The Palladium, New York City, 11/1/81)
9. Nig Biz (Live At The Palladium, New York City, 11/1/81)
10. Goblin Girl (Live At The Palladium, New York City, 11/1/81)
11. The Black Page #2 (Live At The Palladium, New York City, 11/1/81)
12. Whipping Post (Live At The Palladium, New York City, 11/1/81)
13. Broken Hearts Are For Assholes (Live At The Palladium, New York City, 11/1/81)
14. The Torture Never Stops (Live At The Palladium, New York City, 11/1/81)