VINYLKRAT
DISPLAY BOX
Releasedatum: 30-11--0001
Herkomst: NL
Item-nr: 4052727
EAN:
Op werkdagen voor 16:00 besteld, morgen in huis.
Recensie
Your record collection is a reflection of you. So, show off your vinyl in our beautiful display box.
We designed the Vulgar Display of Vinyl box to be used as a stand alone vinyl storage unit or to be placed on top of one of our 12 inch Music Boxes to further enhance and organize any listening room. The convenient top flipping makes finding your current rotation favorites easy as pie. Its bit like crate digging in your own home.
This brand new addition to our line of vinyl storage products is made of solid Oak wood and sanded to seductively smooth finish then topped off with our delicious wood oil.
Each Vulgar Display Box can hold at least 68 LP's (depending on the thickness)
Please note that unlike our other products, you will have to assemble it yourself. All you'll need is a screwdriver and a few minutes, then BAM!! Vinyl Heaven Awaits. This minor variant was done in our attempt to reduce the shipping costs in most locations.
Dimensions:
Back Height: 23 cm
Front Height: 12 cm
Length: 34cm
Width: 36.7cm
Weight : 4.96kg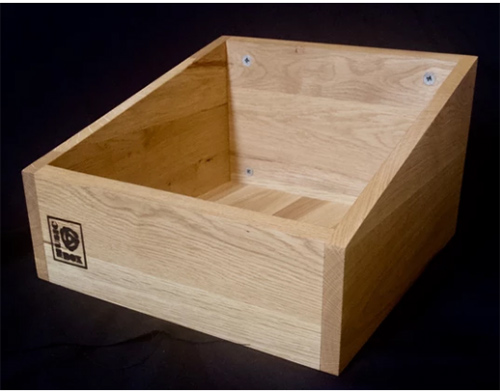 .