Recensie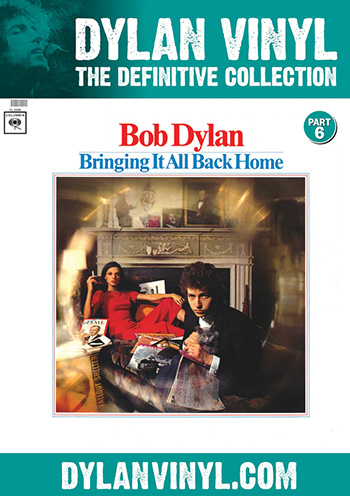 Every issue of Dylan Vinyl: The Definitive Collection comes with a fantastic eight-page magazine that explores the context to the album, offering insights into the global events surrounding its creation, detailed notes for every track and information about recording sessions and personnel.
All this PLUS a high-quality poster of a classic Dylan image.
Regarded as one of the greatest albums of all time, Bringing It All Back Home blends acoustic with electric. It sees Dylan replace protest poetry with surreal lyricism. His fifth album, it marked a return to the rock 'n' roll of his adolescence, as implied by his choice of title.
SIDE A
Subterranean Homesick Blues
She Belongs To Me
Maggie's Farm
Love Minus Zero/ No Limit
Outlaw Blues
On The Road Again
Bob Dylan's 115th Dream
SIDE B
Mr. Tambourine Man
Gates Of Eden
It's All Right, Ma (I'm Only Bleeding)
It's All Over Now, Baby Blue